Recently the world has been a little crazy since that thing called the pandemic took over. Don't worry though, it looks like we're saved! ABBA have made a comeback and life seems to have flipped a 180. This is exactly what we needed, and we didn't even realise. Pre-orders for their music are through the roof. Maybe that's what all artists should do. Disappear and then come back with a bang!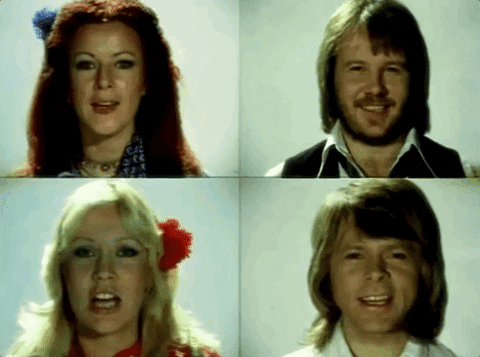 The myth, the legends are back. No one can resist dancing along to ABBA's classics. Don't even pretend you can, we know you're lying. Recently they announced their return after 40 years. A brand-new album called Voyage is set to be released. Not only that, but they're also planning a concert like no other.
Universal Music UK have announced that pre-orders of the latest album have hit over 80,000 in three days. That makes the album the biggest pre-order ever which breaks the record previously held by Take That. Their album Voyage will be released on the 5th November worldwide.
Not only has their pre-order set new records, but also their singles I Still Have Faith In You and Don't Shut Me Down are in the UK Top 10 Single Chart. There's no room for anyone else while ABBA are around. We're not sure anyone could compete with them. I Still Have Faith In You has been viewed over 12.7 million times on YouTube and Don't Shut Me Down has been viewed on the platform 6.2 million times.
One band, all the power?
How can one band hold so much power? They have generations loving them, maybe that's why. As mentioned before, it's impossible not to dance along. Their songs just get you up and singing, they're something that can bring everyone of all ages together.
Would you believe that they have nearly 400 million albums sold worldwide? The album ABBA Gold hit 1000 weeks in the UK Album Charts recently. No other album has ever done this. Oh and that concert we mentioned…
The group are set to preform in London from May 2022 with tickets going on sale 7th September 2021. This performance will be digital, using a 10-piece band, in an area built just for them. So, will we see you there?
Worth the 40-year wait?
We think so, and it looks like most people agree. Let's hope their classic costumes make a comeback too. It wouldn't be the same watching them perform in modern day outfits. It's hard to imagine the tickets will be around for long. Actual gold dust!
How long is too long for an artist to make their return, or does it simply depend on who the artist is? With the likes of ABBA it seems there was never a wrong time. Of course, many wished they'd returned sooner as they're not getting any younger, and we want as much of them as possible. Will they still be able to perform to the standards they set themselves once upon a time? If not it could be damaging for the band. We're sure that won't happen though.
That seems to be the issue with comebacks. If you're not fully prepared or have lost your performance skills, it could do you more damage than good reappearing. Think of McBusted for example. While they do still have many fans, it seems their reunion and collab didn't sit well with everyone. Some fans of both bands were left a little disheartened claiming it wasn't as good as they'd imagined.
Does it simply depend on who you are and who your following is? As an artist, how long do you feel is too long to leave it before returning? 40 years does seem like a lifetime. It's hard to imagine most fans would stick around for that length of time. Unless like ABBA you continue to gain fans even while you're not together. Your music needs to stay consistent though, while also adapting to the modern day. There are many challenges to face when deciding to form a reunion, weighing up those pros and cons is really important.