Before you can run your Pre-save campaign, you need to grab your Pre-save URLs from your music distributor. Read on to find out what they do and how to use them.
What are Pre-save links?
So you've:
Uploaded your release to your music distributor

Set a release date

Sent and landed on the back end of stores
Once your release has landed on the back end of stores, it'll be assigned a URL indicating where it'll appear on release day. Then, on release day, your listeners can navigate to this URL and feed their ears with your tasty tunes.
Why don't they work before release day?
Before release day, these URLs won't work and will bring up an error screen on stores because your release won't yet be publicly accessible.
The one thing they are helpful for is when it comes to making a Pre-save campaign for your upcoming release. Without these links your Pre-save will not work.
How do I make a Pre-save campaign?
Using PUSH, you can make a Pre-save campaign without spending a penny. We currently support Pre-saves on Spotify, Apple Music and Deezer.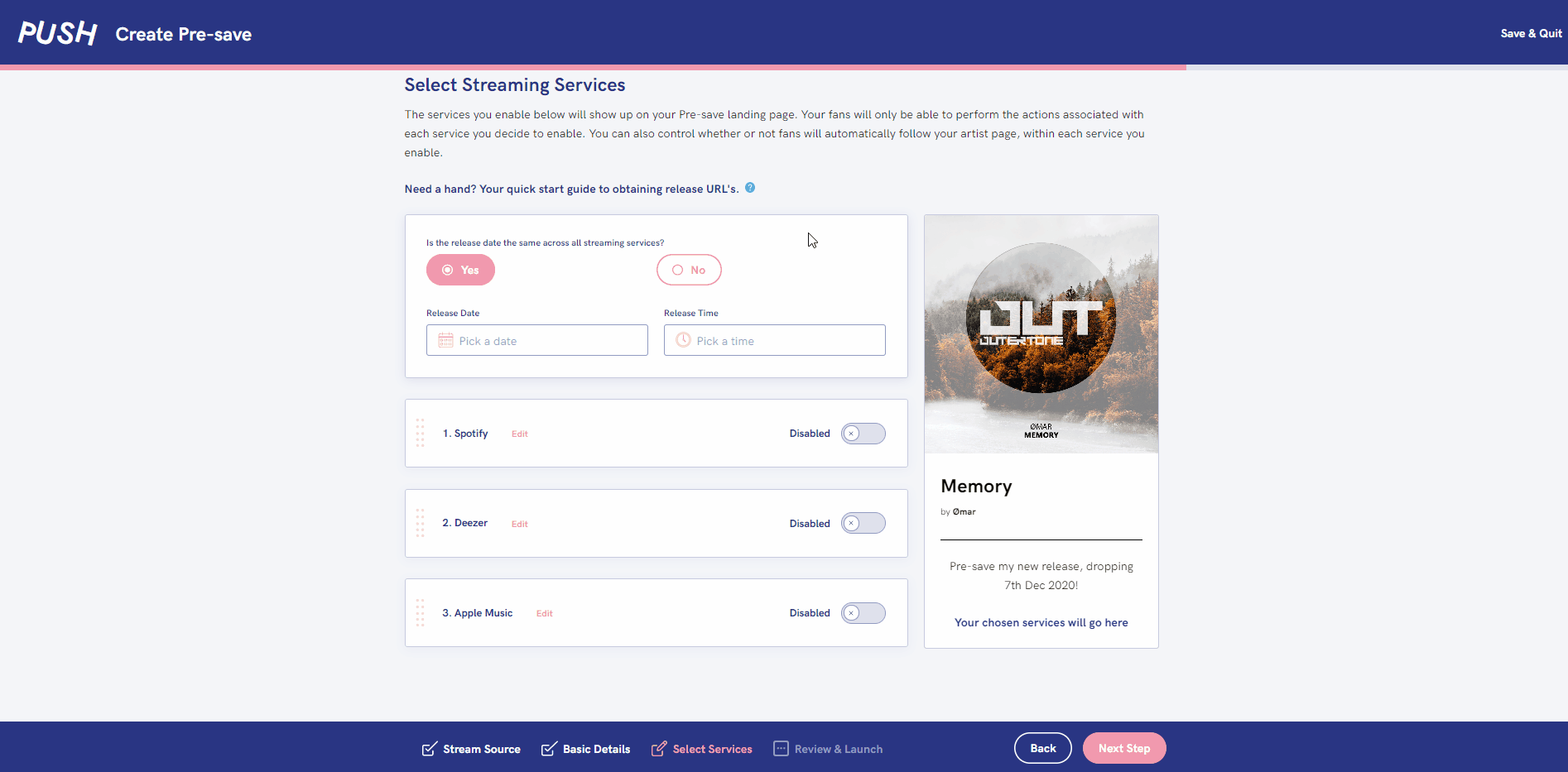 First, sign up or log into your account over at PUSH.fm.
Navigate to create new campaign, and selecting Pre-save.
Next, click 'no' when asked 'is your release available on stores'. This is because it's not yet live and publicly accessible to your fans.
In step 2, you can customise your link and add your own image, title and description.
Next, add in your Pre-save URLs. If you don't already have them, you can obtain them by contacting your music distributor.
Finally, name your link (only you will be able to see this) and then you're ready to launch!
You can read a full how-to guide here.
---
How do I use my Pre-save campaign?
If you haven't heard us going on about it, Pre-saves are perfect for creating momentum before release day and guaranteeing valuable listeners when it finally drops.
If you want to set yourself up for release day success or want to find out how to make the most of this digital tool, check our guide to running an effective Pre-save campaign.
Free PUSH users get 1 active Pre-save campaign, which is boosted to 5 if you connect a valid RouteNote account! If you want unlock unlimited Pre-save campaigns you can upgrade to our premium plan for only £4.99 a month.
---
Found this article helpful?
Let us know in the comments or share it with your friends.