Spotify have introduced a tool for songwriters, helping them push their songs out to new audiences and be discovered by potential collaborative musicians.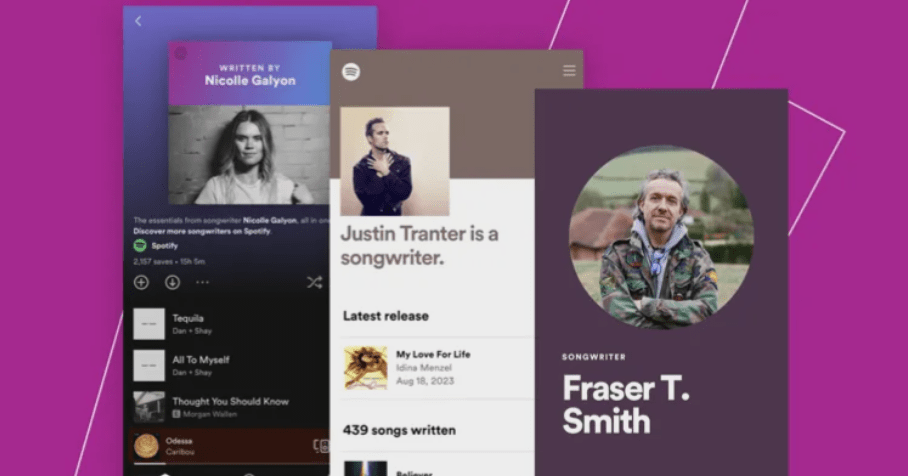 The streaming giants, Spotify have announced a new feature which will benefit songwriters; increasing their exposure and opening up doors for collaboration opportunities. Songwriter Promo Cards are a promotional tool which allows artists to showcase their songs via customisable, social media assets.
Creating your own cards allows you to express your artist creativity. You can get your personal branding across by adding your name, selecting a profile and choosing a background colour that works for you. Your Promo Cards will be linked to your Spotify profile, so they will link up with all your recent work. You can share them straight to your social channels.
Anyone can make a promo card, you don't need to log in to any particular website. This means, you don't necessarily need a Spotify for Artists account, although having one is typically very beneficial to any artist. Every songwriter page will have a Written By section which allows listeners to find a list of all songs that artist has written.
Spotify first introduced Promo Cards in 2020 which were designed to help music artists promote themselves across social media platforms. The idea was they could grow their following, and listening audience. This feature could be used by those creating podcasts and authors too. However, now, they've expanded it to benefit songwriters.
How to use Songwriter Promo Cards
First, find the content you want to promote. You can either share, your Songwriter Profile which will generate a share card linking to your songwriter page. Or, you can share your Written By page which will allow you to share a playlist containing all songs you have written. The choice is completely yours. You can decide how best to promote yourself.
From here, you can decide how you want your card to appear. Whether you want it to be square, portrait or horizontal. You have full control over these choices. You're also able to choose the aspect ratio and your background colour. This colour will be chosen from a palette of complementary options according to Spotify.
When it comes to sharing your cards, you can share it directly to any of your social media accounts. Or, you can download it, so you can share it as often as you like. This won't be a direct share, so you can decide where to upload it and what text you want to put with it (if any). They're fully adaptable to fit around your needs.