Spotify have revealed three different ways artists, podcasters and other creatives on their platform can increase their reach. These include; Discovery Mode, Marquee, and Showcase. Using various tools, you could see your fanbase grow.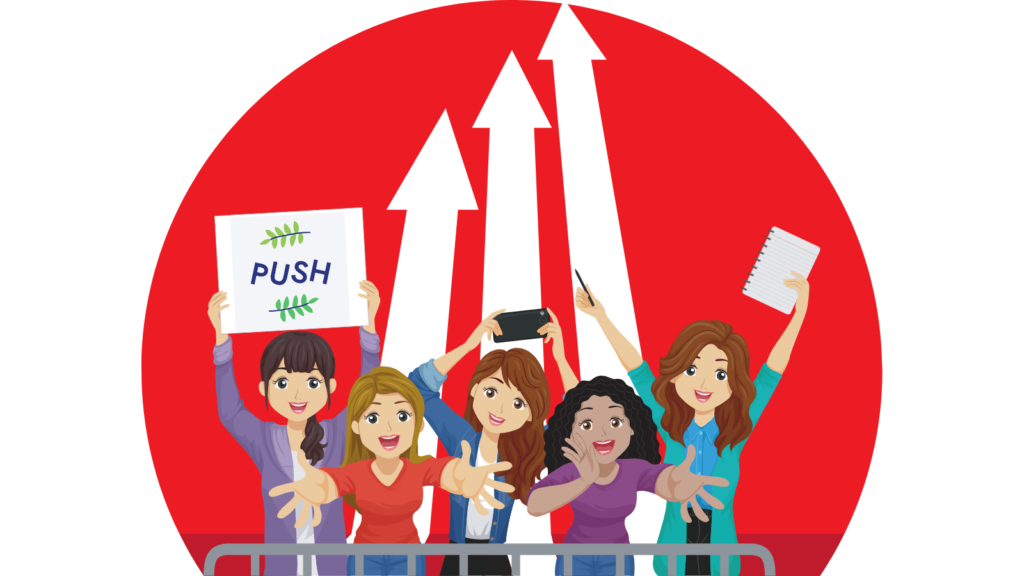 Discovery Mode
Spotify have shared various ways artists can increase their listeners, one being their Discovery Mode. They've said that one third of new artists are discovered through personalised recommendations. This is where the platform suggests artists to listeners based upon their listening habits and taste.
Using Discovery Mode, artists can prioritise their songs. This will push their chosen songs over others they have to offer. Spotify will add a signal to their algorithm which will alter the way songs are suggested. Meaning, the prioritised songs chosen by the artists or their teams, will be pushed more so than their other songs.

By using Discovery Mode, an artist is said to have more chance of being featured on radios and also autoplay. This will again stretch their music across more devices than if they stick to promoting themselves solo. Each month artists are able to see how far their songs have spread. They'll be able to see how many people have added their tracks to a playlist, and how often their songs were saved.
Spotify have released statistics which state "On average, within a song's first month of Discovery Mode use, we've seen listeners save those songs 50% more often, add them to playlists 44% more, and follow the artist 37% more." These statistics show being on Discovery Mode could be exactly what artists need to reach new audiences that otherwise wouldn't know about their tracks.
Marquee
Marquee is another of Spotify's recommendations. This feature offers sponsored suggestions of new releases to both free and Premium users. It allows artist's and their teams to reach new listeners who have perhaps listened to that artist's music previously. It's in the hopes of pulling people back in and confirming them as a fan, rather than a brief listener.
After researching into this option, Spotify found that eight labels and distributors found Marquee to be effective. These are all labels and distributors that were included within the research. On average, it's said that Marquee delivers ten times more listeners to each Spotify artist per dollar spent on similar social adverts. Therefore, it seems Spotify Marquee might be worth it for artists.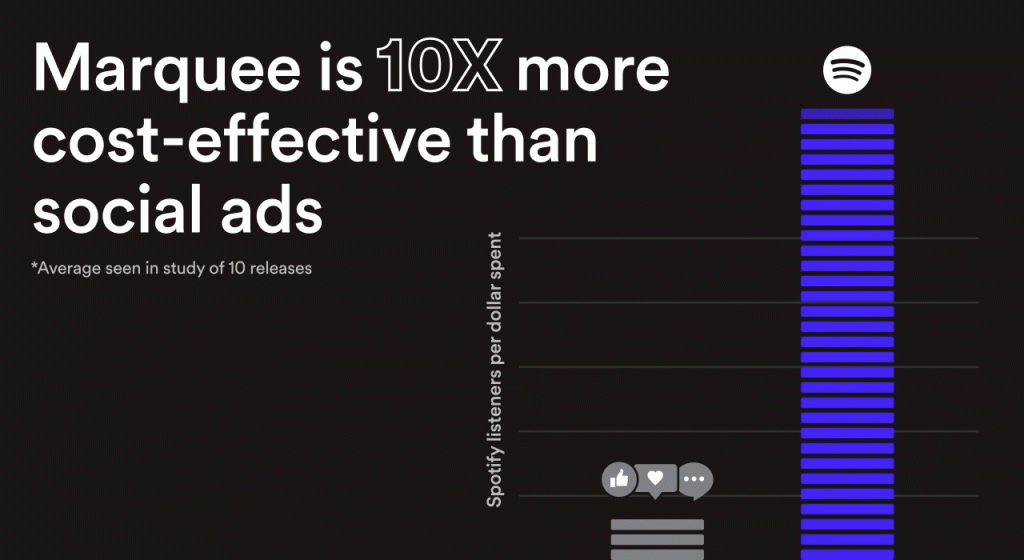 Showcase
Showcase is another marketing tool by Spotify. Within a listener's home page, they will be able to see interactive cards. These cards will share parts of an artist's music video or photos from their album covers. Both new releases and older ones will be shared here. These are an eye-catching way of sharing new music with Spotify users, and by adding the moving image element, this could capture the attention of listeners far easier than stills.
Based upon a listener's streaming history, Spotify will hand-pick artists and music that they feel fit the genre choices and vibe of each listener. It will make for a better listener experience, as their choices will differ to those around them, meaning their song selections are tailored directly to them. It will also offer artists the chance to have their content heard by new audiences that otherwise may not have discovered them.
Spotify have said that all artists will be able to access features that can help boost their marketing, and therefore grow their audience. It will not matter the artist's budget. The idea is, everyone can promote their music, with no extra barriers in the way. Spotify have been known for aiming to bridge the gap between well known artists and those starting out. Perhaps, this is one method they're trying.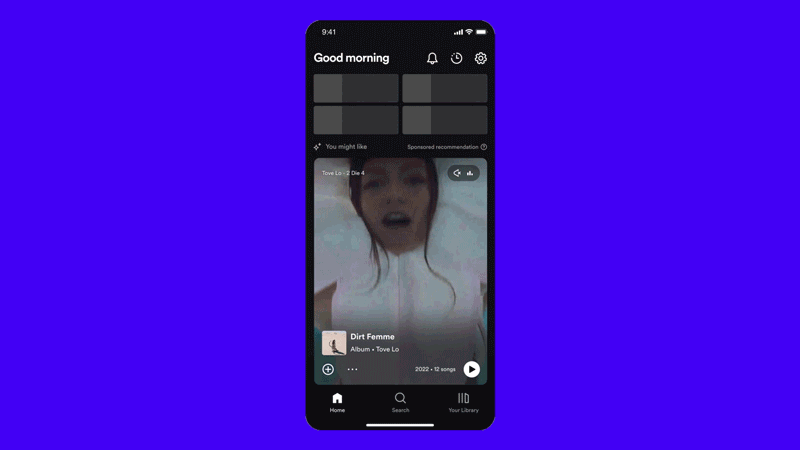 Check out more information about these tools through Spotify for Artists.