Get your audience to show their support by following your socials, or sharing your tracks. They'll get rewarded by being able to download your music for free. Artists have been turning to Hypeddit to increase their following, but really, they should be looking at PUSH Reward Links.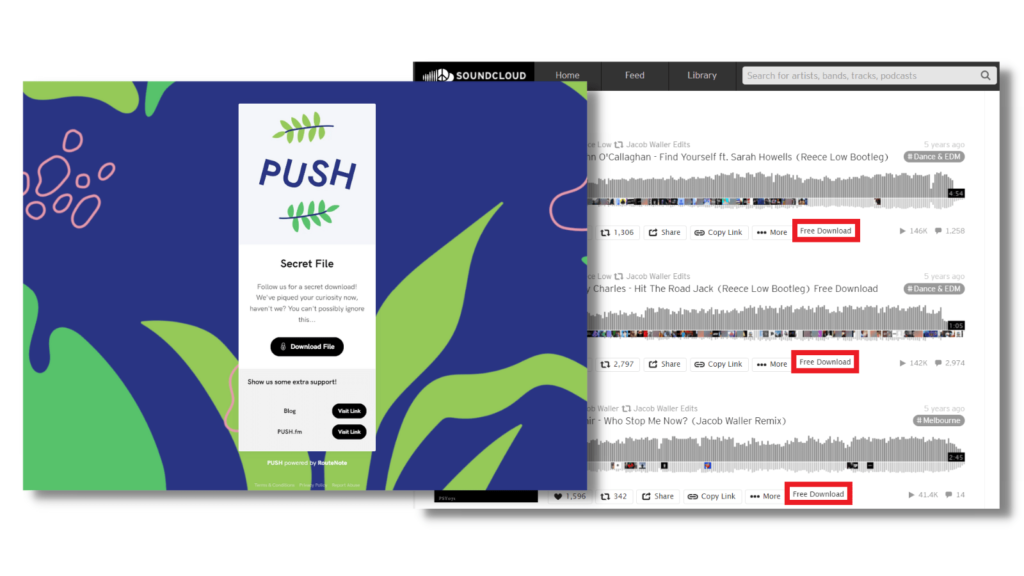 Giving your audience and fans a chance to download your tracks free of charge will increase their likelihood of interacting with you as an artist. However, what if you could guarantee their interaction in return for your download? Well, the good news is – you can! You're able to set out a list of tasks for your fans to complete. Once they're done, they'll be able to download your music. Convert your listeners into followers.
What is Hypeddit?
Hypeddit is an online platform that allows you to convert downloads into followers and likes. However, it doesn't do the work for you. You'll need to promote your track everywhere you can to reach the right people. Once you've found them, they can start to download your tracks and follow you as an artist in return.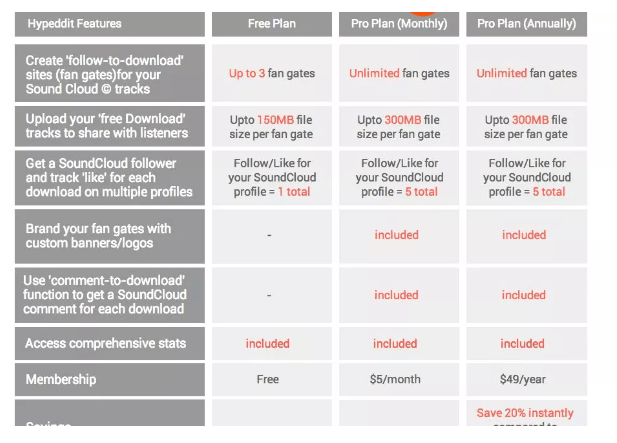 The idea behind Hypeddit is, you advertise free downloads of your music. Once someone has downloaded your track, they'll be taken to a fan gate which has a like and follow button. However, it's important to know you're only able to create 3 fan gates with a free Hypeddit account. So, if you want to add them to multiple tracks, you'll need to upgrade.
Create a download
Once you've added a fan gate to your link, whenever people click on your track, they'll be sent to your gate page where they will need to log in. They'll then be able to download your music. This however only works if you edit your metadata within your fan gate and change the buy link option to download.
If you forget to make this change, people clicking on your link will be able to download the file, but they won't be directed to your fan gate. This means, you won't receive any likes or follows from it because people aren't being directed to do so. You can read more about how this works here. Hypeddit is a brilliant tool, however there appear to be hoops to jump through.
Upgrading an account costs $5 per month, or $49 per year. This is to access the pro plan that won't keep you to the restrictions of only 3 fan gates. While this is a great price for a tool like this, it is restricting you to SoundCloud. A Reward Link however, could see you grow multiple platforms at once.
What is a Reward Link?
A Reward Link is a digital URL which rewards both you and your fans. You can create a unique URL with a personalised landing page. Add a description letting your audience know what they need to do to access their reward. You're able to pick the tasks they must complete and how many.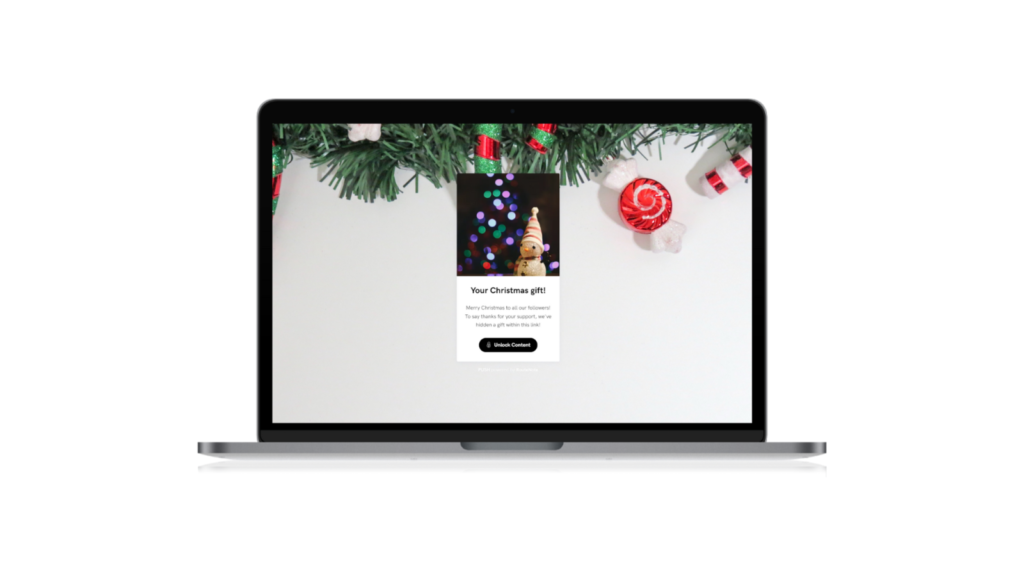 Once they've completed these tasks, they'll be able to instantly download your file. This means, you could connect your SoundCloud account and request your audience follow you there. Then, once they have, they can download your track free of charge. The best part about this is, they're completely free.
With PUSH, you only need to upgrade if you want to access more advanced customisation options, and features that are hidden. To create a Reward Link, you aren't required to upgrade. There is no limit on how many you can make. Our Premium account is also $5 a month, so if you decide you do wish to upgrade, it won't cost any more than Hypeddit.
Why Reward Links stand out
The best part about a Reward Link, and for us why they stand out compared to Hypeddit is they aren't limited to one platform. You can request people follow you on a whole range of social or streaming platforms. Likewise, you could create a different URL for each platform, meaning if you want to promote your SoundCloud for one track, but then Instagram for another – you can!
Reward Links for us, stand out because they are so versatile. You don't need to create separate accounts, or use multiple platforms to promote each account you have. You're able to promote them all through one Reward Link if you wish. Not only that, but you can share your Reward Link anywhere. Promote it as far and wide as you can.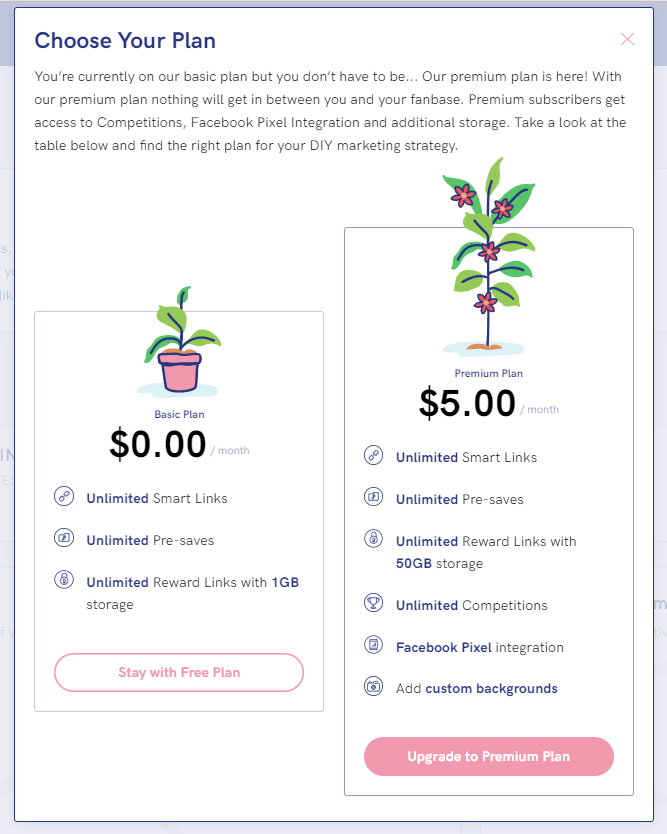 Hypeddit or PUSH.fm?
It sounds obvious that of course we're choosing PUSH. However, we believe it's justified due to the multiple tools we have to offer. Rather than paying $5 a month and limiting yourself to one service for SoundCloud, you could instead pay $5 and unlock multiple marketing features that will help you promote your music and reach new audiences.
We don't try to gate keep our features. This is why nothing is restricted. By this, we mean, you aren't limited to only a few links. Why? Because we want to see beginner musicians and artists have the same chance as those who have been in the industry for a long time. To us, it doesn't matter whether you have large funds or not.
For us, we think it's a no brainer. You're able to create free downloads for your SoundCloud music, but you can also access other platforms if you wish. Why not share your Reward Link in your Instagram stories? Or, perhaps add them to your artist Facebook page. Wherever you can share a normal URL, you can share your customised PUSH Reward Link URL.