Creating a Pre-save campaign is arguably one of the most powerful things you can do as a musician. They allow you to create excitement ahead of your release day. Encouraging your fans to save your track(s) before they hit stores.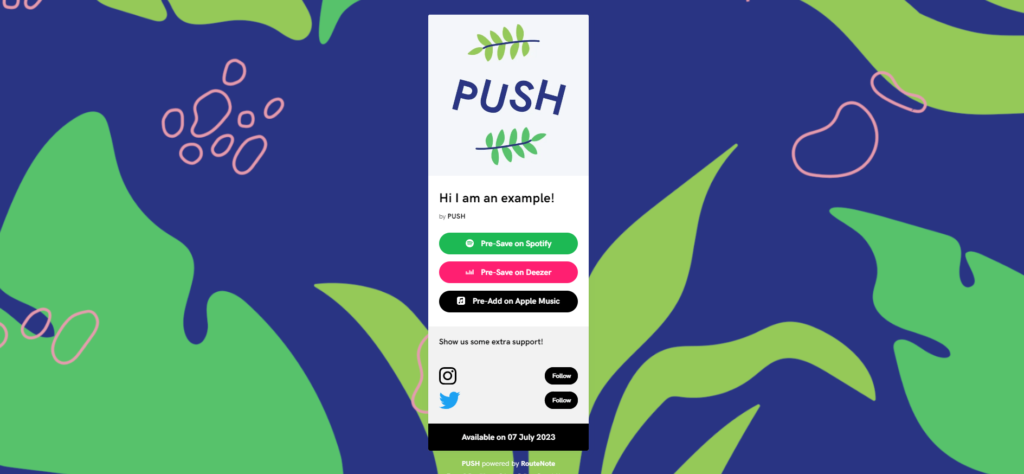 Above you'll see an example of how a Pre-save for PUSH might look. It has our social media profile image as the photo, and also our banner as the background. It also has a title, links to our socials, so people can find us there, and also buttons to allow every visitor to Pre-save our work. Please note, this is a mock-up and therefore isn't a real link. It is there to show you how a link can be customised.
Creating a Pre-save allows you as a musician to create a sense of excitement ahead of release day. You're able to encourage your fans, and other streamers to save your music. When it goes live within music stores, it will automatically be placed into their library. Meaning, they don't have to search for your track on launch day. It makes things easier for your fans, and also you as an artist as you can show people where your music will be displayed.
Pre-save dos
Give options – allow your fans to choose between stores.

Start early – the earlier you send your Pre-save out, the more chance people have to use it.

Promote yourself – as much as you can, share your Pre-save.

Personalise it – make it unique to you as an artist, give it your own stamp.

Check it first – check it and check it again to make sure everything is good to go.

Add a description – let your fans know what inspired your track.

Share your socials – include links to your social accounts so your fans can follow you.
Pre-save don'ts
Limit options – if a fans preferred store isn't there, they might not Pre-save your track.

Leave it too late – you need enough time to promote your Pre-save.

Submit to distribution late – get it in early to avoid any obstacles.

Be lazy – share it everywhere you can, don't expect people to find it on their own.

Be afraid to share – the more people who see it, the more fans you may gain.

Avoid asking for help – we're always accessible via [email protected] for any questions!