For a long time, Spotify have allowed you to favourite your top tracks by hitting the heart button. These songs were then placed in your library under their own playlist. However, Spotify have made changes to this feature. Turning it into a plus button instead.

Spotify has so many options, from the huge song library to podcasts and audiobooks. To keep track of your favourite songs, previously you were able to heart each song. These songs would then be placed into your library under the Favourites playlist. There would then be an option to add music or podcasts to a playlist you had created, but, if you weren't looking to create an entire playlist and just wanted to remember a certain song, you'd give it a heart.
The changes that have been made will see the heart and add to playlist buttons being replaced. They'll be changed into a simple plus icon (+). When you choose this icon, you'll be able to save any song, or podcast and also choose where you're saving it to. This will make it easier to add to playlists without having to go through the previous process. Spotify are constantly trying to make the user experience even better.
How Spotify's plus icon will work
To save a song, simply press the plus button (+). This will be located to the right of the song or episode title when in the playing view. Once it has been added into your chosen playlist, you will see a green tick appear where the plus icon was. This indicates the save has been successful. It will be much easier to add to your favourite playlists with just the click of a button now.
If you click the green tick button again, you will be able to change the destination your track or podcasts is moved to. You'll also be able to add a whole album to your saved library. When on a playlist, or album you enjoy, simply click the plus icon (+) that appears at the top next to the playlist name. Again, you will see a green tick once the album has been added to a playlist.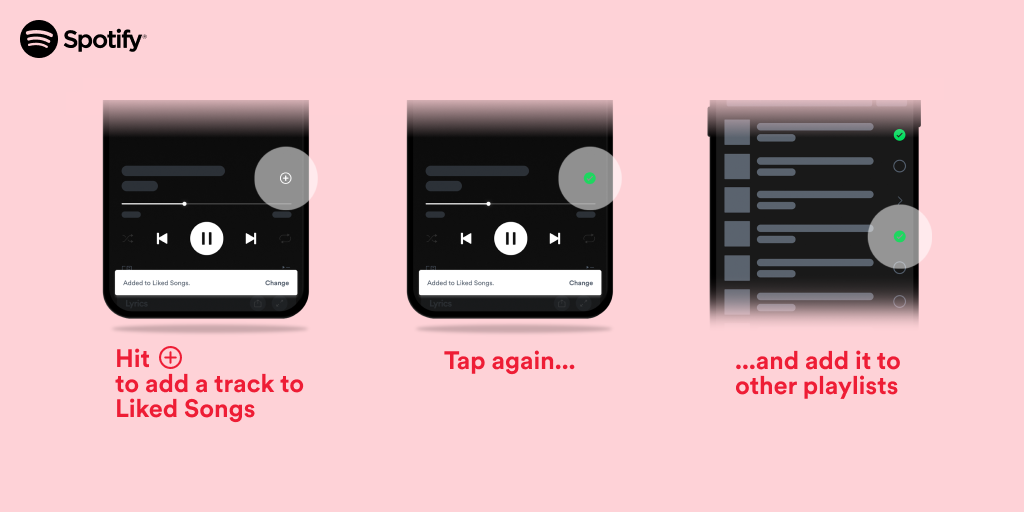 Spotify wanted to improve their current process. With the idea of making the app as streamlined as possible, they decided to make an easier way for users to save their favourite tracks on the go. "We also found that saving songs and podcasts makes users more likely to listen to them again, which means more love for those artists or shows you've discovered." This offers artists a better way of being discovered.
Hearing a song you love, you don't need to worry about forgetting it, or it being lost in an ever-growing favourites playlist you never check. Instead, you can create playlists for things like upcoming artists, bands you love, and your favourite podcast episodes. This way every track you save will go to the right location, and you can find it when you're looking to listen to that type of sound.