Spotify have announced their Q4 recap. Showing their earnings and statistics throughout the last part of the year. They've discussed the changes they've made to the user experience, and various ways they've connected artists and fans.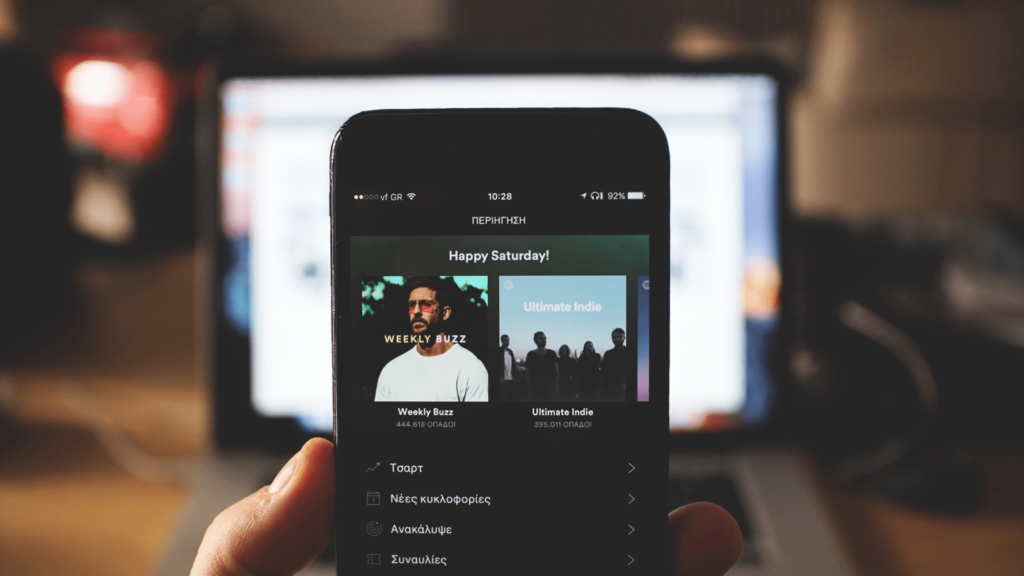 Spotify have provided various examples of how they have enhanced their users experiences throughout 2022. Not only was it their 8th year of Wrapped, but they also added artist thank you videos this time around. Allowing more and more artists to thank their fans for their constant support. Bridging the gap between artists and their followers.
The streaming giants added a choice for users. Now, users can choose various methods of payment when upgrading to a Premium account. They've also added artist merch into the Spotify Wrapped section of the app. Meaning, the week Wrapped went up so did artist merchandise sales.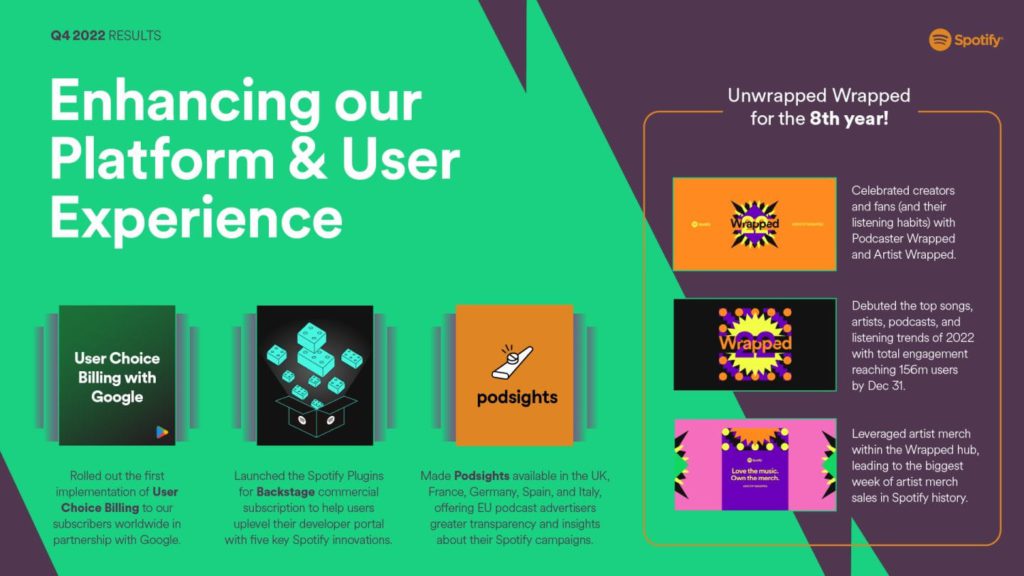 Q4 results have shown the hype that came from Taylor Swift breaking two records in 2022. It saw her album become the most streamed within just one day. Not only that but they launched a new jersey for their FC Barcelona partnership. The first artist to appear on this was Drake due to him breaking the record of being the first artist to hit 50 billion streams.
Bad Bunny came out on top again for the third year in a row. Podcasts grew rapidly in popularity within the Philippines. They saw a growth of more than 60% of people tuning in to Podcasts between October 2021 and October 2022. They even created a place for football fans to get involved during the World Cup 2022.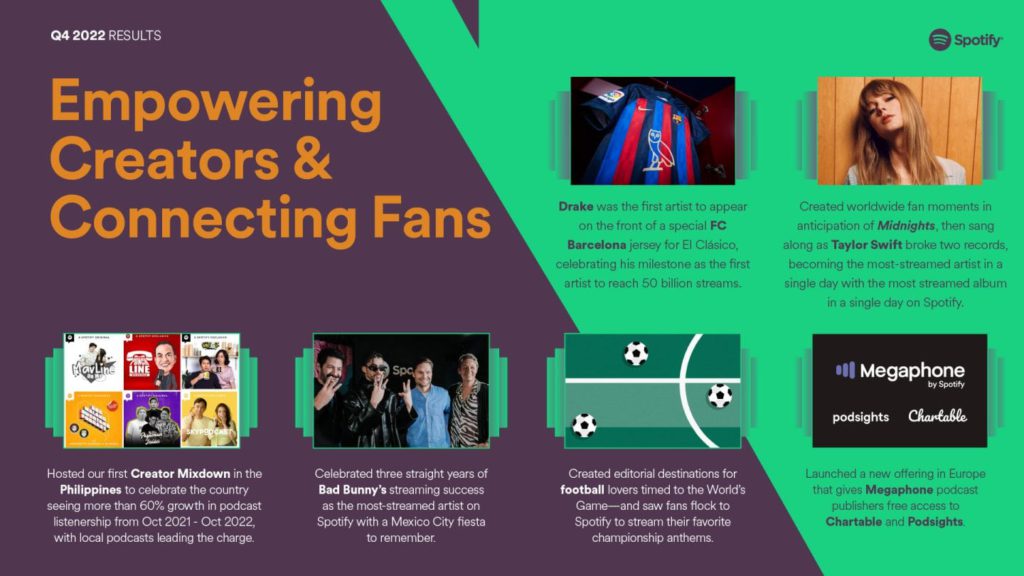 Audiobooks were expanded within the UK, Ireland, Australia and New Zealand. Meaning reading became more accessible than ever before. Podcasts were brought to South Korea where listeners were able to access over 4 million of them. Multiple popular Podcasts became Spotify exclusives, two of which being; Anything Goes by Emma Chamberlain and Parenting Hell by Josh Widdicombe and Rob Beckett.
Video podcasts were brought to Indonesia. VICE Media Group Asia brought 5 new video podcasts into the region in 2022. Podcasts became more accessible worldwide thanks to Spotify reaching new areas of the globe. It allowed listeners to tune into content from across the world without restrictions.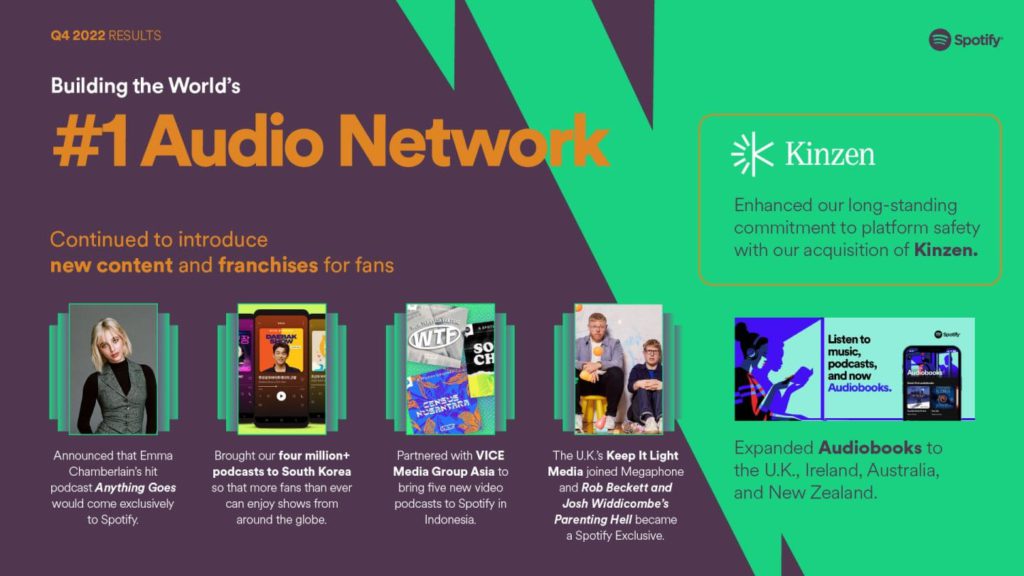 Finally, Spotify have released their subscriber and user numbers. It's often argued Spotify are the most popular streaming platform, and it's easy to see why. With their constant new feature additions and their push on user satisfaction, it seems they're a tough act to follow. Naturally, they can't please everybody but their numbers do speak for themselves.
By the final quarter, Spotify saw 489 million monthly active users. That's a 20% growth YoY. With rival companies trying to compete, it's interesting to see Spotify have still had such a huge growth in users. They also have 205 million subscribers which again is up compared to the previous year, this time by 14%.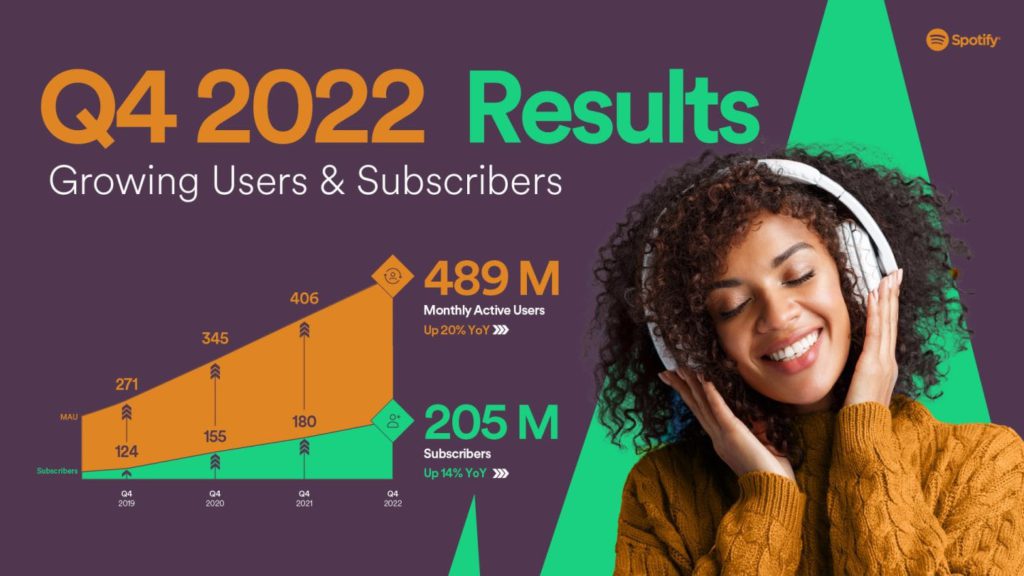 All images were collected from Spotify's Q4 report which you can find here.