Instagram stories are one of the best ways of capturing your audience's attention. If Instagram's algorithm isn't in your favour and your content gets missed, you'll be noticed through your stories! Guest poster Victoria Cristoff has written an article for PUSH, all about how to create outstanding story visuals!
Everyone understood the power of social media in promoting a personal brand, company, or organisation a long time ago. Not only celebrities and well-known brands now have an Instagram page, but also businesses and bloggers at a very local level.
Not having Instagram for business is like not having a business at all. You should not try to ignore this new reality, it is better to do everything to make it work in your favour. In this article, we have collected clarifications and tips that will be needed for successful promotion in social media. Let's start with the importance of managing Instagram, especially posting stories.
Why are an Instagram page and regular stories important?
Instagram is perceived as a direct virtual reflection of you and your activities. Accordingly, the quality of maintaining a page on social media directly indicates the quality of your products. A modern, well-organized, stylish visual makes the first impression of your business on a potential client, and this is very important for effective growth.
If earlier the main emphasis was on publications, now the algorithm is aimed at attracting subscribers to view your stories. If 1,000 people watch your stories, then one-tenth of them see the post and interact with it in some way, and this is only when the indicators are perfect. Therefore, the visuals are good, and the interestingly designed stories are even better.
Users are open to buying. If TikTok is about lifestyle, fun, and aesthetics, then Instagram is about commerce and advertising. This can be understood by the number of bloggers and the share of advertising in the content they create. You should not lose this way of promoting your goods or services, especially when its popularity has not decreased for a long time.
When the importance of this method of promotion becomes clear, it's time to move on to practical tips on creating stories on Instagram. These tips will facilitate the content creation process and provide you with great audience engagement.

Tips for your Instagram stories:
Create your style
Having a unique brand identity is very important because it increases your visibility among thousands of other competitors on the market and shapes the perception of your business in the eyes of a potential client. Stories should also be part of your philosophy and harmonize with other creatives. Also, a complete picture will contribute to a better perception of information by your subscribers. Choose your preferred storytelling style and stick to it. It can be a minimalist visual with small text and monochrome backgrounds or bright maximalism with a lot of elements and photos. Try and find what you like.
The photo is good, and the video is even better
Recent trends in social media management show that video content is more valuable for both the user and the algorithm. Reels get more promotion than classic posts, and videos in stories bring a lot of interactions with the page. Therefore, we recommend mixing these two types of content and don't forget about conversation stories and reviews.
Videos for stories should also be edited interestingly and dynamically to encourage the subscriber to watch everything to the end, watch it again and share it with friends. In addition, in this format, it is much easier to create useful and informative content, since such information is poorly perceived in the form of text and without proper visualization.
Create reasons to interact
A pretty picture is good, but it won't significantly increase your reach. To do this, you need to combine a great visual with a well-thought-out interactive part. Only these two elements together will ensure more audience engagement with your page and good statistics. The algorithm will perceive your content as worthy of attention and display it in recommendations and the first 10 stories on the pages of subscribers.
There are many options for interaction. Create a call for reactions to new products and services, leave a window for questions and ask questions yourself, and add a vote. After that, it's important to respond to maintain a live engagement with your followers.
Use images
At some point, graphic illustrations became very popular among content creators and replaced live photos. To get a cool result, try to combine the results of photo sessions with graphic elements. Take your photo and add text, arrows, underlines, and other shapes to it. As an option, you can use stock backgrounds and textures. This will add naturalness and variety to your stories.
Try to use templates
You don't have to do everything yourself, especially if it's mechanical tasks like choosing fonts and colour themes. Use special templates to save time and get blanks for stories in the same style. They are easy to find on platforms with various creatives like MasterBundles. Choose the theme and template format you need and search for a suitable option. Next, quickly customize the chosen template to change the colours, fonts, and arrangement of design elements as you want to get the most personalized result. We leave a link to cool options: https://masterbundles.com/templates/social-media/instagram/.
Use storytelling
An interesting story will engage your followers in the format of stories on Instagram as well. When you need to present a lot of information to your followers, frame it as a sequential story with logical transitions and visualization. In this way, the user will not leave after the third text story but will remain interested in what will be shown next.
Using this format, you can talk about the process of creating something from A to Z, about ideas for a new project, about difficulties in business and how you overcome them, and about your team. There are many options, the main thing is to present it interestingly and interactively.
Think about usability
Stories are primarily about communication with the subscriber. Secondly, it is about benefits, both for you and for the audience. The design of the stories should be not only intriguing and aesthetic but also ready to use where needed. Check whether all links and marks are clickable, emphasize these parts of the design, and indicate the possibility of swiping up if you have this function available. Your call-to-action won't deliver the desired result if the user simply can't click on the sticker due to its poor placement.
Conclusion
Instagram is a great platform for the development of any company or personal brand. However, to be successful here, you need to remember the principles of social media and play by its rules. Using these tips and understanding the algorithm at least a little, you can get a great result in the form of active growth in the number of subscribers and potential customers.
Victoria Cristoff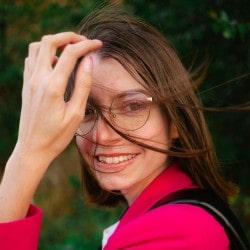 Victoria adores writing articles and drinking coffee. She's trying to keep her creative tornado by writing poems, and making illustrations. Also, she likes artistic people and gets inspired by their works.