There are 3 main areas of content you should aim for within your social media campaigns. These are especially important for independent musicians. It doesn't mean your content will be the same each time. Rather than sticking to 3 ideas, you're looking at 3 categories of content. Whatever you choose to create within these categories is completely your choice.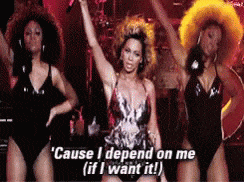 In the words of Beyoncé, are you independent? Sorry if that was poor, I just needed to fit Queen B somewhere into this article, didn't I? After all, her career grew in a way we could all wish for. As an independent artist, you have enough on your plate. Creating content that's engaging and regular enough to keep growth steady can be difficult. There are 3 main areas you should be focusing on when it comes to making content ready for social media. Keep reading to find out what they are and how they can help.
Entertainment
Being an entertainer is a great way to secure followers. You can guarantee growth if you ensure your content is engaging and can entertain your audience. Whether you're naturally funny or have hidden talents, people love to watch enthusiastic characters. However, going too far and trying to be someone you're not may do more damage than good. People see straight through it and know when you're not being genuine to yourself.
Make sure whatever you're recording or posting is the authentic you. If you're a witty, happy-go-lucky person, let that shine through. Don't force yourself to sit there and crack jokes if it's not natural however, it will come across as cringy. Why not record the funny, relatable things that happen in your day-to-day life. Or, if you've got a rant you want to express, put a funny spin on it and upload it as a video to your social media accounts.
Any way that you decide to entertain your audience is your choice. This doesn't need to be content you post daily, but maybe change things up. From time to time you post your weird and wacky content that makes people laugh. Then other times, you post from the other categories. Think about what you'd like to see as a fan and try it out with your followers.
Documentation
People enjoy seeing growth. They like to follow along almost like a story. Especially when they've been following you for quite some time. They'll enjoy seeing how you adapt and change up your style or content along the way. That's why people binge-watch reality shows because they love following along and getting to know a person and their background. It comes down to people being nosey and who can blame them, we all are from time to time.
When you are a huge fan of an artist, you want to see what they're getting up to. Take your followers along to your tours, behind the scenes and show them exactly what goes into organising something like that. Allow them to see you in the studio. Either through images or video. They'll feel more like a part of your work. Everyone likes feeling involved, so your fans are no different.
It doesn't have to be a chore, simply get your phone out and record or snap a photo when you're on the move. You'll already have the tools to get yourself started. It doesn't need to cost anything. Show them a video while you're setting up for your gig. That way they can see before and then the show itself. They'll be a part of it all the way through.
Education
If you have extra time on your hands, why not help other people out by teaching them some tips and tricks. Think about when you first started playing music, what were useful tips you were gifted with? What do you wish someone had told you at the very beginning? If you can offer help to your audience, then do it. It will strengthen their trust within you as an artist, and you're more likely to have your name spread through word of mouth.
Instagram is a great platform for quickly and conveniently sharing information. You can show off any information you think is relevant to others within the industry. Perhaps you've learnt something new or discovered an app that could be life changing to other independent musicians. There's enough room for everyone, no need to hide things to yourself. After all, sharing is caring. It has to interest people, so you need to know your audience.