If you're serious about making music, but you get distracted or can't find the time, then you need to make some changes. It won't happen overnight, and they don't need to be dramatic lifestyle changes. However, take these tips on board, and you'll soon notice a massive difference in the way you make and feel about creating music.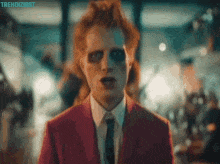 Ignore Ed for a minute. We only want good habits being formed here… It's pretty easy to form any kind of habit. However, typically those naughty habits take over because they're more convenient and take up less of our time or energy. Just like habits being formed, we can also break the ones we no longer want, but this does take a bit more effort to get rid of them for good. When it comes to creating music, you don't want to start forming any negative habits. Before you know it, you'll lose all motivation and your music will suffer. So, starting in 2022 you need to banish the bad and only embrace the good.
Listen, listen, listen
Oh, and did we mention, listen? It's important. To expand and grow, you need to continue to listen to all the music you possibly can. We're not just talking your favourite artists or genres. You need as much variety as you can get. The more you hear, the more you'll expand your own knowledge, and it might spark ideas for you. Even genres that aren't your typical interest could provide you with some much-needed inspiration. After all, you might hear a beat that you fall in love with and want something similar within your own tracks. It might even be a chance for you to reach out to artists and see if you can arrange a collaboration.
Perhaps the lyrics will resinate with you, and you'll know what events in your life you need to write about next. You can expect to continue to create music if you're only listening to a limited amount of tracks yourself. Head to different platforms to find people to listen to also. Don't stick to what you know all the time, because that's how you'll miss out on some potentially life changing content. Allow other artists to spark your creativity. It's not possible to always grow ideas through your own content. Sometimes you need outside input.
Write down your experiences
Write, about everything and anything. If you've had a bad day or gone through something pretty rubbish, then write it down within a journal. It might be too much right now to make a track out of it, but later down the line you might be glad to share the experience. People love meaningful songs. Something they can relate to about real life. So, it might not be a track you rush to create, but one day it might be something you want to put into a song, so it's important you have the facts straight. It's easy when trying to think back to a situation to get confused or muddled with some details. You might not remember it exactly the way it was, so if you write it down when it happened, you can come back to it and instantly have the facts.
Don't just stick to the bad though. Write about everything that makes you smile, the simple little acts of kindness from strangers. Anything that's made you happy or feel positive. It's important to balance things out. Even if you don't end up using any of it, write it down anyway, and you have it there for the future. You might just need to read back to a good time when it comes to doubting yourself as an artist. Perhaps you just need that little boost, and you can get this through reading happy thoughts. It could be a case that you're already working on tracks, but you want to remember a moment to come back to at a later date. That's why it's important to get it written down as soon as you can.
Prepare a schedule
Fail to prepare, prepare to fail. It's important you set time for your music. Time when you're uninterrupted. Turn your phone off and shut your door, just be you and your music for a while. Otherwise, you're always going to find distractions. The outside world can wait for a little while but if you don't make time for your music, then your music will suffer. Unfortunately it is a huge commitment being an artist and many people don't always realise this. If you create yourself a schedule then you'll find yourself getting less overwhelmed. Some people push it all to the back of their mind and suddenly realise they have no content and only have a limited amount of time to figure that out.
This then leads to stress which causes major writing blocks. You need a clear, fresh mind if you're going to get into the zone. Maybe talk a walk or something before trying to write new music. Allow yourself to completely empty your mind of anything else for a while and just be you and your music. Scheduling time for writing and practising means you won't ever overlook it. You can plan it around any hobbies or activities you have on. It gives you the balance of your creative work and also free time. Both which are equally important to avoid a burnout.