If you're looking for a new music making app, BandLab could be just the thing. With a rating of 4.7 out of 5 stars, it's highly respected by other artists. No matter what your skill level, BandLab can help. You could be a complete newbie or an expert and still use this free app to create new tracks.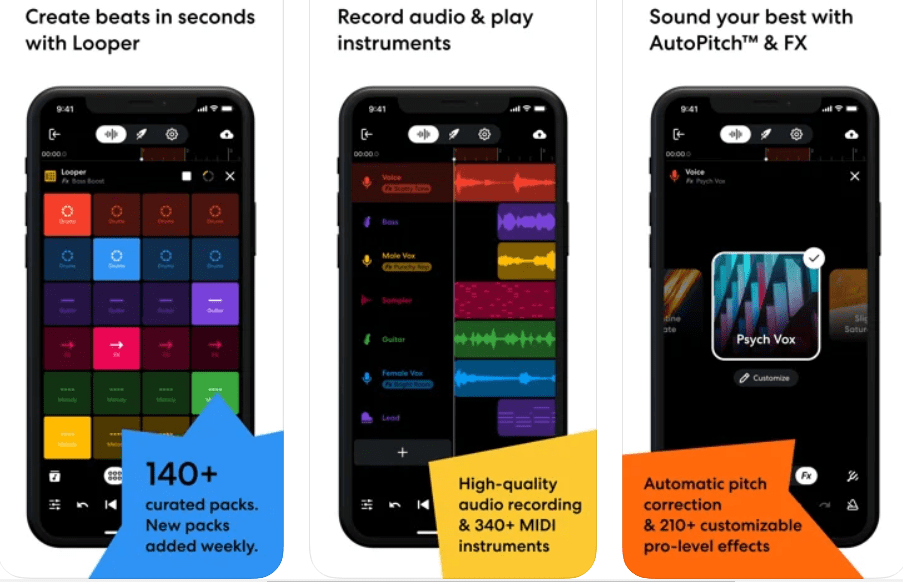 What is BandLab?
BandLab is a completely free recording app. Along with this it's also a leading social music platform. You can create and share through BandLab. It has 37 million users all across the world and holds a 4.7 out of 5-star review. This shows it's powerful and respected within the industry. Being a free app means it's accessible for all artists. You don't need to have lots of money and expensive equipment to create tracks. Instead, you can use this app from the very start of your music career right on through.
It allows you to share and create music. It doesn't matter what your skill level is. There's a multi-track Mix Editor which is a music maker. It allows you to record, edit and remix your music. You can create beats and use different effects to change up your sound. Included in this free app are loops and samples, along with royalty-free sound packs from various genres. Some of these genres include, EDM, dubstep, garage, hip-hop, house, rock, rap and others.
As you can see there are many ways you can change up your sound and being able to record within the app itself means everything's held in one place. You don't need to record in one place and pass it around multiple apps and pieces of software. This makes it stand out from competitors and other apps that aren't able to offer this. Create sounds from your various devices or simply stick to your phone as we mentioned. Make music wherever you go, there are no limits.
How can it help you?
Well, as we've spoken about, you can create music no matter what your skill level. It really is an app for artists because it's free and allows anyone to create. You're able to build up your knowledge and confidence by starting out small and trying different things. Having it on your phone means you can practise wherever you are. Perhaps you're travelling, or you're on a lunch break at work. Why not try out different loops and samples and see how they fit into a track you've previously recorded? It's something you can learn to do by yourself, but you can also get help from others if you need it.
The app has a social network built into it. We love apps like this because it allows you to access a new community. Each person within that app will have their own set of skills, knowledge and experience and this is something you can all come together to share. It will help each other out and know what to do and more importantly what not to do in the industry. You might even find someone you want to team up with and that could take your career down a whole new path. It's a place to be discovered and to learn new things. Oh, and did we mention it's free? (We know we did, we're just kidding)
Collaborate with other creatives
You'll have the ability to find new collaborators. There are fellow musicians, guitarists, beat makers, rappers and many more creatives. Why not connect through their Creator Connect feature? This gives you the potential to match with beat makers, producers or DJs who might be able to help you out. It could be that you end up heading down a new path thanks to this app. You might find people to team up with and go on to create beautiful music. Or, it could be that you simply gain advice and use the platform for it's editing purposes.
Playlists can be created, and you can also watch live streams and performances from top creators. Why not work your way up through the app ranks and become one of them top creators yourself? That way you're definitely going to come out of it with more views and a larger following. There is no subscription required which means it doesn't have to limit you. Many apps start off free and eventually once you're into it, they ask for payments. However, BandLab have assured their users that it is 100% free.
BandLab features
PUSH Tip: Please note these features have been copied from the App Store information about BandLap.
*NEW* Sampler – A new tool for you to create custom instruments. Make a new Sampler Kit by recording sounds you hear in the world around you, or by selecting samples from over 15,000 royalty-free sounds provided by BandLab, or simply import your own sounds. You can even customize each sample to get just the sound you want. Musical creativity is limitless with the Sampler.
16-Track Mix Editor – This is where you make music – the Mix Editor is a multi-track digital audio workstation (DAW) in your pocket. Use it as an audio recording app, beat maker, audio editor and so much more. You are a music maker anytime, anywhere.
330+ Virtual MIDI Instruments – Need 808s for your beat? Synthesizers for your lead lines? How about the sitar?! We've got a huge variety of Virtual MIDI instruments you can make music with, all within an app that fits in your pocket.
180+ Vocal/Guitar/Bass effect presets – Give your tracks that extra kick with world-class effects with real-time monitoring. From ambient sounds to crazy modulations, there's something for everyone to get creative.
Looper – Anyone can be a beat maker no matter your skill level. Make beats instantly from a huge library of loops, add some synth or reverb, or just freestyle your way to a whole new mixtape while on the go.
Mastering – Get your tracks ready for distribution. Upload your song or recording and let our built-in mastering work its magic. Supports mp3 and other formats.
Video Mix – Create expressive video clips, whether you're a rapper freestyling over a beat or a songwriter laying down a hot solo. Jazz up your video with world-class effects!
Explore – Not in the mood to create? No problem! Let BandLab be a source of entertainment as you explore and get inspired by new artists, genres, and collections curated just for you.
Creator Connect – Looking for a beat maker, producer, or singer? Find like-minded creators just around the corner or halfway across the world! Just fill out your profile and we'll match you to potential collaborators who share your musical taste and inspiration.
Tuner and Metronome – The essential audio tools for the modern music maker and producer so you never go out of beat or tune.
Remix Tracks – Need inspiration to start a track? 'Fork' a public track that any creator has shared to make your own beat and remix.
Where can you find it?
BandLab can be found on the App Store. Unfortunately it isn't available on Android. Instead, it is accessible to all IOS users. Whether it be iPhone, iPad, iMac. You can download it on all of your devices if you wish and interchange between them all. As we mentioned previously, it's a great app to have on the go. This means you don't need to worry about how and when you're going to be able to create your tracks. Try it out and if you don't like it, you can always remove it. However, we're pretty certain from reading all the reviews that it is worth the 4.7 out of 5-stars.
All you need to do is download it, and you're ready to go. There are so many features within this app, so it is hard to believe it is completely free. Apps that allow artists to share experiences and grow together are really valuable. The music industry can seem a little hush-hush at times, so it is great to see a platform that encourages artists to pull together. You could learn so much and grow tremendously through using BandLab. It might be that you want to start off using the social aspect first and that is perfectly fine. You might decide to wait until you have learnt more about the platform before you start creating and sharing. That's the beauty of it, you're the one who gets to decide.