Is it possible for every content creator to go viral across every social media platform? Or, should they stick to conquering a certain few? Each platform is different, they have a different vibe and often a different user base. Of course, most of us are on multiple platforms, but we all typically have our favourites. That's where you need to appeal to the hardcore lovers of each particular platform.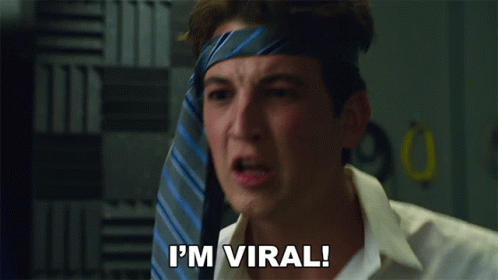 Global favourites
Before you even consider mastering social media, you need to decide what social media is to you. No I am not trying to get deep here, I promise. What I mean is, each country has a different idea of social media. Of course, there are many that cross over the globe, but some are more popular in certain areas than others. There are platforms out there that I guarantee you've never heard of depending on where you're based. That's because countries all have their own rules and requirements. You can't just set up a social platform and make it accessible worldwide.
If you're after cracking the social media services popular in your country then you're probably pretty clued-up on who they are. However, if your content is for another area in the world, you need to make sure you know what their people like best. Otherwise, you're not going to break through in that country. For example, China don't have access to Facebook, but instead they use WeChat as their alternative. So if your market is your Chinese fans, you're not going to do very well promoting yourself on Facebook.
What are the most popular social media platforms?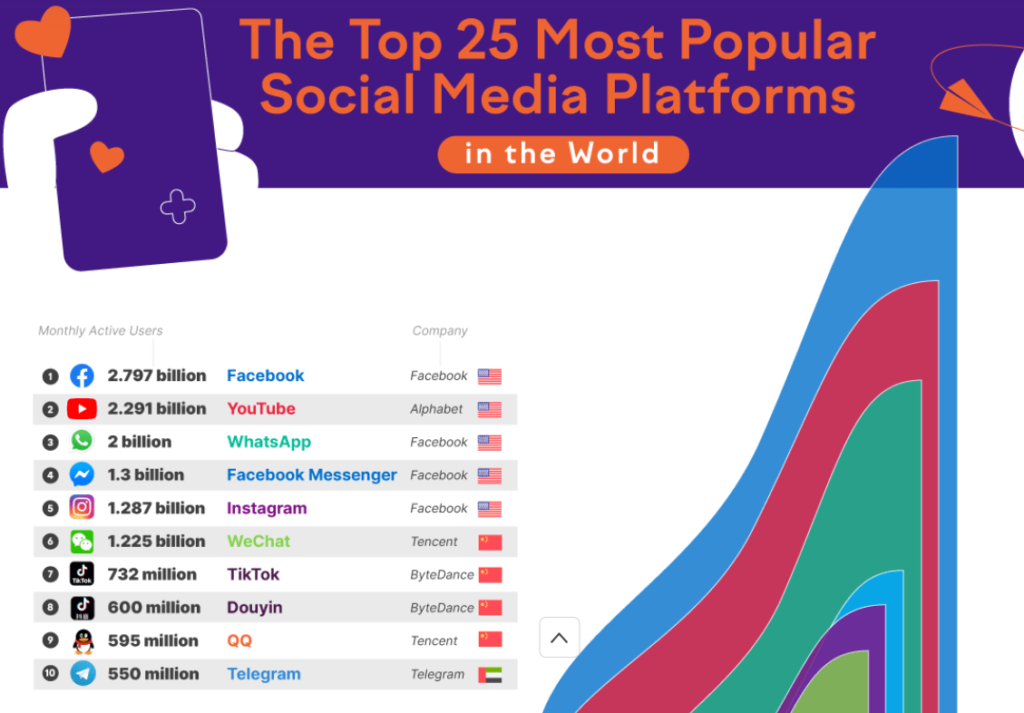 Above is a breakdown of the various social media platforms that are popular worldwide. Facebook does come out on top so if you can break through there, you certainly want to. The main popular socials happen to be the communication tools which is understandable, especially since we've all been living through a global pandemic. Instagram is certainly up there with high figures so that's likely one of the platforms you'd want to conquer.
It's important to take into account what people use their social media accounts for too. For some, it's simply to keep updated with friends and family. They're not necessarily interested in social media stars as such, so to break through with them, you'll need to appeal to their interests. Their likes and dislikes will become a huge factor, basically you'll need to be relatable for some users to interact with your accounts. Another thing is age, what age group are you trying to capture? It's unlikely you'll be trying to aim for everyone with an account to interact with you. If you are, then you're really heading for mission impossible.
Deciding when to post links back to everything I've mentioned previously. A user's age and location will heavily factor into when they'll be online, so if you want to reach them, make sure your content is set to an appealing schedule. I'd recommend reading through the blog post by Semrush that has been linked above because this will provide you with really insightful information that might alter how you view each platform. You can see a breakdown of just how popular each account is, and it might end up changing your decisions on where your focus lies.
Chances of going viral
Now, the part you've all been waiting for… Where's my drumroll? Kidding, here's the important bit. Is it possible to go viral across all social media platforms? If you're thinking of every single one then no, it's really not. I don't think anyone has quite mastered that. Going back to what I said previously, it's unlikely you've even heard of some of these platforms, and that's not all of them. There's likely to be social accounts half of us have never heard of, right? Unless you're involved with each country's social situation, there are bound to be ones that get missed.
Even the ones mentioned above that most people might know about probably can't all be conquered because they all have their own preferences. Imagine going into a vegan café and promoting meat, it's just going to cause damage right because that's not the place or the audience for that type of thing. That might seem like an odd comparison but let me break it down. If you're promoting a service which isn't needed or wanted in a certain country, you're not going to get the attention you're looking for. If anything, it could come across as offensive.
The top 1%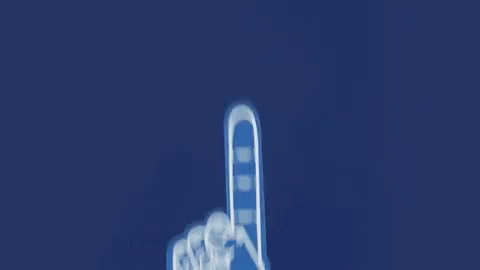 It's interesting to note that across different social platforms, the top 1% varies. Instagram stars aren't quite the same as the TikTok famous. Yes, it's likely if you have a large following on one, you'll also have a large following on others. However, it's unlikely you'll come close to the top for every social platform. Again, it always comes back to people wanting different things. A TikTok star isn't really what the people of Twitter are looking for as such. Let's face it, if you took to Twitter with a quirky dance, you're not always going to get others copying this. Instead, you might receive some negative feedback.
On TikTok, the top five are Charli D'Amelip, Khaby Lame, Addison Rae, Bella Poarch and Zach King. These individuals don't rank even in the top 50 of any other social media platform. TikTok hasn't even been around for as long as other networks, so they have achieved a lot in a short space of time. It doesn't mean they're going to come close in any other account though. If people want TikToks, they head to TikTok, and it's as simple as that. The people who follow them on other platforms are those more interested in a face behind the screen. They want to see more about their lives.
I guess summing it up, no you can't really go viral on every platform. You can certainly take over quite a few though and earn yourself a nice position in the rankings. Going viral and being in the top 1% are very different things, so you're far more likely to make a name for yourself on social media than being the champion of it. Focus on the ones which will benefit you the most and over time you'll see where you lie in relation to each account. You'll start to pick up on which platforms your fans appreciate the most, and you can give them most of your attention.