With the near fall of OnlyFans, Twitter have decided to launch their own version. Super Follows allows creators to charge for behind the scenes content. You could treat your fans to secret videos from your latest tour or maybe even let them in on information that hasn't been posted anywhere else. Create your very own fan club!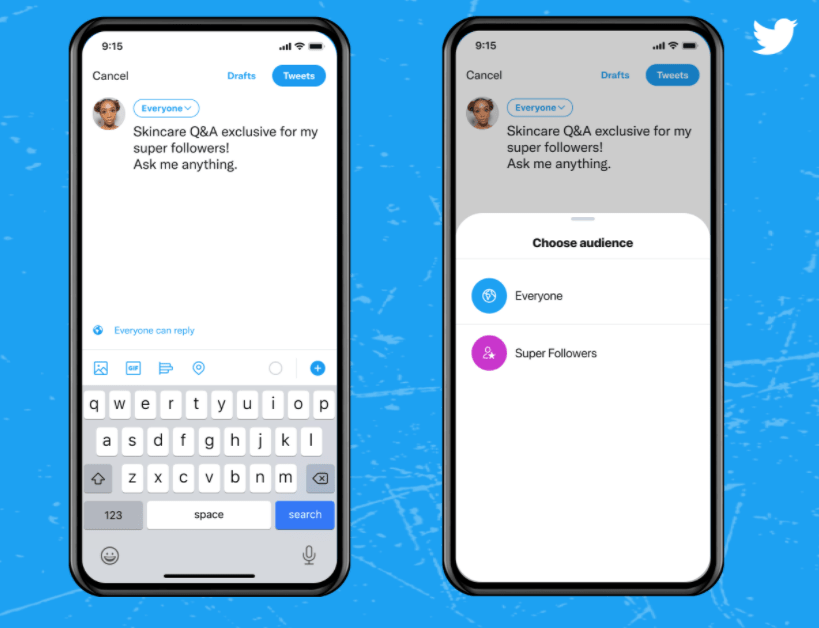 The feature was first revealed to the public in February and ever since we've all be in anticipation. Twitter have finally announced they're rolling it out to users. Now you can earn money through the app simply by sharing your content. Create yourself a following and Super Follows could become a great way of promoting yourself and earning money at the same time.
What is Super Follows?
Twitter have launched a new feature called Super Follows where content creators can monetize their work. For a set fee each month their followers can join a group of Super Follows and access content that isn't available elsewhere. It's like a backstage pass. They can join in conversations, and they'll get a much more personal feel to their interactions with their favourite artists.
The catch is, it's not currently available to everyone. But hey, good things are worth waiting for right? Currently, a select number of US Twitter users can access this new feature. It will only be a matter of time before the rest of us can give it a try. Creators have the option of charging their fans $2.99, $4.99 or $9.99 per month for a subscription to their work. Twitter will of course take a cut, so it might be worth considering this factor before choosing your price point.
To subscribe to a Super Follows account, you head to a creator's Twitter account. There you'll see a Super Follows button. Click it and read what they have to offer, along with their subscription pricing. It's as easy as that! You're not tied in either, feel free to unsubscribe at any time.
Who can use Super Follows?
The great thing about this concept is, it isn't for any specific type of creator. Anyone with a following can use the platform to share their thoughts, previews and subscriber-only conversations. With Twitter sometimes you find yourself not wanting to overdo it. You want to interact and talk with your followers, but you don't want to spam their timeline. It can be off-putting to see the same name clog up your entire feed. That's why Super Follows is a brilliant idea because those who want to see more from you can subscribe to this feature. This way you know you are not overloading anyone who isn't fully invested in your content.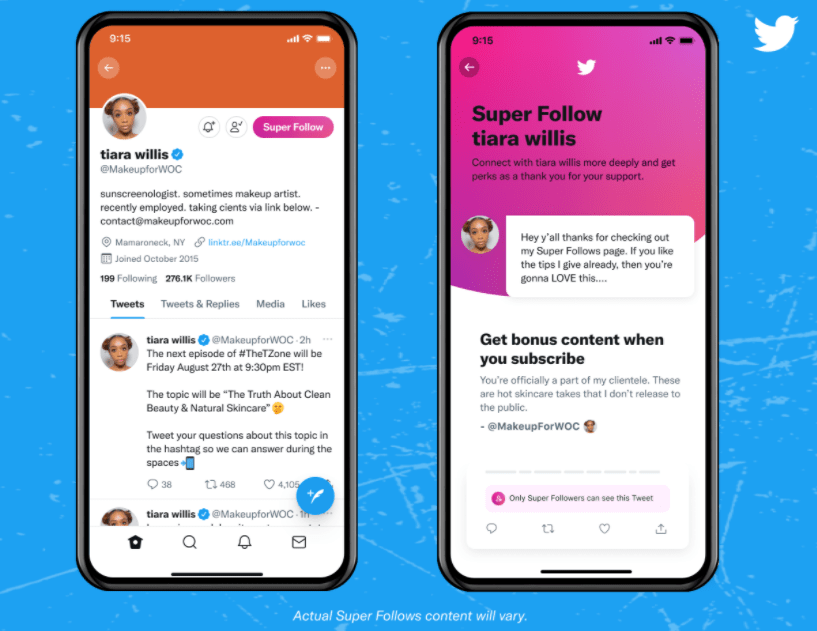 Musicians, writers, gamers, artists, beauty experts, activists, sports experts, the list is endless. Anyone is welcome to create interesting and unique conversations to a limited amount of viewers. As they're only just getting started, it isn't a feature everyone can yet access. At this moment your account must have at least 10K followers, and you must be at least 18 years of age. The last part we don't see changing which is for the best. Another factor is you must have tweeted at least 25 times within the last 30 days. This is to ensure you're current, and you're not going to have people subscribe to receive no content.
Starting off it will be a small group within the US but if you fit into the above-mentioned criteria then you can apply to join the waiting list to set up your own Super Follows. To do this, simply head to the sidebar on your home page and hit the monetization button. There you will see the Super Follows option. We don't currently know how long this waiting list is, but they seem to want to roll things out at a fast pace, so we can't see it being too much of a wait.
What sparked the idea?
Suspicions are that Twitter were quick to launch Super Follows after OnlyFans announced they were possibly banning sexually explicit content. It doesn't seem this is the case however as this feature was announced long before this threat. OnlyFans have since retracted this idea anyway, so it seems there is just enough room for the both of them. Perhaps Twitter will direct its attention towards other content creators that don't fall into this category as OnlyFans seems to be known for its sex worker user base.
It's been in the pipeline for some time. Let's hope it achieves more than their brief stories feature that no one seemed to jump onboard with. Social media platforms are just a game of copycat really. Once one does something that proves to be valuable, the rest follow and tweak it to their own market. Who's to say this will work in the long run? We're excited to see it in action though.