So your new release has landed on a huge handful of digital platforms, you also want to share your social media with your fans and you want to add in a link to a new music video you've made too. How can you share all of them with your fans both easily and coherently?
📌 Fan Links, sometimes known as Smart Links, are tools used by content creators to easily promote their content. They are mini, standalone webpages that contain all a musician's or creator's links in one place.
For example, an artist releases a new album on Spotify, Deezer, Apple Music and SoundCloud. In their Fan Link, they can provide links to the album on each of these platforms along with any other places their fans might want to visit – social media pages, purchase/download links, music videos etc.
⌛ Fans want to be able to quickly and efficiently access creators' content and social pages. Each fan will have different preferential platforms and services they want to use, making it troublesome for musicians and creators who want to appeal to their whole audience. By using Fan Links, fans can quickly access the content they want to engage with, whilst creators can tailor these landing pages to suit their content, audience and marketing strategy.
---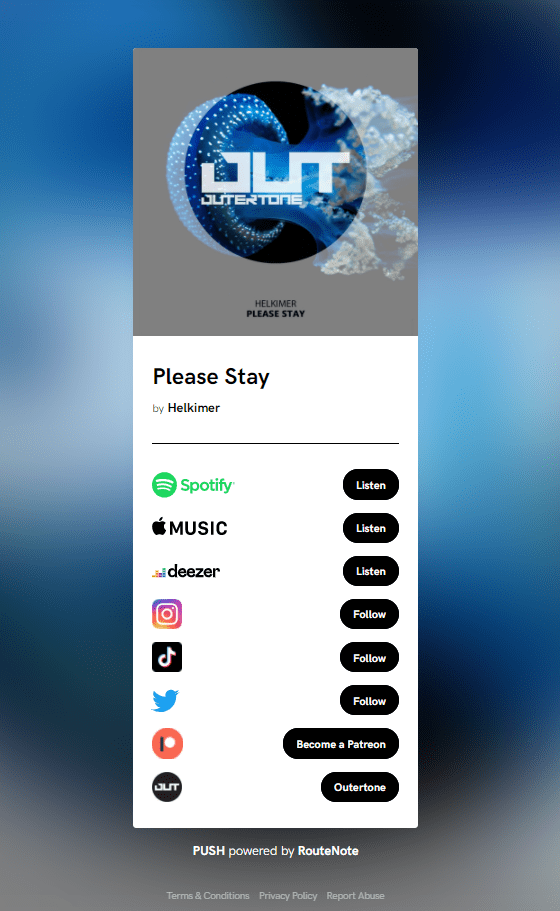 Here is a Fan Link promoting a new single release.
We have included the following links to best suit the content we're promoting and the artist's audience base:
🎵 'Please Stay' on Spotify, Apple Music and Deezer.
💻 Instagram, Twitter and TikTok.
🎟 Helimer's Patreon.
🏠 Outertone's main label page.
When making a Fan Link on PUSH, you can pick and choose exactly what links you want; if a platform isn't available on the dropdown menu, simply make your own using a custom logo, title and button action.
---
🔗 Fan Links are shared via one short, customisable URL. You can share these URLs on your socials, in your bios and and list them in your contents' descriptions. When fans click on your link, they will be directed to a landing page similar to the one above. Fans can then easily navigate to any of the links contained within, depending on what they're looking to engage with.
You can create a Fan Link for free with PUSH.fm and start marketing your content to your fans. Free users get 30 active Fan Links, whilst premium subscribers get unlimited Fan Links for only £4.99 a month along with unlimited Pre-saves and Content Unlock campaigns (up to 50GB storage).
Head here to find out how to make your first Fan Link and push your content to the world!