When you're starting out in the world of the music industry there's a hell of a lot to take in and a lot to start doing. The good news is that there's a huge ocean of digital tools, sites and resources you can use to begin your artistic career.
Other than the music itself, there's a handful of key avenues that you should know about as you immerse yourself in the musical world. That's why we've compiled our top picks to help you master these different avenues and go for gold. Each of these tools and resources are either cheap or free so you won't have to spend money before you've made it.
Branding and visual tools
One of the first things you should do is to build and a strong brand for your musical project. Once you've decided on an artist alias that accurately reflects you and your music, it's time to move onto visuals.
You might have a well-defined idea of exactly what imagery you want to create and any logos you want to design. If you don't then don't worry; you can take time researching and experimenting to find something to suit your brand down to a T.
There are a wealth of tools you can use to bring your ideas into life, such as:
Canva – is a free online design platform; created so people can create beautiful and professional looking imagery for their projects, brands and businesses. You don't need any graphic design experience or stock imagery as their intuitive interface and extensive template library makes the whole process super easy.
GIMP – is a free-to-download image editing programme which is perfect for beginners who aren't afraid to get stuck in. GIMP is an incredibly powerful image editor which can be used for anything; from logos to poster designs. However, we advise watching some tutorial videos so properly get the hang of using the programme.
Fiverr – if you don't feel confident enough doing it yourself or are unsure of what imagery you want, head over to Fiverr; the online platform for finding freelancers all over the globe. Do some research and look through some designer's portfolios. When you find someone that suits, hire them to design your imagery for you. You can search by reviews, pricing and many other filters too so you're guaranteed to find someone to suit your needs.
EDIT – with two different plans, there's something for everyone. You can either access their free account, or create yourself a Premium account with a simple upgrade. Create marketing and promotional pieces. Choose from thousands of templates, from a huge variety of categories and make something that stands out. You can customise these templates so they best represent you.
Web presence & social media
Next, it's time to build yourself a web presence and make some profiles on social media. Having a good social and web presence is absolutely fundamental to being an artist in today's digital age. It will hugely benefit how you're discovered by future audiences and fans.
We've put together a guide to choosing which social media platforms are right for you and your brand. Remember, try to also not spread yourself too thin and managing a huge number of social pages; there's no point having 6 social pages if you can't find time to keep all of them up to date.
If you also want to work on a website, you can choose to:
Use a site like WordPress, which has a tendency to require some experience of coding or web design. However as we said previously, if you're not fussed about spending time learning and experimenting you can build some incredibly beautiful websites for next to no cost.
Use a website builder such as Wix. These types of sites mean you can build stunning websites without needing any experience in web design or coding. However they will often require a yearly subscription to use.
Music distribution
If you have a body of work recorded and ready to go, you're going to need a music distributor. Music distributors are essential to getting your music on digital music platforms, such as Spotify and Apple music.
Our partners at RouteNote offer both free and paid plans to getting your music online. Meaning no matter where you are in your career, you can get your music on global platforms easily and efficiently.
To read more about RouteNote and what they offer, check out our independent guide to getting your music online.
Promotion tools
Once you've got yourself established your brand, your online presence and potentially released some material; it's time to promote yourself!
Promoting yourself will drastically improve your chances of people hearing your work and discovering you as an artist. Without promoting yourself, you're severely hindering your chances of success and how much your brand can grow.
We at PUSH.fm have a toolbox of easy to use, free marketing tools for you to start pushing your content. This includes:
Fan Links – a way of bundling up multiple URLs to your release on stores, socials or pages into one sharable and customisable link.
Pre-saves – a tool which allows listeners to digitally 'pre-order' your upcoming release. Perfect for sharing on socials to create buzz around your upcoming music.
Content Unlocks – a way of exchanging social interactions (such as follows, listens and tweets) in exchange for exclusive content and secret messages.
In order to make the most of these tools, your time and your efforts, our blog is full of handy guides and informative articles to help you get a solid grasp on marketing and how to make your music flourish.
Analytics
We know they look boring, daunting and uninspiring but your analytics contain a goldmine of information that you can use to your advantage. By knowing where to obtain your analytics, what they mean and what to do with them you're instantly setting yourself up for success.
There are a variety of sources of analytics and will depend on what platforms, services and stores your brand and content is available on. There are however, some go-to sites and apps that are an essential addition to any music makers toolkit:

Facebook Business Suite – using this site, you can look at the insights of both your Facebook and Instagram page in one place. Simply click on 'insights' in the left hand menu and you'll be presented of an overview of your pages' trends, content reach and audience statistics.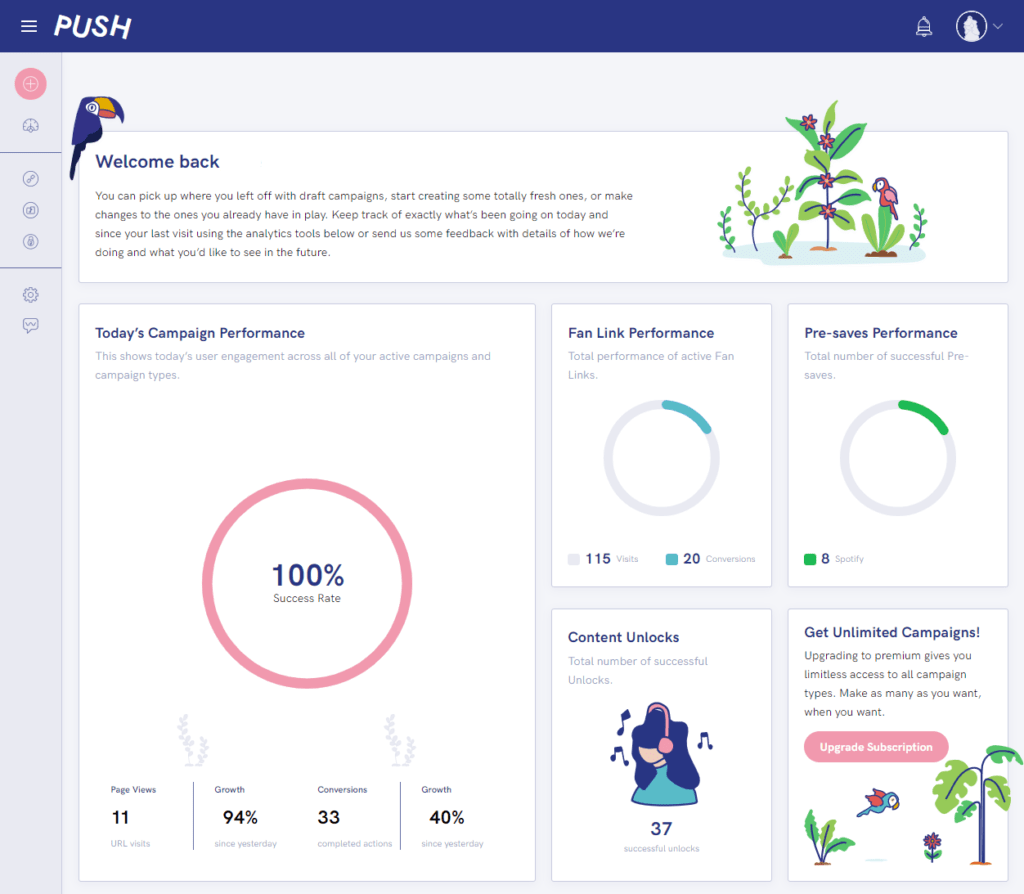 PUSH.fm statistics – With each PUSH.fm campaign you run, you'll collect analytics each time they're interacted with. From conversions to interaction times, you can use the wealth of information to influence future marketing decisions and promotional plans.
If deciding to use another digital marketing tool provider, make sure to become acquainted with the analytics they provide and how to utilise them.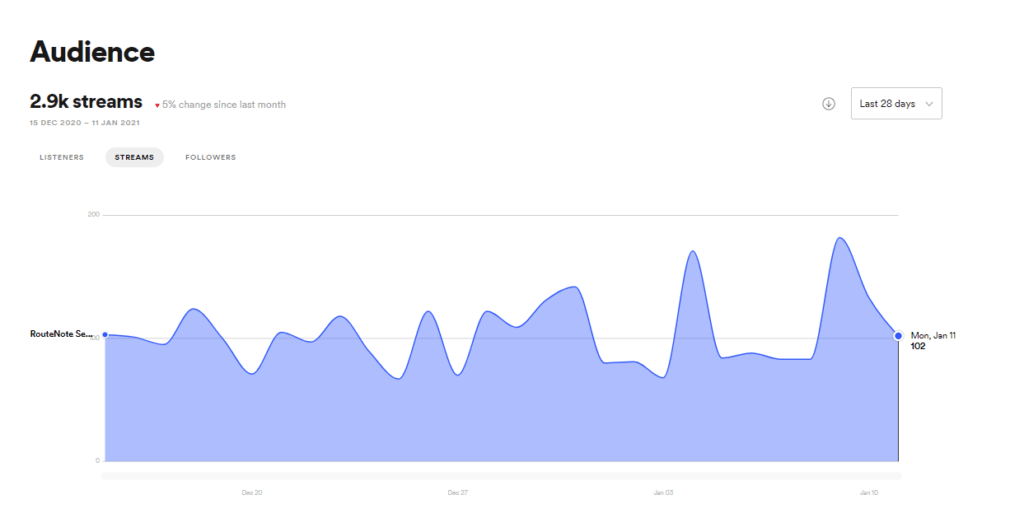 Spotify for Artists – this website/app was developed by Spotify to allow artists access to their streaming insights (and much more). It offers incredible insights into your fanbase and how they interact with your music; perfect for analysing your top songs, countries and listener age groups.
There are valuable other similar tools for other streaming services which are worth registering for, such as:
---
Getting all of these avenues up and running might seem like a lot of effort, but we promise it'll set you up for success. Now, go out and see how far you can take yourself and your music.
Are there any other tools and resources that you swear by? Let us know in the comments