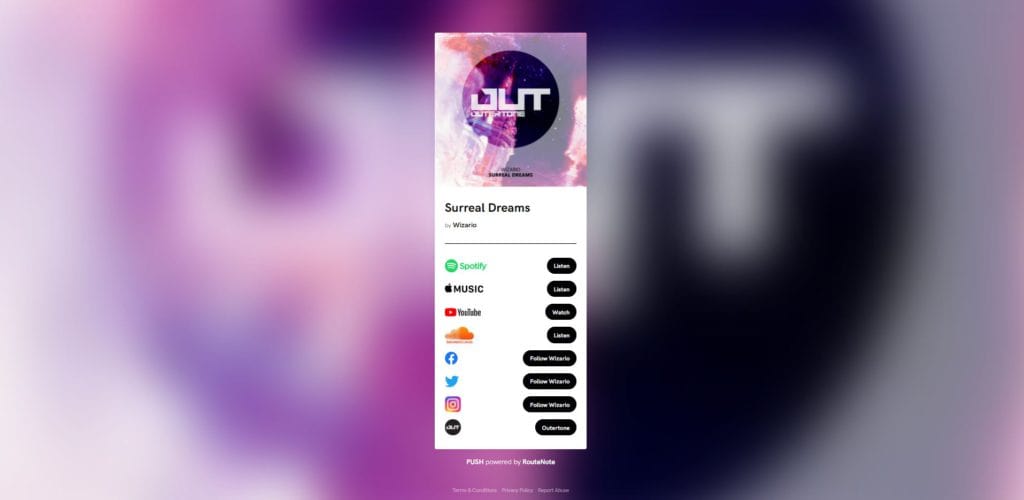 When your new release drops, you don't want to have to copy and paste links to every individual streaming platform. By using a smart link, you can route your fans to their preferred platform from one page.

What is a smart link?
Smart links are sharable links that bundle up multiple URLs into one page; an all-in-one micro-website. They are perfect for independent musicians because they allow listeners to navigate to their preferred streaming or download platform, all from accessing one single link.
Here at PUSH.fm, we call smart links Fan Links.

Why should I use them?
Smart links benefit both your listeners and you.
Your listeners don't have to wade through internet searches to find your music on their preferred platform. By using your smart link URL, they can access it in 2 clicks.
When telling the world about your new music, you no longer have to paste individual links to each streaming platform or store, using up precious time. Also, smart links are totally customisable; you can design it to embody your visuals, theme and vibe.

What can I customise?
PUSH allows extensive customisation, such as:
Adding your own images – JPEG, PNG or even a moving GIF!
Choose your PUSH URL – add your own ending to your link's URL.
Add custom button text – add your own custom text to your buttons to reflect your link type.
Choose your icons – either use our pre-loaded icons or add your own images for each link. Or, decide to just leave them as text instead.

What links can I include?
You can put any URL you want in your Fan Link; link in your socials, your music, your merch, your new tour announcement, your new music video; anything you want!
There's also no limit to the number of URLs you want to include, so you can include as much or as little as you want.

How much do smart links cost?
Using PUSH.fm, you can create up to 30 active Fan Links for free. As a free user, you can create more smart links than this, but any excess will have to be archived and can't be used by your listeners.
We offer a paid subscription at £4.99/month which unlocks unlimited smart links, meaning you'll never have to worry about archiving any of your links.

How do I make a smart link?
If you've got a release that needs marketing, you can jump on the bandwagon and make your first PUSH.fm Fan Link with our step by step guide.
---
Check out our other marketing tools that can be used to push your music harder and further.