After a long testing period, TikTok have finally launched their shop feature within the US. For a long time, other countries have gone crazy over the low-priced items available through the video app. Now the US get to experience this.
TikTok has been known for its extensive e-commerce feature for some time. When it first came around, many were sceptical of the low pricing. However, over time, the platform has proven its value, and shown that the shop is a bonus rather than a problem.
Up until now, the US didn't have the luxury of purchasing items directly through video content, however. But, finally, after a lot of testing, the US now have a TikTok Shop. US TikTok users will see a shopping tab on their home screen.
They will also be able to see live video shopping, adverts which they can purchase through, and affiliate programs for content creators. Within the US, TikTok has more than 150 million users, so it's likely the e-commerce stores will see a lot of interest.
TikTok began US testing in November
TikTok started testing the idea of shopping within their app back in November for their US users. Since then, they have added more vendors to their testing. Bytedance who are the parent company of TikTok have even tried various formatting options.
Their formatting tests have been within the UK and South East Asian markets. During these testing stages, TikTok have been able to discover users likes and dislikes when it comes to shopping. Developing and expanding their store tab along the way.
Across other markets, the designated shopping tab was launched in June of this year. Before this, there were several ways you could access the e-commerce options, but not all were that easy. Now, it is a browsable, user-friendly aspect of the platform.
The US are noticing a dedicated e-commerce tab
Perhaps this is something that was developed during their US testing. It might be that US users are seeing this dedicated tab around the same time as the rest of the world. Creators are still able to tag products and earn through sharing brands items.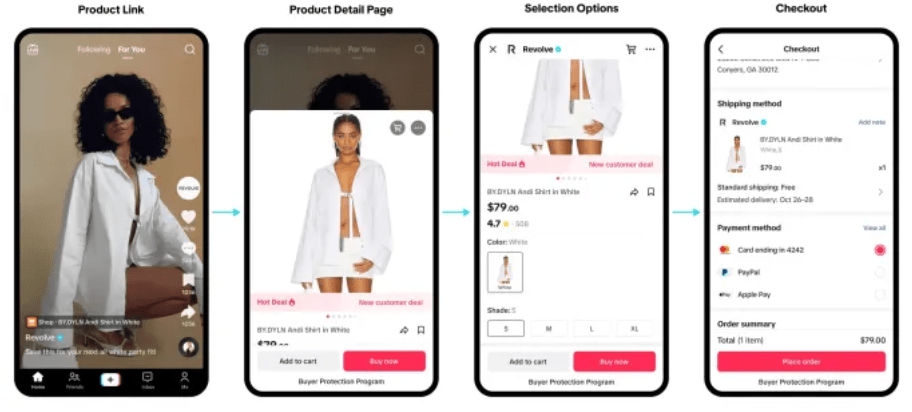 However, now, it is much easier for users to find what they're looking for. Many large, well-known brands and companies are partnered with TikTok. A few included are; Zendesk, WooCommerce, Salesforce Commerce Cloud and Printify.
Since adding TikTok's Shop, TikTok have signed up more than 200,000 sellers. Also, more than 100,000 content creators have signed up to be part of the affiliate program. There is some backlash, however. It isn't all sunshine.
Sellers aren't local
Many have reported that 90% of the sellers are out of their own country. Meaning, they aren't local sellers and therefore by purchasing through TikTok's Shop, viewers are supporting locally. Instead, it's been argued, a lot of the items are cheap, counterfeit goods.
This might be great for a lot of individuals who want to save money, but it doesn't help small businesses. With the trends of #TikTokMadeMeBuyIt it's hard for smaller businesses to be seen. After all, most people love a bargain.
Perhaps Bytedance could consider having more of a push on local products within each of their markets. You'll find smaller businesses within your area, but, it isn't what you first see when heading to the shop. Instead, you'll have to search for it.
What are your thoughts? Do you enjoy the low-priced items and great flash deals TikTok offer? Or, are you completely team local? It would be great to see the balance be corrected between the two. But, perhaps with their US updates, this could happen.