We could say, you need to just get started, but we know that's really not that helpful. So, instead, we'll run through some options you have when starting out. You don't need a specific qualification to become a music producer, though it can help!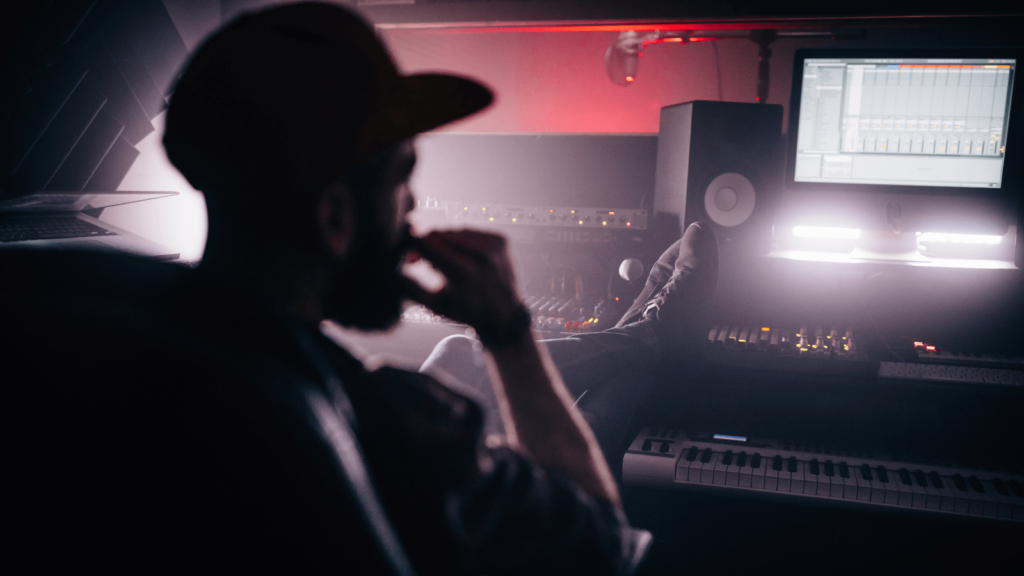 Music producers are vital to the music industry. We always need more, there will always be room for another. Despite what others may tell you. However, it's important to know what or who you'll be up against. While you can learn on the job, artists aren't likely to choose you over your competition if you're still in the trial and error stages. Get ahead by practising as often as you can.
So, what does a music producer do? They oversee the creation of a song. From the very beginning, all the way through. They often choose the musician, band, investors, recording studios and any other creatives they might need. How the track(s) end up is down to them. Therefore, they need to ensure they have a team that will produce something perfect. Music producers have a lot of pressure behind them.
Music producers are the ones to set a schedule and ensure everyone is sticking to it. They'll have to provide feedback throughout the process, both good and bad, so it is important you're able to do this. You'll be the main contact between the client, or label, and therefore you will need to be able to make quick fire decisions that affect each track. It's important you're good with budgets. It isn't just a case of being able to mix tracks.

As you'll have the responsibilities of finances and sharing the budget around, you will need to be comfortable with this. Right from the selection process of your team, you'll also be involved with the creative aspect of engineering and mixing each track. Therefore, the final outcome will be down to you. A track will come to you in the raw format, and you'll be responsible for editing and mastering it.
Tweaking it, adjusting vocals, anything that is required will be down to you. It's therefore, important you have a really good ear for music. Being a music producer isn't for everyone, as it involves being good at so many different areas and pulling them all together when creating a track. You need to be able to visualise the end result. What is it you're looking for? You should be able to express this throughout the whole process.
How to become a music producer
Start off by getting yourself familiar with the industry. Attend gigs, and concerts. Listen to all genres, not just your favourites. After all, you need to be able to take on any project and not be too picky, especially in the beginning. Practise mixing, mastering, recording – the lot! Perhaps even take a course, because then you'll have more in-depth knowledge and also someone to refer back to.
Taking a course within music production means you'll have teachers on hand to ask questions. When you're stuck or something doesn't sound quite right, you have advice on hand, rather than struggling alone. You'll also end up with a qualification that could help you find work within the industry. It can be really hard to make a name for yourself from scratch with no leg up. Having a qualification might mean other producers are willing to let you work with them to build on your experience.
It's important you gain as much experience as possible. Don't be unwilling to work for free in the beginning. Help out with other music producers where you can. The experience you'll gain will be priceless. Then, you can branch out on your own and start charging clients yourself. You might have many fresh and new ideas that other companies aren't yet aware of. Take it to them and impress them, it might do you favours in the long run. Perhaps even a paid position.
However, you go about it, remember that becoming an experienced music producer does not come overnight. You need to learn, grow and make mistakes along the way to continue to expand your skill set. Practise as much as you can, and try to stay as organised as possible. After all, without organisation, you won't be able to juggle all the tasks you'll eventually have. Keep going at it, because practise makes perfect!