Spotify have made some interesting updates over the past year alone. However, now, it seems they're aiming to create an immersive experience that their competition can't compete with. A new mobile interface, connecting artists and fans in a different way.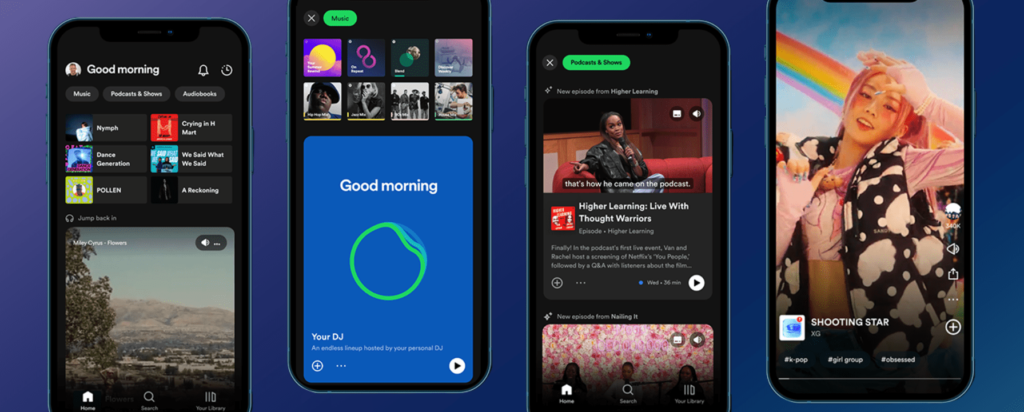 Spotify are well known by now for their regular updates. It seems the streaming platform are always one step ahead of their competition, with many then following suit. During Spotify's recent Stream On event they announced their new changes to the mobile interface. Users will be able to explore a deeper role within the audio discovery process.
After researching into the user experience and figuring out wants and needs, Spotify found listeners want more from their listening options. It seems users are looking for more from audio samples before they listen to the full track. Spotify are therefore aiming to add advanced recommendations on canvases, and an interactive design on the app.

Users will see Music, Podcasts, Shows and Audiobooks on their homepage. These will be displayed as previews. Listeners will be able to hear a short preview of the track or audio – these tracks will be personalised to you and your listening habits. You'll be able to tap, save and share, or go deeper into listening by heading to the creator's page and hearing the full thing.
Explore hashtags related to the tracks of your choice, which has been designed to help users discover new favourites. There will still be shortcuts to your recently played tracks, or your favourites. It won't be difficult to jump right in to where you left off previously. The redesign is to add to your user experience by making new content easy to find, and even easier to save.
Spotify's new Smart Shuffle will change the user experience, keeping things moving along. Personalised recommendations will be shared with each user, to match their listening styles and habits. The streaming platform are changing elements of their app to appeal to their users. Their aim is to provide the best listening experience all round.