Instagram have announced they're expanding their management tools. Now, you'll be able to access a feature called Quiet Mode. This reduces the social pressure of being online and hopefully will then reduce stresses of certain users.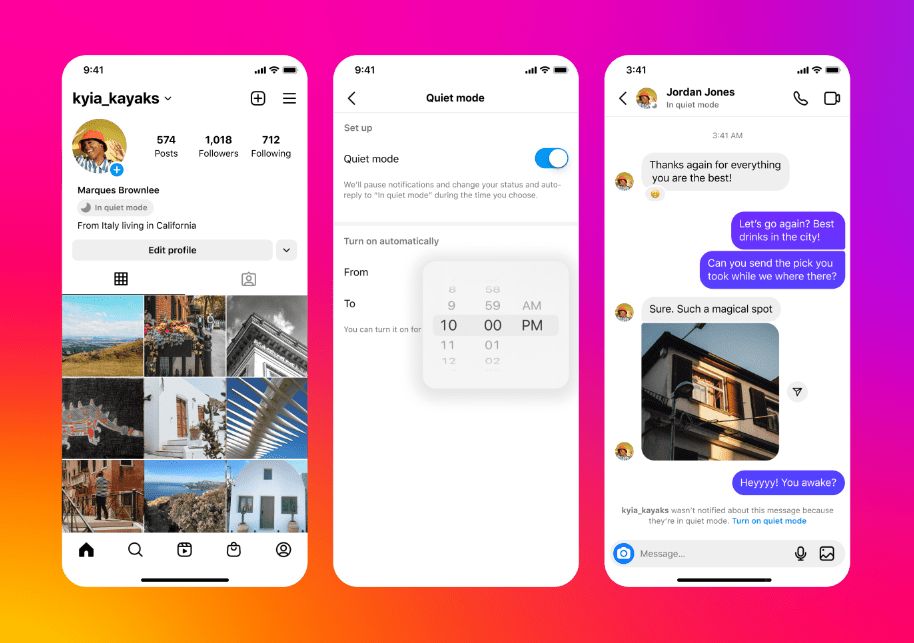 Instagram are introducing Quiet Mode, which will be part of their updated management tools. The aim of the new update is to reduce anxiety amongst users. The idea is users take time away from the app, they silence their notifications and DMs won't disturb them.
Many social media users find it hard to take a step back, but it's really important to. Quiet Mode will alert your friends that you're not active on the platform right now. When they try to contact you, they'll be informed your account is set to Quiet Mode.
This will help teenagers especially when it comes to night time. Many can't pull themselves away, especially when their phones light up at night. However, setting up this feature means once they put their phone down, they won't be disturbed.
With this update, several changes were made to Instagram's platform. One major one being parental controls. They've been expanded so parents can have more of a say over what their children are able to see on the app.
Teenage privacy, unwanted adult content, and restricting mature content are just some of the ways Instagram are increasing their parental controls. This comes after fears of safety for all children on social platforms.
Instagram have previously added age verification to combat young children accessing their site. More and more rules are being put in place to ensure the safety of younger social media users. Platforms like Instagram are constantly updating their features.

Quiet Mode becomes part of the screen time management tools Instagram offer. It allows all users to limit the amount of time they spend scrolling through posts per day. Users can choose the Take a Break option to receive alerts when app session reaches a certain amount of time.
Take some time away from your screen. Whether you're heading outdoors in nature, or sitting down quietly to read a book. Despite social sites needing people to use them to earn revenue, they're also pushing people to take breaks from them, as they're not always healthy.
It's said teenagers will be prompted to use the Quiet Mode option. However, the option will be available to all Instagram users. All users in the US, UK, Ireland, Canada, Australia and New Zealand will be able to use it.