Apple Music have revamped their Replay feature. It seems they're trying to keep up with their biggest rivals Spotify who have seen great success with their Wrapped feature. This year Apple Music have made some changes which will see users accessing their own charts for listening habits.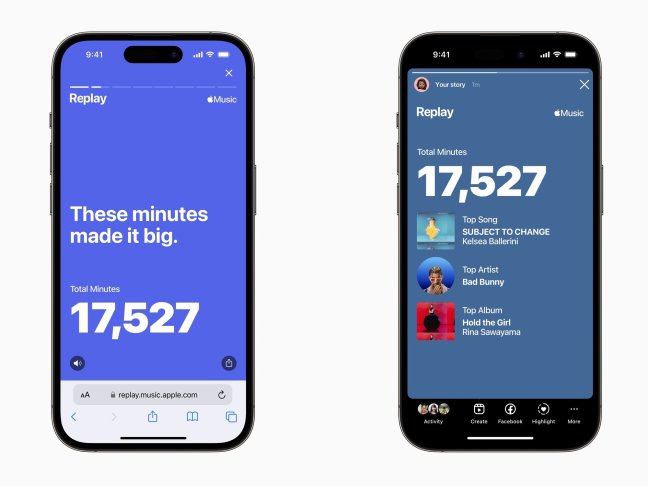 Everyone waits all year for their Spotify Wrapped. It's a yearly round-up of all the songs and artists they've streamed the most throughout the year. It is officially Christmas when Wrapped hits the platform. However, Apple Music have their own version. They've previously run a feature called Replay. The idea is, it allows Apple Music users the chance to see their most streamed artists and songs too.
Spotify Wrapped takes over social media for days, if not weeks. People rush to share their summary with friends and even compete to see who is the bigger fan of their favourite artists. It only makes sense for Apple Music to get behind this too. If theirs could take off in the same way, they'd see a lot more interest around the festive season. Perhaps they're hoping to see results, as they've made some changes this year.

Apple Music users can access Replay via the platform's website. Replay first started in 2019, however it has never been as successful as Spotify Wrapped. It hasn't been updated since, that is, until this year. The new redesign includes a lot more data than previously. Users will be able to see statistics about their listening habits which they can then share. Apple Music will create personalised highlight reels of songs, artists, albums and genres each user has listened to most.
Users will be able to track how their listening habits change right up until the 31st December. Before now, Apple didn't stand a chance. Spotify had the upper-hand. However, now, it seems Apple Music might be able to join in. Both platforms will be offering insights and end of year reviews for their users. Apple released their new updated feature on the same day that YouTube Music's 2022 recap became available. Was this a coincidence, or was it to try and rival YouTube? After all, they probably won't be able to overthrow Spotify any time soon, so why not try for YouTube?