YouTube has added the feature allowing creatives to reply to their comments using YouTube Shorts. A quick video explaining something further or responding to a nice comment could really boost your audience's interaction.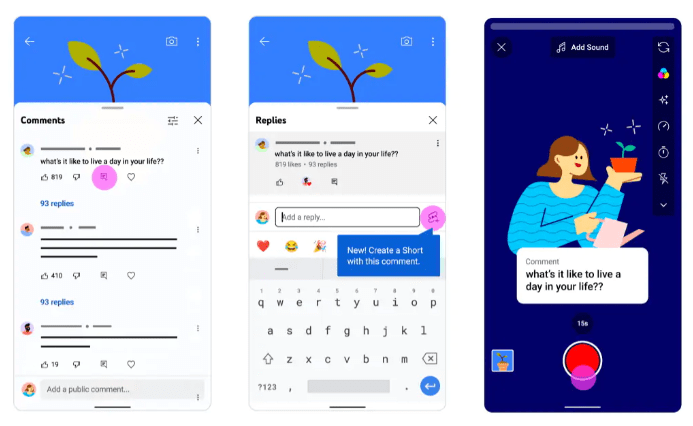 It was only a matter of time before YouTube decided to add this feature. Let's face it, TikTok and Instagram have had this for a while. Instagram adding it back in December 2021 and TikTok even earlier – allowing creators to reply to comments with video footage from June 2020. YouTube have followed suit and now added the option for creators to reply with a short video.
Capping it to Shorts requirements means they can't create a feature length film just to agree with someone's comment. Having a limit is a great idea because it stops responses from being far too long. Otherwise, they're just another video sharing element which sort of defeats the point. Short and sweet videos can help sum up any questions or concerns a viewer may have.
They've been added to allow creators to easily reply to their comments. This is handy for many reasons. For example, if someone is commenting incorrect information and perhaps therefore misleading others – you can stop this. You also come across as more personal to your audience. They see there's a real person replying to each comment, and it makes them feel valued.
It's often easier to speak a response also. Coming across online can be difficult because you can't add your tone of voice. It's easy to read things in a different way to how they were intended and this doesn't solve anything. You'll be able to explain yourself clearly and effectively. This feature is available on all iOS devices, but not Android just yet. In time we're sure we'll see it come to Android too.
For the iOS users looking to try it, simply head to your watch page, find the comment and click Create a Short. Then you'll easily be able to add in a video response to your viewers comments. It doesn't seem like there's a limit to how many video responses you can do either which is great as smaller content creators might benefit from personalising replies to each of their viewer's questions.