Both PUSH and Listento offer Pre-save links that can be customised to suit all artists. However, with all platforms, there are many differences. While both of these services offer musicians the chance to share their music ahead of release day. They come with different costs. Both sites have free versions, but what they include within these plans is very different.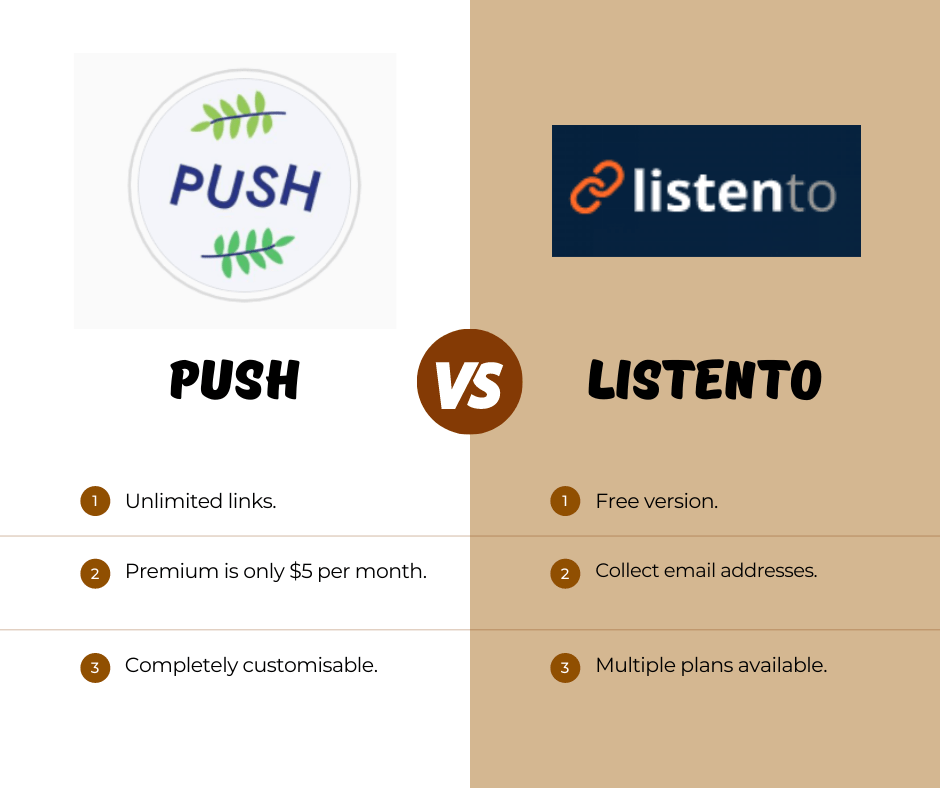 PUSH.fm
PUSH.fm is a site that offers Pre-saves, Smart Links and Reward Links. All of these can be created at no cost. Our links are all unlimited for both our free and Premium users. These links can be completely customised. By this, we mean you can select a URL name, change your store logos, add any text you wish and also upload your own artwork. When it comes to customising, it doesn't matter whether you're on a free or paid account. You have the same options regardless. Our free plan offers 1GB of storage, so you might decide to upgrade once you have reached this limit. However, prior to this, you may find no need.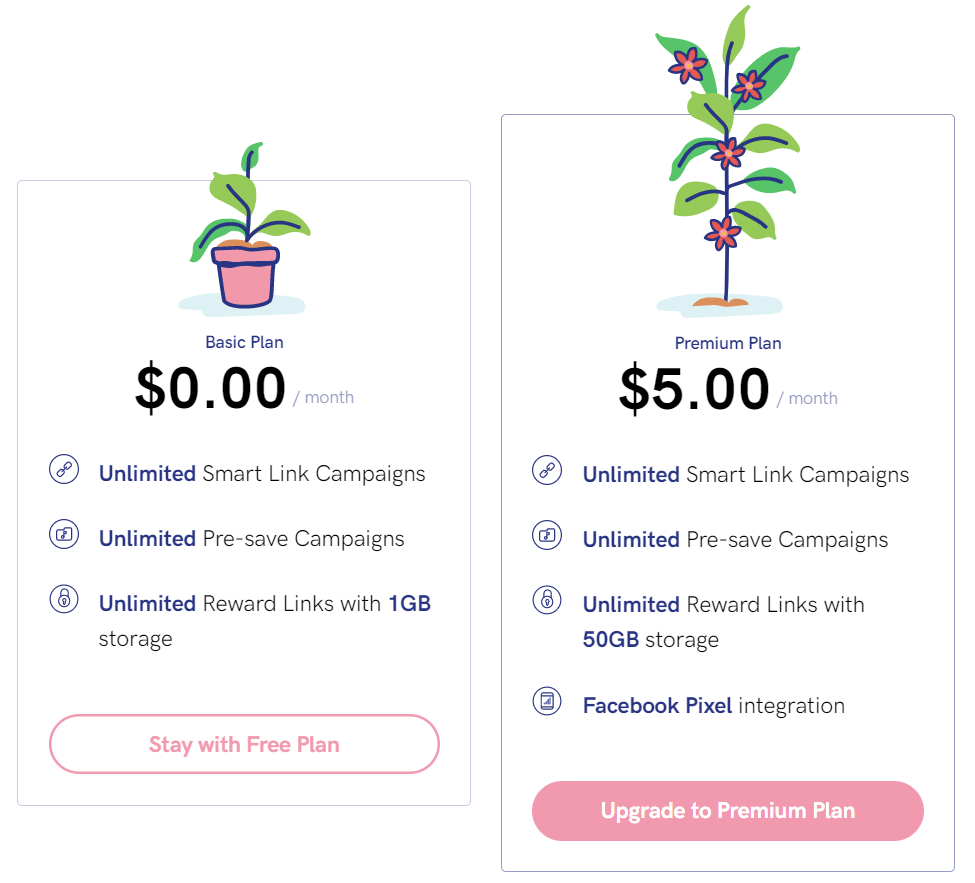 Add as many links as you like under your URL. When it comes to creating a Pre-save, you can do this for Deezer, Apple Music and Spotify. Other stores don't offer this feature which is why all Pre-save providers will only include these select stores. Creating a Pre-save link helps increase the potential listeners when your music is finally live. It also improves your chances of being featured on Spotify's editorial playlists. They're a great tool to have and with PUSH.fm you can make them for every new release you have, without spending anything. Pros and cons to PUSH.fm's service have been put below. Here's what we think we excel at and possible areas of improvement.
Pros
Free version is extensive

Pre-save, Smart Links and Reward Links offered

Completely customisable

Unlimited links

Facebook Pixel integration
Cons
Email collection is not yet possible

1GB of storage on free plan

Background is based upon your chosen artwork
Listento
Listento is a website that allows you to create Pre-saves and also Bio Links. You can choose from multiple themes when creating your links. These themes will determine how your links appear. You'll be able to choose your own domain link. Meaning, when your fans head to your link they'll instantly know it's yours. It helps people to remember where to find your URL because they're customised to you. Creating a Bio Link helps keep all your URLs in one handy place. It means you can share everything with all your fans, and they can decide which stores are best for them.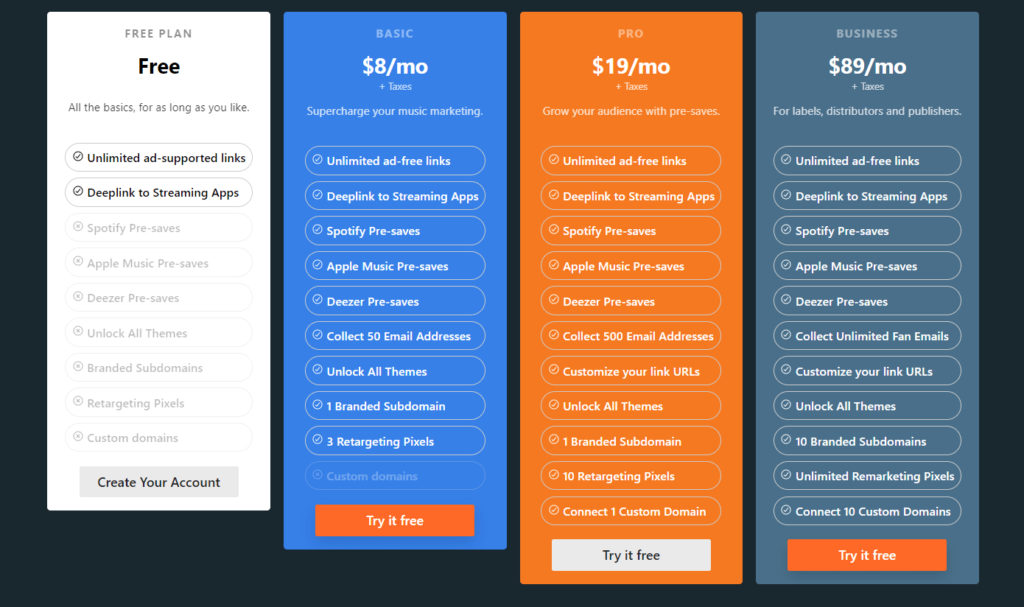 They have 4 different pricing plans. The first one is free, but it doesn't offer much option. You can create unlimited links, however, they will include adverts. If you want to create a Pre-save, you will need to upgrade to at least the Basic Plan. This then includes Spotify, Apple Music and Deezer Pre-save links. It also takes away the adverts that are included within their free option. From here there is a huge jump. The next option is $19 per month + taxes. Although it isn't clear what they mean by the + taxes part. Their Pro version does offer a great deal more, but it comes with a price tag. It would make sense to start with a free trial to see if you really need to pay for this option.
A great thing about Listento is that they don't require card details to start your trial. This can be off-putting for a lot of people. They don't want to forget to cancel their trial and end up being charged for something they don't use and possibly can't afford right now. That's why we find being offered the free trial without a catch is a positive thing. With this being said, their price tags do seem steep considering what they offer. With PUSH for example, you aren't required to upgrade to access our features. Take a look at the pros and cons we found when reviewing Listento.
Pros
Email collection

Can trial premium versions for free

Retarget Pixels

Cons
Free version contains adverts

Paid versions are $8+

Must upgrade to create a Pre-save

Free version comes with no themes