You might have never spotted them before. They certainly were a secretly added feature. Released in 2020 but still very few Instagram users seem to know they exist, or how to make one. Instagram Guides can combine your own posts with posts from other accounts. It almost forms a collaboration piece telling your followers everything they need to know about a specific subject.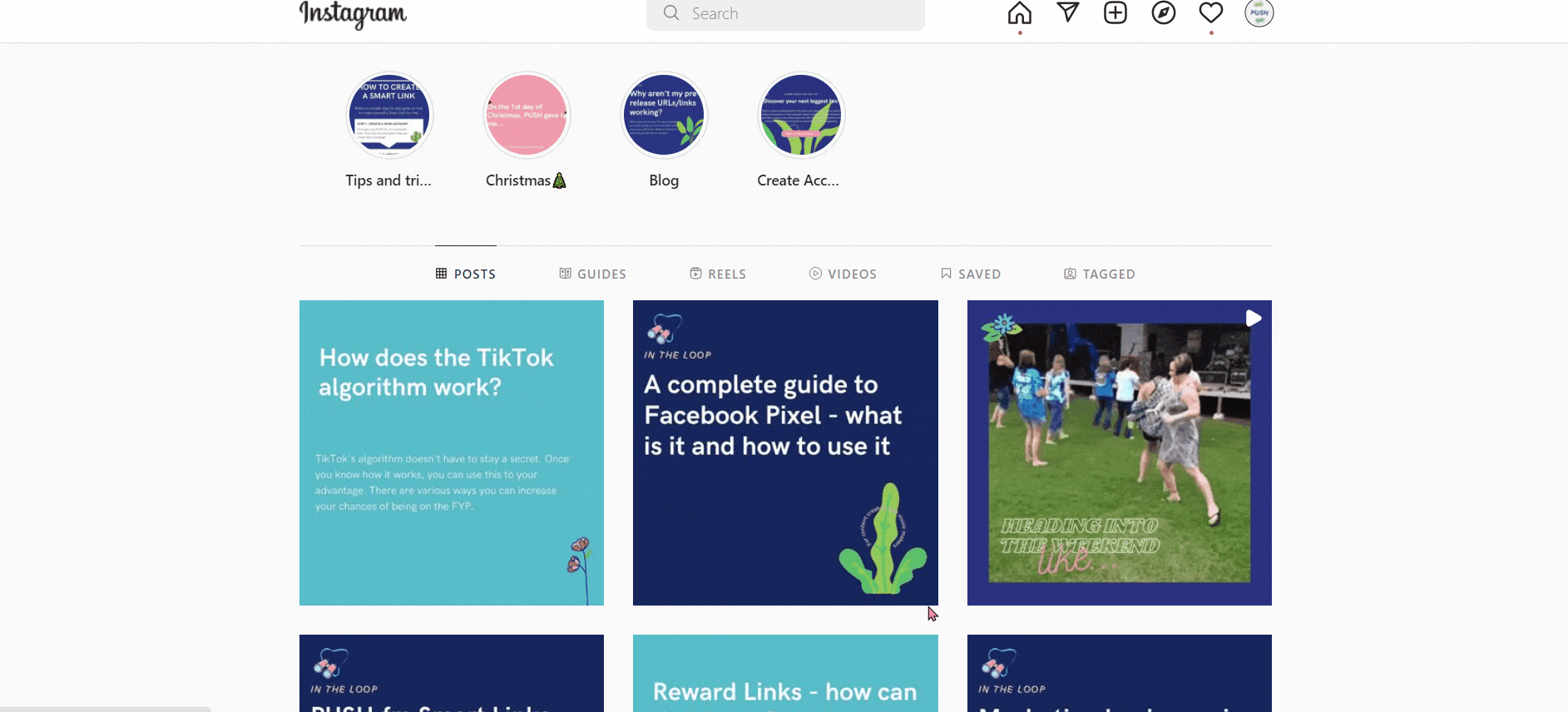 What are Instagram Guides?
Instagram Guides are a collection of posts that have already been published. It is a way of placing them together to give your followers all the relevant information in one place. The great thing about Instagram Guides is, they don't have to be made up of your posts. They almost act as a collaboration. However, if you like a post someone else has created, you don't need to jump through hoops to share it with your followers. You can simply add it to your guide and it's there for them to see.
It's important to note, the original account's post will be displayed within your guide. So, you aren't stealing the content you think is great. Instead, you're sharing it to your platform as a permanent feature. That way, everyone can learn. It's a fantastic way of pulling multiple resources together. Maybe you want to discuss a topic, but you want your audience to see it from multiple viewpoints. Or, perhaps you want to get as much information in as you can to one post, so you decide to compile multiple posts.
The three types of Instagram Guides
There are 3 different ways you can use Instagram Guides depending on the content you want to share. When you go to create a guide, you will be asked to select one of these options. Each type has its own benefits. It can bring more views to the original posts. Essentially it is a way of recycling content.
Post Instagram Guide
These are exactly as they sound. You select the relevant Instagram posts and combine them. This could be various posts about a subject you're passionate about. For us at PUSH, it might be us sharing multiple Smart Links that have been created. It's important to be aware, you can't scroll through Instagram to select these posts. You must either pick from your own posts or the posts you have saved. So, if you are scrolling through and see something that would look great in one of your guides, save the creator's post. Then, when you go to make your guide, you'll find exactly what you need.
Product Instagram Guides
Product Guides are created to share ecommerce products. Anything that is being sold through Instagram can be added into a Product Guide and posted to your Instagram account. They can be used to highlight your own products for sale, or to share products you like being sold through other accounts. You could combine posts displaying how to use the products along with posts showing the products in action. The more you share about how and why to use the products, the more people may show an interest.
Place Instagram Guides
Place Guides are designed to show locations that are specific to you. This could be showing various locations in which your company has offices. Or, maybe you want to share places that mean something to you and your account. Ensure the places you choose share a theme. You can share multiple locations in one post through geotags. These could be anywhere in the world, but they will need to link somehow through your work or Instagram page.
How to create your own Instagram Guide
It's important to note, you can only create Instagram Guides from a mobile device. The option isn't currently available on their web version, and considering it has been a feature since 2020, we can't see them adding this any time soon. When you're on your mobile, you simply need to head to the plus icon where you usually would go to create a post. From there, your options will appear, and you will see Guides as one of these.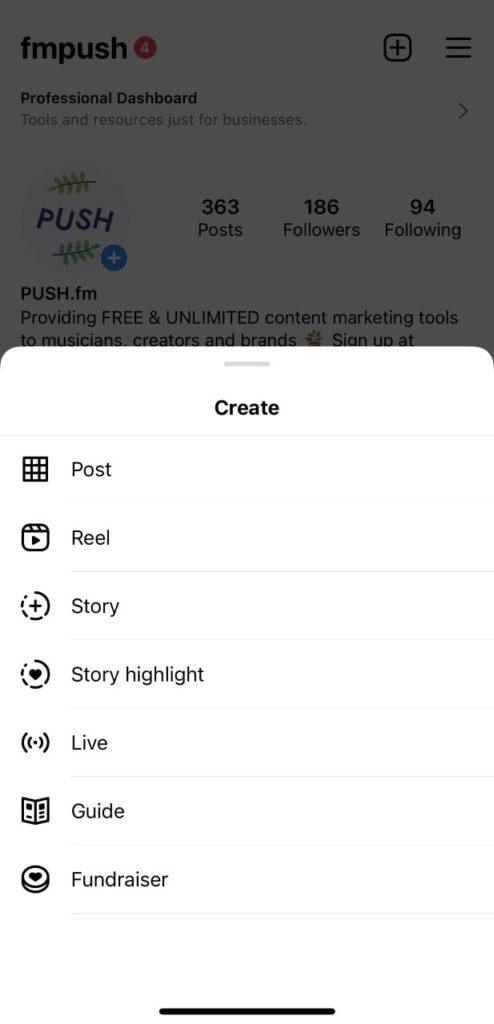 Once you've selected Guides from the list, you will see the 3 different types they offer. Simply select the one that fits what you want to promote. They all have short little descriptions explaining what they're for just in case you forget or cannot decide.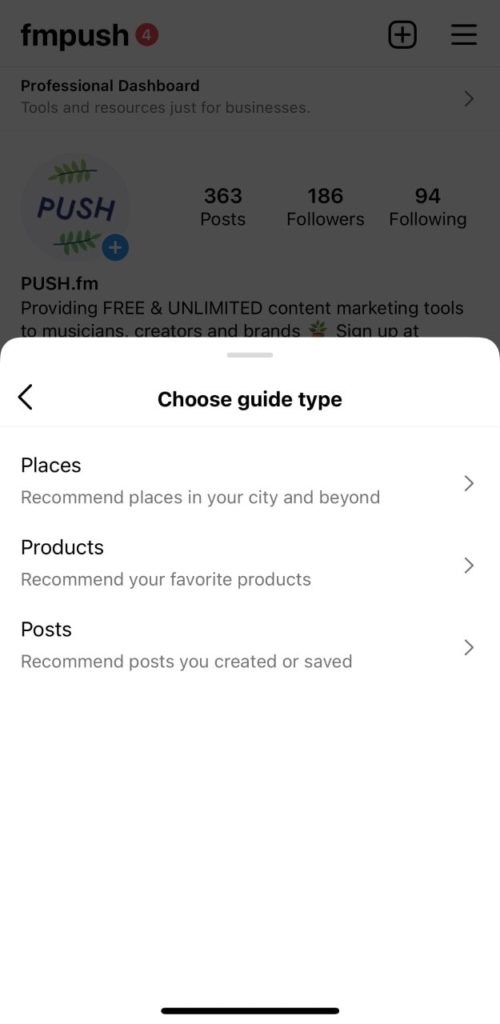 After selecting your option, you'll be taken to the next screen where you can start selecting posts. Since PUSH is most likely to create a guide from various posts, we selected this option. You will be able to flick between posts you've saved and your own previously posted ones. It's up to you whether you select from both categories or just one.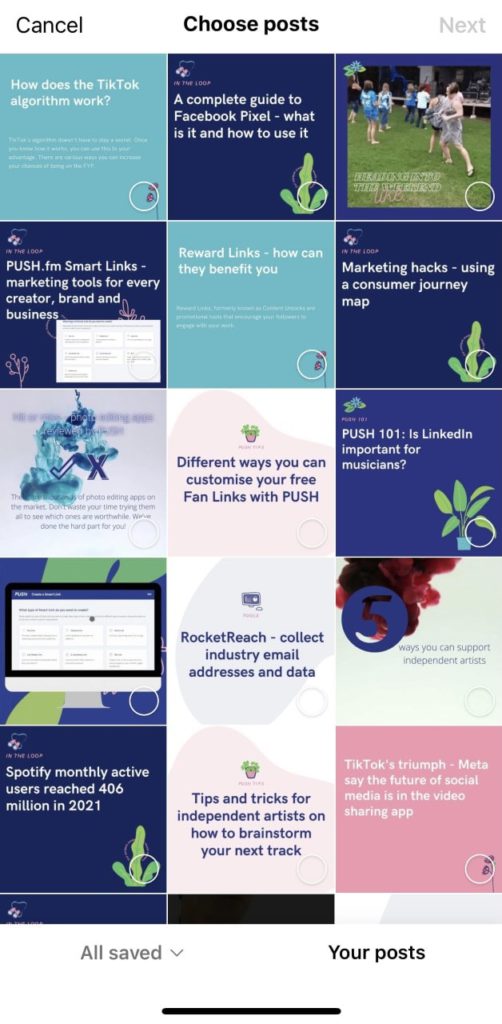 After you've selected your posts, you'll then move on to the editing element. Within this section you'll get to add headings to your post and each section. You'll also be able to write a snippet of information to accompany every post you've included. This is a great way of summing up the posts and letting people know why you have chosen to include the information from these particular accounts.
If you realise you've missed any posts, you can add them here. You can also rearrange if you want to put one post ahead of another. Make sure it all flows correctly before sending it out to your followers. Your post will be shown with your chosen article as the cover image. Ensure the one you pick stands out because this is what will draw people in. Perhaps go against your normal style if you're including posts from other accounts. Sometimes using posts from other accounts you've included will stand out more because their style is nothing like yours.
Check out the rest of the process below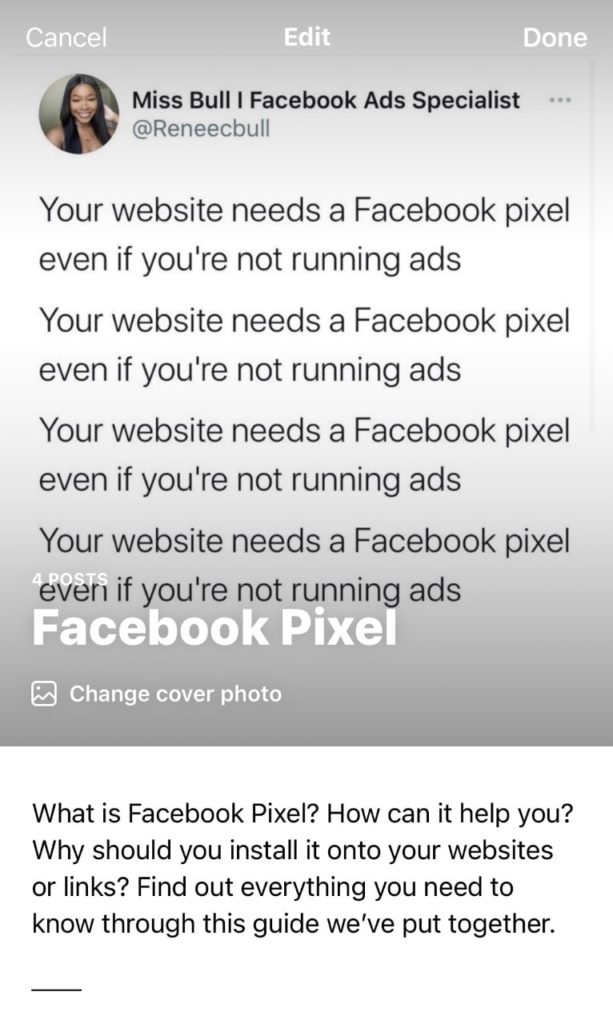 Selecting your cover photo. This will be chosen from your selected posts. Make sure it's the one that stands out the most. For us, we picked this one because it was more relatable being a tweet, it was repetitive so wasn't too wordy, and it was the furthest one from our normal style of posts.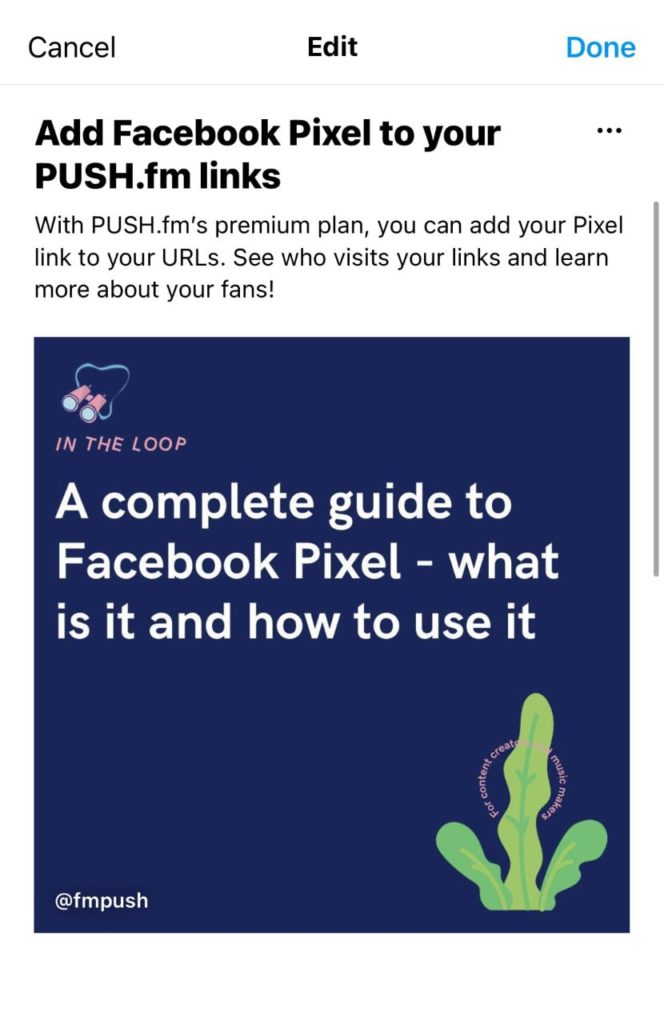 Work on your placement for each post. For example, ours wasn't the cover photo, however we still want it to be the first post people see, because ours has the most information about the topic, and we want to display this first.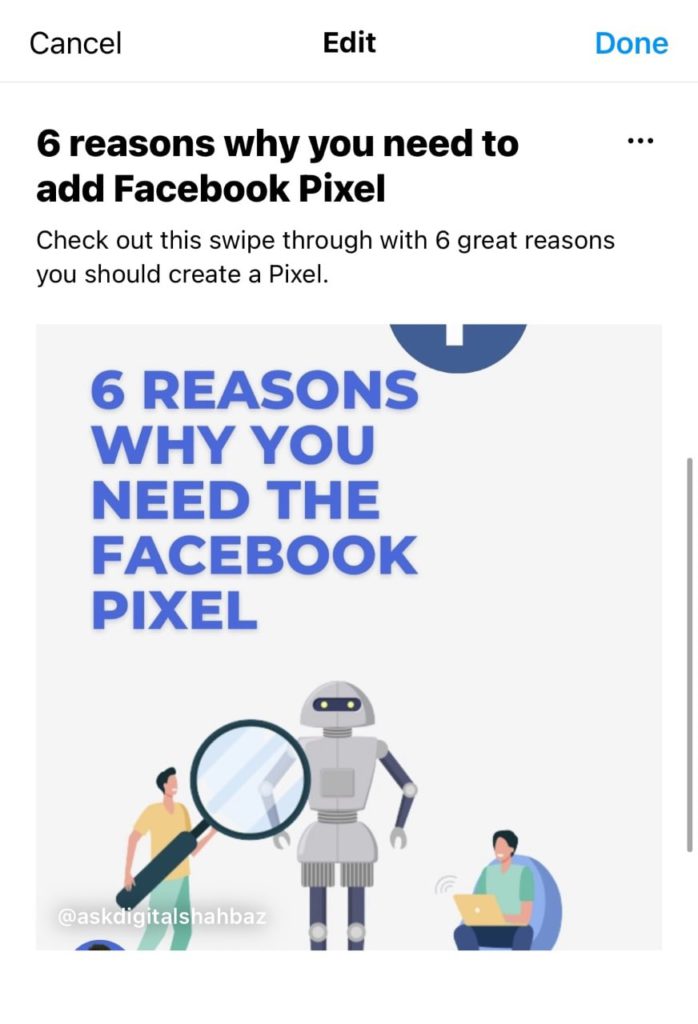 Here's a demonstration of how we'd sum up various posts. We want our audience to know exactly what the post is about but without making it too wordy.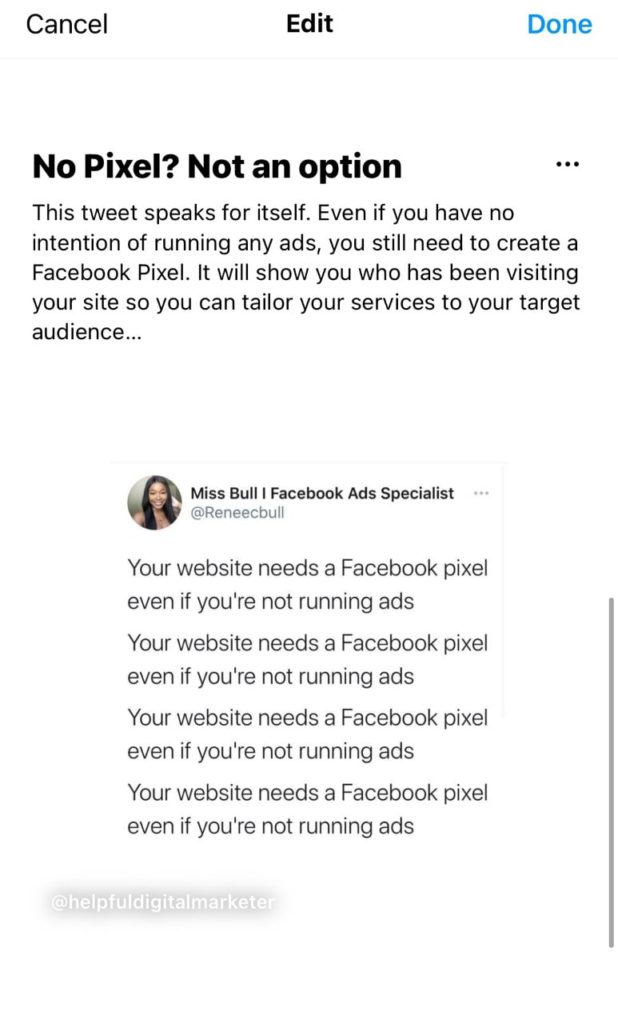 As you can see, we have tried to include more information with the shorter posts. This is so we can put our own spin on them and also show how they're relevant to our guide.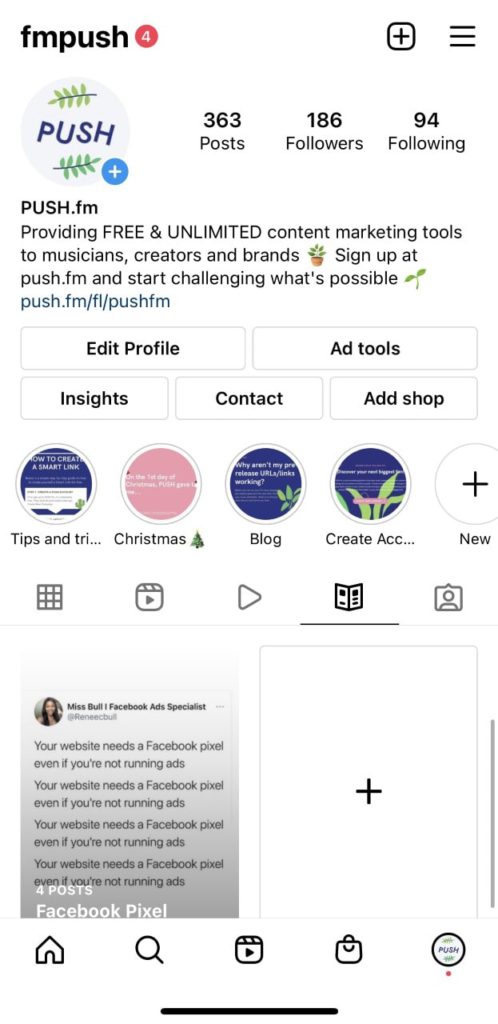 This is how it will display within your profile. There will be the book icon that appears next to your play button. All of your guides will be located in here for your followers to view.