I presume you've seen everyone raving about LinkedIn and how it's the best place to find work or connect with people. Is that only for people seeking a 9-5 job, or can anyone utilise LinkedIn and the services it offers? Let's look into LinkedIn from a musician's perspective.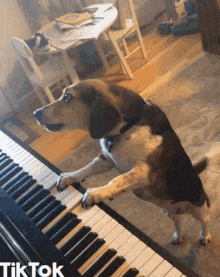 What is LinkedIn's purpose?
The idea behind LinkedIn is to connect people on a professional level. Rather than the likes of Facebook and other social media platforms, LinkedIn is a place to reach out to people in your industry. It is often a resource for people recruiting for positions within their company. Or, for potential candidates to locate work. When setting up your LinkedIn profile, you have to act as a professional, listing your skills and experience. This is a place where you let employers know what you have to offer and also what you're looking for yourself. It might be that a company gets in touch with you because you have something they're looking for.
You can list yourself as actively looking for employment and that way businesses will know they can reach out to you if they perhaps have a position that might be of interest. Alternatively, you can fill out skill criteria and job search for yourself. Job adverts are posted daily, and it will advise you on all the relevant experience you need to apply. Then you'll be able to follow the relevant links and put your application forward for that position. LinkedIn is a fantastic way of bringing professionals from every background together. Businesses will post updates often about what's new in their industry and people can react and engage with these posts.
How could LinkedIn benefit a musician?
Being a musician and finding new contacts or potential leads is really difficult. Could LinkedIn possibly help with this and secure some collaborations? Is there a possibility that LinkedIn could increase your artist name awareness? LinkedIn is a free website, you don't need to pay to create yourself a profile, or look at other people's. There is of course a premium version, but this just allows you to learn more information about companies or potential candidates than the standard version would allow. Let's take a look at how having a LinkedIn account could help musicians.
Networking
I mentioned this briefly, but LinkedIn is a fantastic place to gain contacts. It's a trustworthy resource, without having to go down any sketchy looking routes to find out peoples names and email addresses. Simply send them a message through LinkedIn, and they'll be notified to their email account. It makes things a lot more professional than reaching out via social media This might encourage people to respond as they know scams are a lot less likely through a professional platform.
You may come across many other musicians in a similar genre or interest to yourself. Perhaps you'll see they're looking for collaboration opportunities that you can get involved with. You never know who someone else has contact to. It could seem like you're just discovering one artist, but they could go on to provide you with further contacts you would have never imagined. This could be a fantastic way of gaining yourself some work. If someone knows of a vacancy and spots your profile, perhaps they'll pass your name along.
Promote yourself
Let everyone know what you're currently achieving. Whether it seems big or small to you, let the world of LinkedIn know. You never know, your profile could appear in a Google search result and from there they discover more about you as a musician. Keep your profile updated with songs you've been working on or new music choices in general. Make sure everyone visiting your page knows exactly what you're capable of. LinkedIn after all is a place where people go to find work or people to fill their vacancies. So, if you're not telling people what you've achieved, how will they know?
Ensure that your profile is kept up-to-date all the time. If you've learned something new or have another skill you can add to your LinkedIn profile, make sure you do it. People are looking out for the things that make someone stand out from the rest, and what may seem like a time filler for you, might be a course or skill they're wanting all potential candidates to have. LinkedIn is a place to really sell yourself. Always think about it as if you're looking for a new job, whether you are or not. Make sure your profile is better than any of your competitors.
Get advice
It's not what you know, it's who you know as they always say. LinkedIn is a place to find those people who are in the know. You can find answers to so many questions you may have through the platform. These could be industry questions. Perhaps you're looking for another musician to help steer you in the right direction. Or, maybe you want to know how to go about expanding your skill set, what tools you can access for free and how to get employers to choose you. There are so many professionals on LinkedIn that there's advice everywhere you turn. People will compete over who can provide the best advice to share to their followers.
Follow companies and brands that are relevant to you. Make sure you're staying up to date with all the relevant music news that's posted to LinkedIn because a lot of it could be relevant. You don't want to be the musician who is out of the loop as this won't stand you much of a chance gaining further experiences. It's good to show you're interested and keen. Keeping your knowledge base growing is always a strong way to do this. Companies will post daily with tips and advice that you could benefit from.
Find opportunities
Whether it's being a backing artist, or playing an instrument for a band member who's currently out, check LinkedIn first. It's a place for professionals, so if you're looking for an opportunity, LinkedIn should never be overlooked. You might discover a full time career through the platform. It isn't just somewhere that people will post if they need a drummer for an evening. LinkedIn offers a place for all vaccanies to be advertised. It may be a one off event, but it could equally be a career path you had never thought of.
There are thousands of music based jobs out there, you can't possibly even begin to think of all the various opportunities you might come across. That's where LinkedIn could really help push your career. Even if you're only looking for something while you get your artist name up and running. There are options for anything from casual, to full time employment. Or, you might find contacts that will bring work to you.