If you're looking for a Smart Link provider, you might think of Linktree before anything else. This is because they have an established name behind them. However, it doesn't necessarily mean that's the best option for you.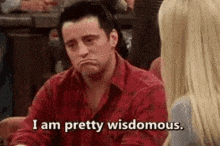 Smart Links can be used by anyone. It seems to be a myth that only certain creatives can use these tools, but that isn't the case. While many artists and musicians do use Smart Links within their work and promotion, they can also be used by others. Perhaps you're a small clothing brand, and you want to place a link to your store within the same URL as a link to your multiple social media channels. You can do this with a Smart Link. Or, you could be organising an event and need to show people where to buy their tickets, along with all the video and photo promotion that is on another platform.
If you've ever been told Smart Links aren't for you, ignore whoever said it. They're for anyone wanting to combine multiple links into one place. With there being multiple places to set up your own Smart Links, it can be tricky knowing who to pick. Often people will flock to places such as Linktree because it's a name they know. However, this doesn't mean it's the most solid option for what you're looking for. In fact, Linktree has been known to be quite limited with customisation. This is mainly for their free version. With PUSH, we aren't interested in making the most money. We want to offer the best products possible for free.
Pricing
PUSH.fm
Above you have both PUSH.fm's pricing plan and Linktree's pricing plan. In the first image you can see that PUSH is able to offer users Unlimited Fan Links (also known as Smart Links), Unlimited Pre-save Campaigns and Unlimited Content Unlocks. All of this comes with 1GB of storage. However, it's important to note, you can archive old campaigns if they no longer fit into your space. You can remove them all together by deleting them and making room for new ones. Or, you can simply archive them, and then you'll have the option to bring them back at a later date if they're still needed.
With all of this, PUSH are giving their users such a fantastic offer. It allows you to play around and understand the process of Smart Links with no financial pressure. Create as many links as you want. Each link can be different, and you have the opportunity to customise them to your liking. Even the upgraded version which is on the right is a brilliant deal. For $5 a month you also get all the free plan but with a massive 50GB of storage. It's unlikely you're going to run out of room with this. If you want to downgrade after a while on the premium option, you can easily do this. There are no ties with PUSH.
Linktree
They also offer a free version, however they recommend their upgraded version which is more expensive per month. With their free option you can create an unlimited amount of Smart Links, but you don't also have the option to create Content Unlocks or Pre-saves. It is slightly more limited in this respect as they are a Smart Link company, rather than an all-in-one service. It's mentioned that you can receive statistics. See how many people are viewing your link throughout its lifetime. The important thing to note here is that PUSH can also offer you detailed statistics.
You have the chance to customise your links with free templates that Linktree offer. This is great however, the designs are quite limited. They don't really offer much excitement to add to your links. Overall they seem to make your links look more basic than other competitors. If you're looking to pay monthly then you'll have lots more customisation options which will overall make your links stand out more. This is something to consider if you are looking to use their free version. It is fairly basic compared to others.
Customisation
We've briefly touched upon this, but it's important to go into further. Both companies allow you to customise your Smart Link in different ways. This is so you can add more of a personal stamp onto your work. You want people to click on the link, and it instantly speaks for itself. Showing off you as a creative is important which is why having links you can alter and switch up is a major perk. We'll go into the customisation features both companies offer with their various versions so you can decide for yourself which suits you best.
PUSH.fm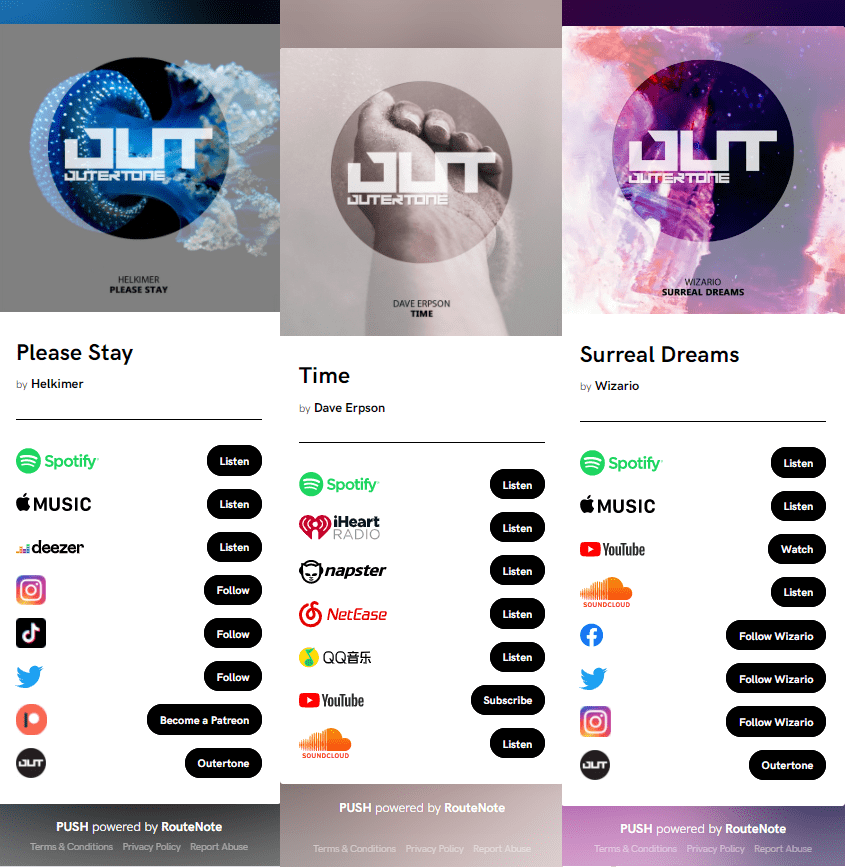 You'll see 3 different PUSH Smart Link examples above. This is just a few of the things you can achieve with a completely free account. So, let's break down what's going on here. We have a cover photo which is completely your choice. You can pick either a GIF or a still image. The image you choose could be your brand logo, an item image, a photo of you as an artist or maybe even album artwork. Which ever you decide will determine the background colours so that's important to note. For example, if you picked a black artwork image, your background would also be black. Your background is a larger scale blurred version of your chosen photo.
The album, event or product name is your choice, and you will also be able to put underneath your artist or brand name. Notice above there is Please Stay as the release name, and then you'll see below Helkimer which is the artist name. After this you'll get to pick your logos. We'll show you just how much you can alter these shortly. Automatically when you input a store, you'll be provided with the standard store logos. For example, if you put in Instagram and Twitter, you would have their logos appear on the left-hand side. You can change these though if you wish. If you have a certain theme or look to your brand or artist image, and you want these logos to match. Simply remove the automatic ones and upload your own images as logos.
You can even change the wording on the right. Where it says things such as follow or listen. These can be changed to say anything you want. You might write the store or platform name here if you decide to add your own logos on the left. The choice is again yours and these can be edited on both the free and premium version. You don't need to pay to express yourself through PUSH. If you're an event, and you've added a place where people can purchase tickets, maybe you want the writing to say buy or purchase.
Linktree
Here's an example of Linktree's free Smart Link. Its layout is clean, and it's easy to navigate, but it's also a lot less personal. All free accounts have access to the same template choices, which means your account will look like thousands of others. It doesn't really speak for you and shows no part of your personality. You're able to add an image of your choice at the top of the page which is great. Perhaps you'd add your artist image or brand logo here to show who you are. However, the logo is pretty small in comparison with the rest of the page. So, for people heading to your Smart Link, it doesn't scream you.
While the buttons look clean and easy to follow, they also don't show much personality. With PUSH you can customise your logos to match your vibe. This isn't possible on Linktree's free version, so you're very limited with how you can change up your page. The background also doesn't seem to have the wow factor. Without upgrading, you're forced to have a plain background. Arguably PUSH don't allow the option to select your own background, but they do use your chosen photo.
Summary
Let's wrap this up. Both companies can offer you great deals when it comes to Smart Links. Neither one is better than another, they're just different. They can both offer people a place to house all of their digital links. It all depends on what you're looking for through a Smart Link provider. It's no lie that PUSH.fm can offer more with their free service. If Content Unlocks and Pre-saves are something that could benefit you, then perhaps don't be too quick to pick Linktree. However, if you're looking for only a Smart Link provider, then you could be happy with both.
We'd advise trying out the free services on both sites to see which provides the best option for you. Then, if you'd like to upgrade, you can do exactly that. It's always worth trying before you buy though if that's an option. That way you'll know what to expect and how to navigate the site before you make a financial commitment. We cannot speak for Linktree's customer service, we're sure it's fantastic. However, we can say that PUSH.fm always aim to get back to their users ASAP.
Our aim at PUSH.fm is to make promotional tools accessible for everyone. We don't like the idea that you must be able to pay for a service to receive the benefits of it. Yes, this might be how businesses work, but it isn't for us. We want to offer the very best we can to all of our users. Both on our free and premium plan. Both are valued and neither one will be overlooked. That's why we have recently made all of our links unlimited rather than limiting how many you can create.