If you haven't already started creating Reels then you really need to. They're a game changer. It can turn your Instagram from drab to fab. Gain followers and send your views through the roof.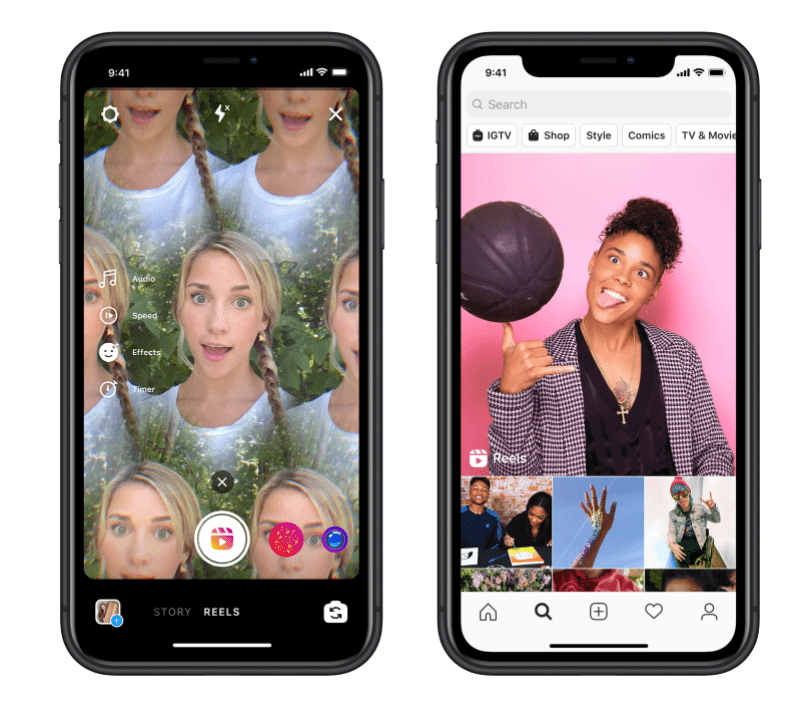 Explore page
Find yourself on the explore page so everyone can find your content. If you're not sure what the explore page is, click on the search function button on Instagram and there you have it. Having your content pop up on that page will ensure far more people see it. That's where everyone goes to find new content to interact with. Seeing an interesting Reel on there will encourage them to look into your page and what you have to offer.
Posting a Reel encourages Instagram's algorithm to push it to the explore page. Reels are the most popular content as of late so if you're involved, you're more likely to get featured. People enjoy moving image which is why it ends up on this feature. It's more inviting and more interactive. Try posting a Reel and see if yours ends up getting more views through the explore page.
Show the Reel you
What a brilliant pun, right? Ok, maybe it was weak but stay with us here. You can show yourself and your personality through Instagram Reels. They'll see more of the person behind the account. When it comes to moving image you can show more of your true self compared to the things that get hidden within still images. If you're an artist you might typically post content relating to your music. This might be album covers or tour shots. This limits your audience seeing who is behind it all.
Record a Reel showing who you are behind it all. This could be any kind of get to know me video. You might talk about why you got into your career or where it all began. It could also be some facts about yourself to show who you are on a deeper level. It will gain you more followers and your current ones will trust in you more. People love to see that an account is human, and they really care. They want to know who you are in your personal life.
Reach further
Currently, there is an average engagement of 2 to 3% for a typical post. No matter the amount of followers you have, it's still going to be a consistently low amount of people seeing your content compared to your follower count. You could massively increase this by posting a Reel. The more people seeing your content, the further it will spread. This could increase your chance of shares, likes, comments and follows.
You can use all the hashtags you like but unfortunately still images won't get the reach that a Reel might. This is because Reels are far more interesting at the moment. They're still the new, shiny feature that everyone's getting behind. You could expand your views dramatically and while these might not all convert into followers, some will. The ones that don't, will still increase your engagement which in turn will make your content place higher on Instagram's algorithm.
Content becomes more engaging
We've touched on this already but moving image is a lot more inviting that still photos. That's because there's more going on and more to see. People will watch them multiple times to catch anything they may have missed. Whereas with a photograph, they'll likely pause for a couple of seconds and then continue to scroll. Reels include sound and music so that's another way to encourage people to watch your videos.
Make them fun and exciting. It will make people want to explore your other content. They'll likely see one Reel and then continue on to check out more of your posts. Make your Instagram profile come to life and show who you really are. Show off your likes and dislikes and keep the camera rolling to see more interaction.