You can add links into your Instagram stories so no longer do you have to rely on the whole swipe up and wait for it to load saga. It could help drive a lot of traffic to your website and the best part is, it's easy. Thank you Instagram, we love you!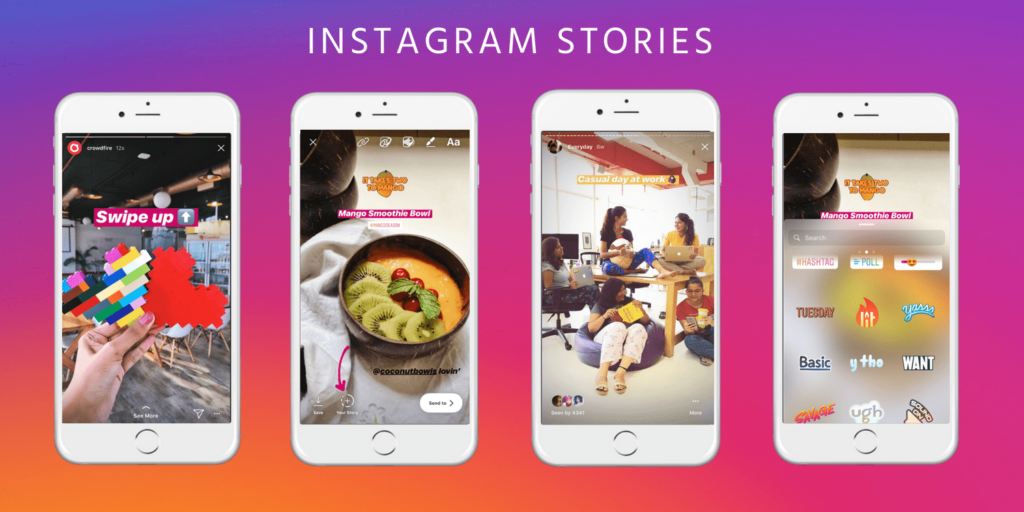 Instagram has finally pulled the plug on its swipe up story feature. Now, there's a sticker option instead. That's right, another sticker. They do make life easier. The best part is, it's not based on a follower requirement any more. Before with their swipe up links, you'd need at least 10,000 followers to join in. However, now, everyone gets access to the stickers. Oh, and another even better part (if that's possible) you can customise them to fit in with your branding!
What was the swipe up feature?
Seriously, you haven't seen it? You must have! A lot of influencers would use it almost daily, sharing those affiliate links. They'd be useful for brands to reach new audiences and gain more attraction. Influencers would post a photo of themselves to their story, perhaps wearing an item of clothing and then attach a swipe up link. When their followers would swipe up, it would take them directly to the item of clothing within the store's website. Then the influencer would receive a certain amount of commission for sharing this link.
In August 2021 Instagram said they were closing down their swipe up feature for good. Some people think it's because Instagram want to move more towards TikTok, but that isn't the case. The real reason is that Instagram have decided they want to add another sticker into the mix. That's right, another one! We've only recently had some new additions, and now we're getting more. Instagram sure do love a sticker, don't they? Although we love their stickers too. They are super handy and adding a link one just makes life easier for everyone, right?
💟 What is the new sticker feature?
It's simply a link sticker. You can add in whichever link you want and display it on your story. This is great because adding links within a caption doesn't work, which leaves your bio as the only place they've worked previously. Now anyone can add their links to their stories. Before, it was only for the elite. If you hadn't reached 10k followers then you weren't allowed to add a swipe up. This seemed completely unfair on all small, independent businesses trying to fight their way through. It's the same for smaller influencers. The chances of them getting interaction from brands became less because they couldn't offer what bigger accounts could.
Story time
Story links help drive traffic to your site. That's because people flick through all the stories on their page far more often than they do scrolling through their Instagram feed. Not only that but don't forget the algorithms. Instagram could easily hide your physical posts and no one would see them. Whereas a story is far more likely to be seen by all of your followers. Going back to the point of Instagram posts, with a link not being clickable within captions, it seems a little pointless. You can advertise a brand, but people will have to head to their profile or go back to your bio to find any link they can access. It makes the process longer and therefore could damage the likelihood of people checking out your website.
The sticker feature is already so popular with Instagram's users, adding more into the mix will always be appreciated. It gives creatives control over their stories and allows users to engage with what they upload. Previously with swipe up stories, users couldn't react. Typically, when you see a story, you swipe up to interact with it but when a link was involved, it took this option away.
How to use the new feature?
This sticker works exactly the same as all the others. All you need to do is create a story, whether that be snapping a shot live or uploading one from your camera roll. Then head to your sticker options (where all GIFs, emojis and stickers live). You'll see a feature that says link and there you have it. It's as easy as that. Simply add your link and then share it to your story. Now all of your followers can engage with what you're sharing. They can let you know if they have followed the link and purchased anything. It's a great way of boosting a website and allowing it to see more interaction.