Instagram has introduced branded content ads to be included within their Reels. Certain Instagram users are able to select their preferred partner brands and add them to a collection to use within their Reels. There will also be a space within creator's messages where they can be categorised.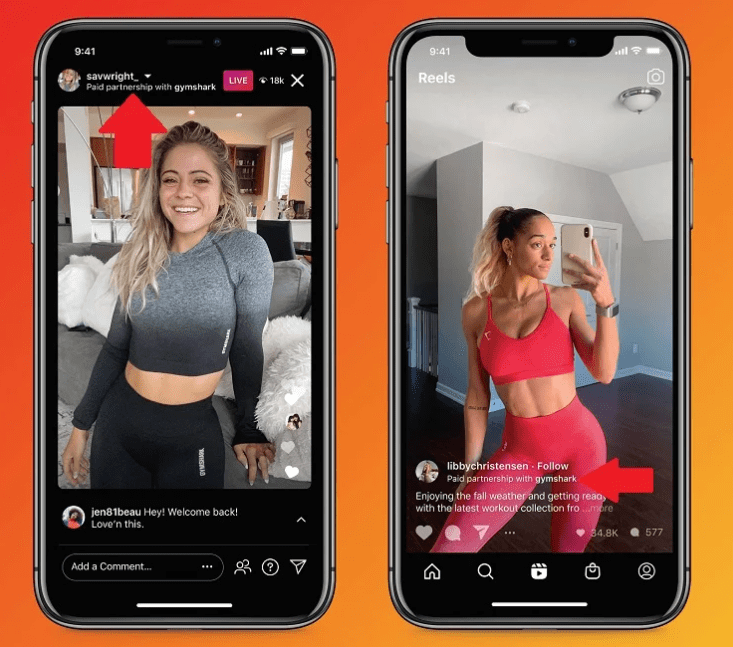 Instagram brand adverts
In December 2020 Instagram introduced the option to include brands within your Reels. This became a place for content creators to share their partnerships with various companies. They would simply create a reel advertising the brand and tag their username which then appears as a paid partnership tag within the video. Take a look at the images above for a better understanding of how this appears within an Instagram Reel.
That's essentially where it began for content partnerships within reels. Now, Instagram are rolling out a new feature which will see stories and reels turned into paid adverts. Whereas before these would only be visible to anyone who clicked on the creators account. It will now be a case of the company or creative will be able to pay to boost their posts as adverts. Essentially moving away from paid advertising between just the brand and the creator. Instead, moving into paid advertising with Instagram as a company as well.
It could see a lot more adverts popping up, however, rather than the still images we currently see, we'll be seeing a lot more of stories and reels appear. Currently, it's being tested with a small group of creatives in the US. Soon it will make its way to the rest of us we'd imagine.
Categorised messages
Another feature we'll be seeing shortly is a direct messages folder just for partnerships. We're certain this will be incredible news for all creatives within Instagram. It breaks it up and makes it easier to sift through your messages. Instead of scrolling through spam and normal messages to find those important partnership details, you'll be able to head straight to the partnership inbox and find everything you need there.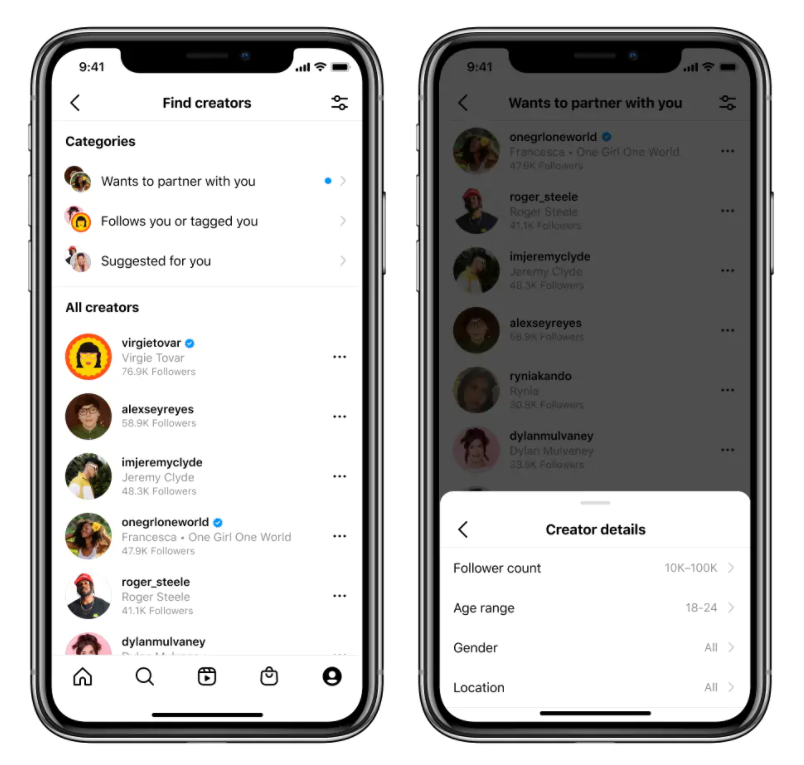 You'll be able to see a list of brands who want to partner with you, ones that currently follow you and also Instagram suggested accounts. As a creator, you probably follow a lot of different brands and companies, so having it categorised in a clean way like this will only make things easier.
Clicking on the account information will show you information that might influence your decision. You can see their follower count. Also, you'll see their target age range, gender and location. This will help you decide if they're someone you want to work with. If your account is based around women's fashion, you're probably not going to want to advertise to middle-aged men. Instagram allowing you to see this data will cut out a lot of the back and forth that typically happens when creating a partnership.
These new features will definitely make partnerships within the app a lot smoother. Not only that but all brands will have a chance to grow. We know how popular reels are, so now these can be boosted to the right target audience. It might mean that smaller brands get a chance to have their content seen.