Has our auto-lookup missed some stores? Or maybe you want to add custom links to your release on other platforms. Whatever the reason, find out how to pimp your release link.
Our Fan Links are incredibly versatile tools. They're a perfect answer to routing fans to listen to your release on their preferred streaming platform. Instead of you posting multiple links to your release on multiple streaming stores, you can instead share one tidy URL that contains all of your links in one nifty landing page.
How to add custom links to your Fan Link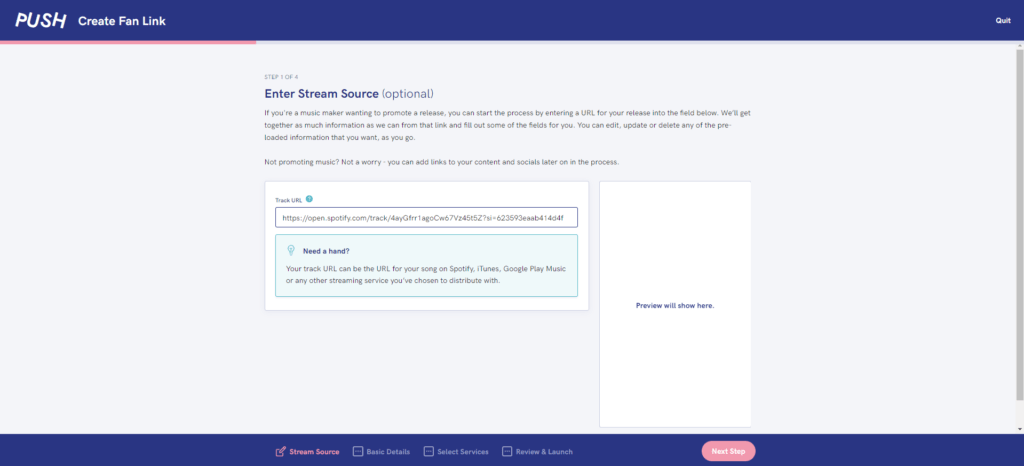 ---
2. Using your provided link, our auto-look up tool will automatically find your release on a handful of other platforms and include these in your link. Don't worry, you can choose to remove/edit these preloaded stores in the next step.
In step 2, you can also customise your Fan Link so it looks cohesive and in-keeping with your visual branding.
Please note, our auto-lookup tool will not work with unreleased music.
---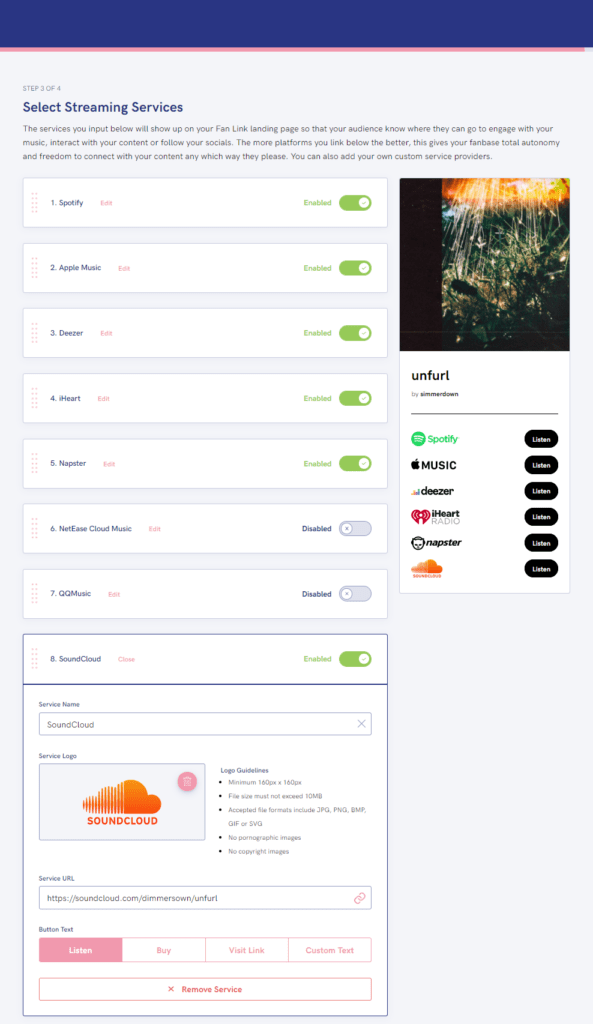 3. Once you've customised your Fan Link to your satisfaction, clicking next step will take you to Step 3.
Step 3 is where you can edit/remove and add custom stores, links and platforms of your choice.
To remove any of your pre-loaded stores, simply click on the togglable button to enable or disable them. Or, you can instead open the store and click on remove service if you're confident you won't use it in the future.
To edit any of your pre-loaded stores, click on edit next to the store. This will expand the store in which you can:


Update the store logo

Change the service URL

Add your own button text
---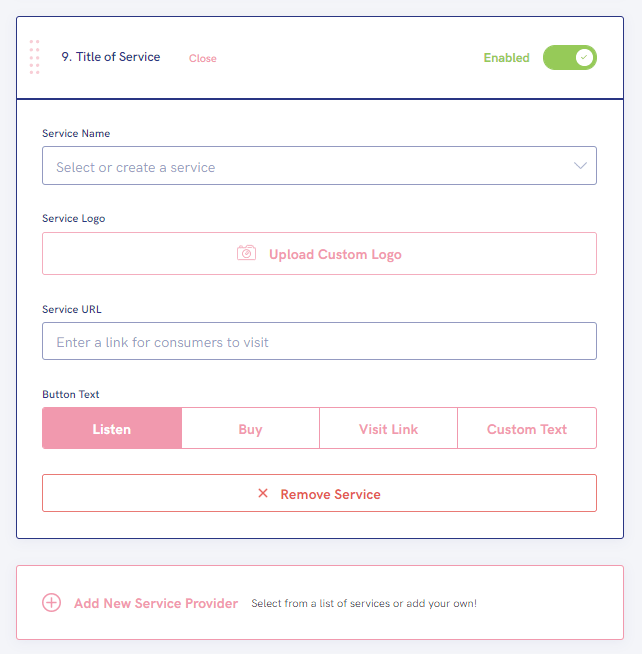 4. At the bottom of the list of stores, there's an option to add new service provider.
From here you can:


Add the name of your service/platform – you can either choose from the list of most commonly used services or add your own.

Add a custom logo

Add a service URL

Choose from or add your own button text
There's no limit to the number of custom URLs you can add – your imagination is the limit!
---
Examples of other links you can add to your landing page include:
Bandcamp
SoundCloud
Artist playlists
Competitions
Mailing lists
Official music videos
Social pages (Facebook, Twitter, Instagram etc)
Merch stores
Ticket sellers
And anything else you can think of!
Alongside links to your new release, what else have you chosen to include in your Fan Link? Let us know in the comments