Spotify have supplied even more marketing goods for independent musicians, labels and managers. Through analysing millions of data sets, they have collated 15 insights into how their users digest new music and find new artists.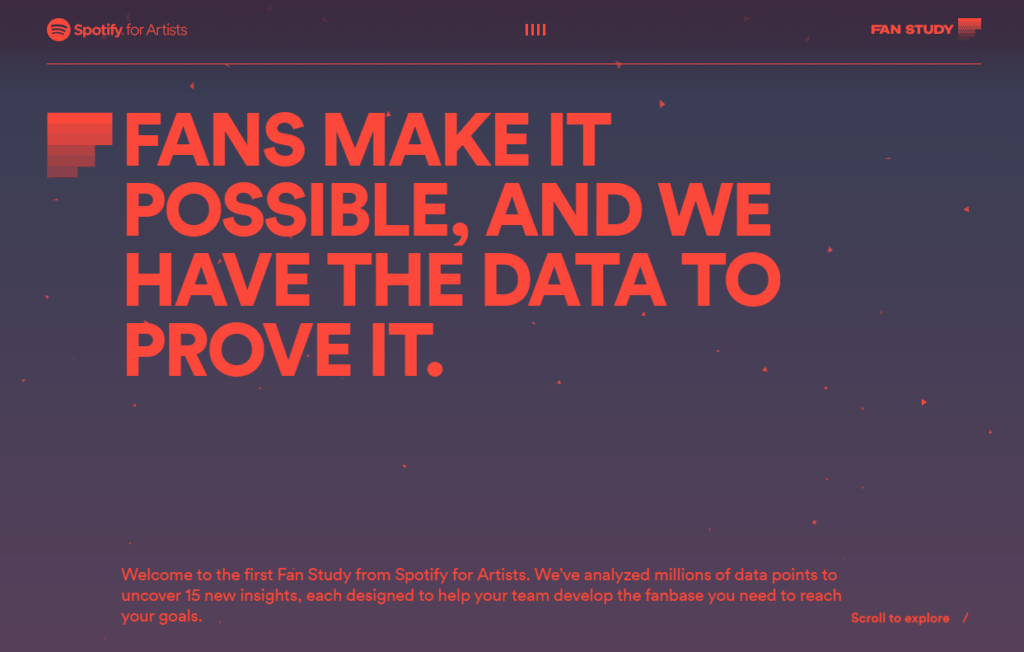 What is Fan Study?
Spotify for Artists has launched Fan Study; a collection of insights into how Spotify's users connect with music all around the globe. Alongside these insights is valuable marketing advice to teach you how to make the most of Spotify for Artists and inspire your future promotional plans.
Why did Spotify build Fan Study?
Since launching their essential tool Spotify for Artists, Spotify have made it one of their missions to help artists and their teams understand the streaming landscape and succeed around the globe.
Fan study aims to "…put actionable data and powerful tools in the hands of artists and their teams directly, so they have control over growing their fanbases and careers."
How can it help independent artists, labels and managers?
Each insight is categorised by either reach, engagement, release and merch; each of which can be used by artists, labels and managers to:
Extend the reach of their music and grow their fan base.
Increase engagement and interaction with their music and content on Spotify.
Prepare for release day and guarantee strong release day performance.
Set up a store and increase merchandise sales.
This advice doesn't have to be exclusively used for Spotify-based marketing plans; musicians & labels can use this advice and understanding as a springboard to achieve future promotional goals across a variety of platforms and contexts.
Explore this beautiful site here and start putting those powerful marketing tips into action.
---
Not sure what Spotify for Artists is or what it does? Here are some handy articles:
Spotify for Artists: how to claim your Spotify artist profile and start customising your page

Spotify for Artists; 5 advantages of verifying yourself & claiming your Spotify artist profile

Spotify for Artists: how to understand analytics and make sense of your data