Spotify is arguably one of the most popular music apps around, and BeReal took over the scene for their take on being the natural you. Now the two have combined. Users of BeReal will be able to add what they're listening to in their quick snaps.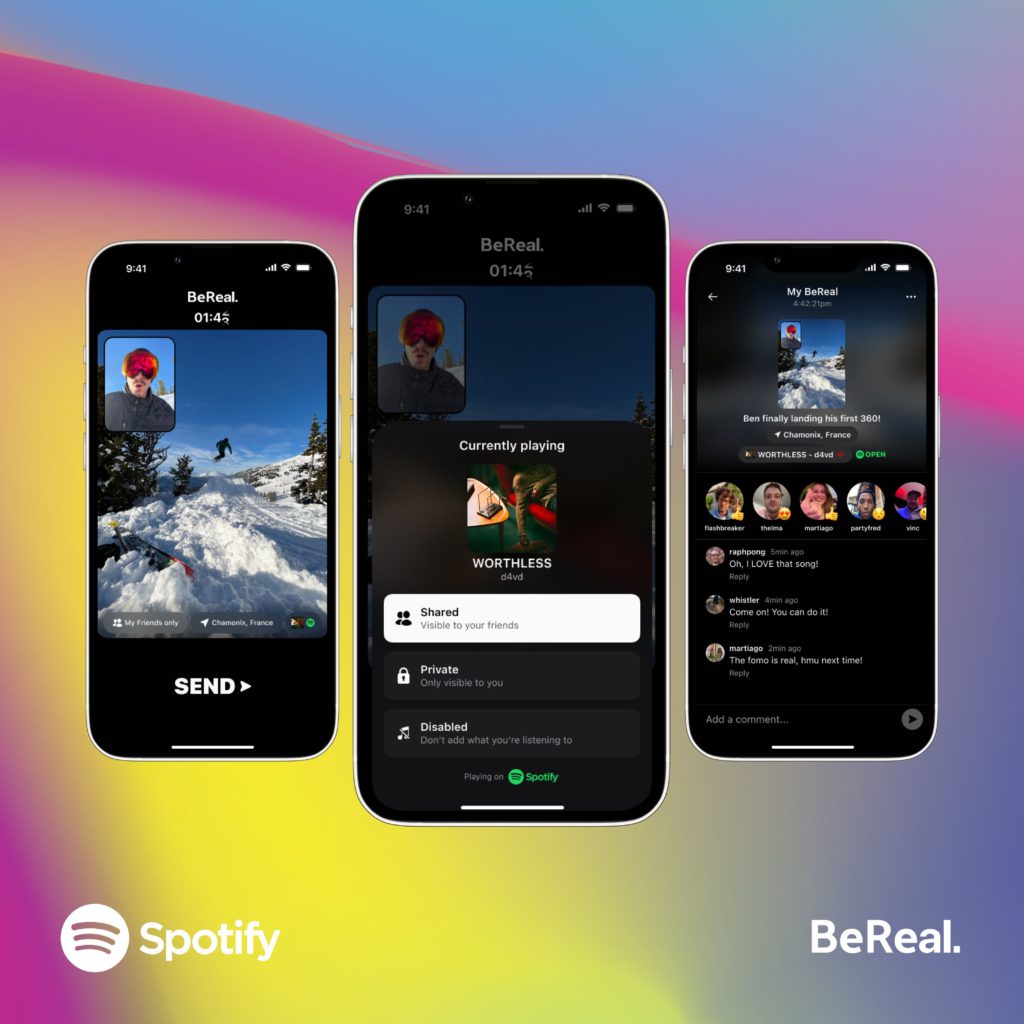 Spotify have joined forces with BeReal to allow users of both platforms to share what they're listening to with friends as they snap away. The idea of BeReal is to allow users to be their natural self. Every day at the same time, users are notified to take a picture. The app accesses both their front and back camera, so while taking a selfie, you're also taking a picture of your surroundings.
These photos are then posted to a timeline and your friends can scroll through and see how everyone is spending their day. The idea is it's genuine. You haven't set up filters and a background before taking your photo. You are simply photographing how you look in that moment and what you're doing. It's supposed to be authentic to you and your lifestyle.
BeReal's yellow hazard warning
Users are notified each day at the same time to take a photo of them in that moment. Keeping it real… Now, users will be able to share what they're listening to when their pictures are shared. Whether you're listening to music or a podcast, you can share this with your friends. They'll be able to see what you're listening to in that moment.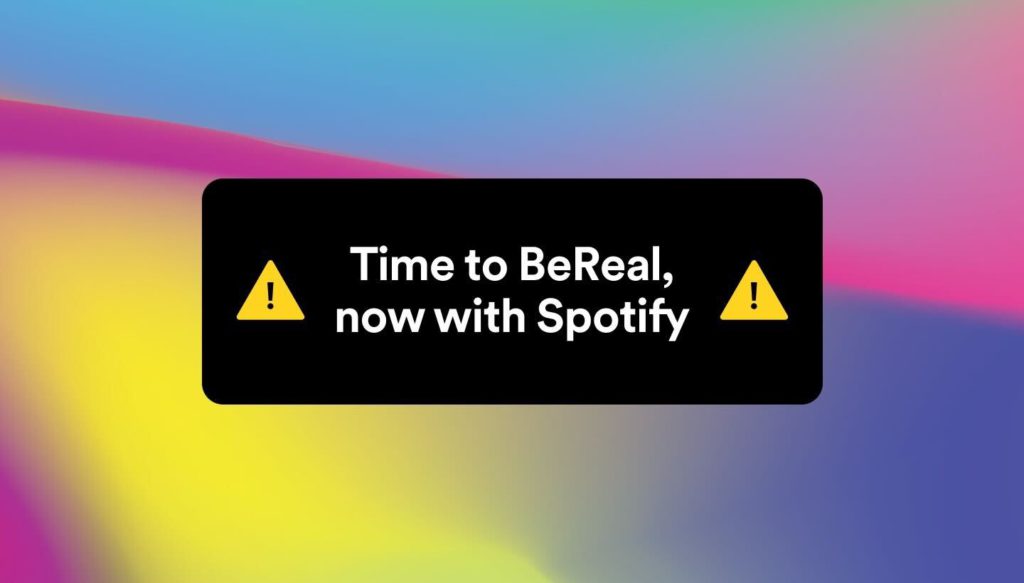 To access this feature, you will need to have both a BeReal account as well as a Spotify account. Adding your account is a really easy process. You'll see a music icon suggested on your BeReal account, which you need to click on and then follow the process to attach your music streaming account.
Every time you see the yellow warning sign pop up telling you to post a photo, Spotify will pull the music or podcast information from your account and place the cover art at the bottom of the camera lens. The best part? You'll be able to hear a preview of any song or podcast your friends are listening to while you scroll through your BeReal timeline.
How to connect your Spotify account to your BeReal profile
Click on the music icon shown before you post your BeReal images.
If this does not appear, head to Settings and then Music.
From here, with both methods, you'll need to follow the instructions to connect your Spotify account.
Once your accounts have linked, your music will automatically be pulled from the music app every time you are listening while you snap. You'll be able to browse your friends listening choices and try them for yourselves. Both platforms think this is a way of them becoming even more genuine and authentic.
Both Android and iOS users can access this feature. It is available in the following markets:

Austria, Belgium, Denmark, Finland, France, Germany, Iceland, India, Ireland, Liechtenstein, Luxembourg, Monaco, Netherlands, Norway, Sweden, Switzerland, United Kingdom, Andorra, Cyprus, Estonia, Greece, Italy, Lithuania, Latvia, Malta, Portugal, Spain, Albania, Algeria, Bahrain, Belarus, Bosnia and Herzegovina, Bulgaria, Croatia, Czech Republic, Egypt, Hungary, Jordan,
Kazakhstan, Kosovo, Kuwait, Lebanon, Moldova, Montenegro, Morocco, Oman, Pakistan, Palestine, Poland, Qatar, Romania, Saudi Arabia, Serbia, Slovakia, Slovenia, Sri Lanka, TFYR Macedonia, Tunisia, Turkey, UAE, Ukraine, Bangladesh, Pakistan, Sri Lanka, Afghanistan, Angola, Antigua and Barbuda, Armenia, Azerbaijan, Barbados, Belize, Benin, Bhutan, Botswana, Brunei
Darussalam, Burkina Faso, Burundi, Cabo Verde, Cambodia, Cameroon, Chad, Comoros, Congo Dem Republic, Congo Republic, Cote d'Ivoire, Curacao, Djibouti, Dominica, Equatorial Guinea, Eswatini, Ethiopia, Gabon, Gambia, Georgia, Ghana, Grenada, Guinea, Guinea-Bissau, Guyana, Haiti, Iraq, Jamaica, Kyrgyz Republic, Kenya, Lao PDR, Lesotho, Liberia, Libya, Macao SAR China,
Madagascar, Malawi, Maldives, Mali, Mauritania, Mauritius, Mongolia, Mozambique, Myanmar, Namibia, Nepal, Niger, Nigeria, Rwanda, San Marino, Sao Tome and Principe, Senegal, Seychelles, Sierra Leone, St. Kitts and Nevis, St. Lucia, St. Vincent and the Grenadines, Suriname, Tajikistan, Tanzania, The Bahamas, Timor-Leste, Togo, Trinidad and Tobago, Turkmenistan, Uganda, Uzbekistan, Zambia, and Zimbabwe