As an artist it can be hard to find a curator to work with. That's where SubmitHub came along to change this and make the process smooth and simple. Meaning, more networking, less hassle.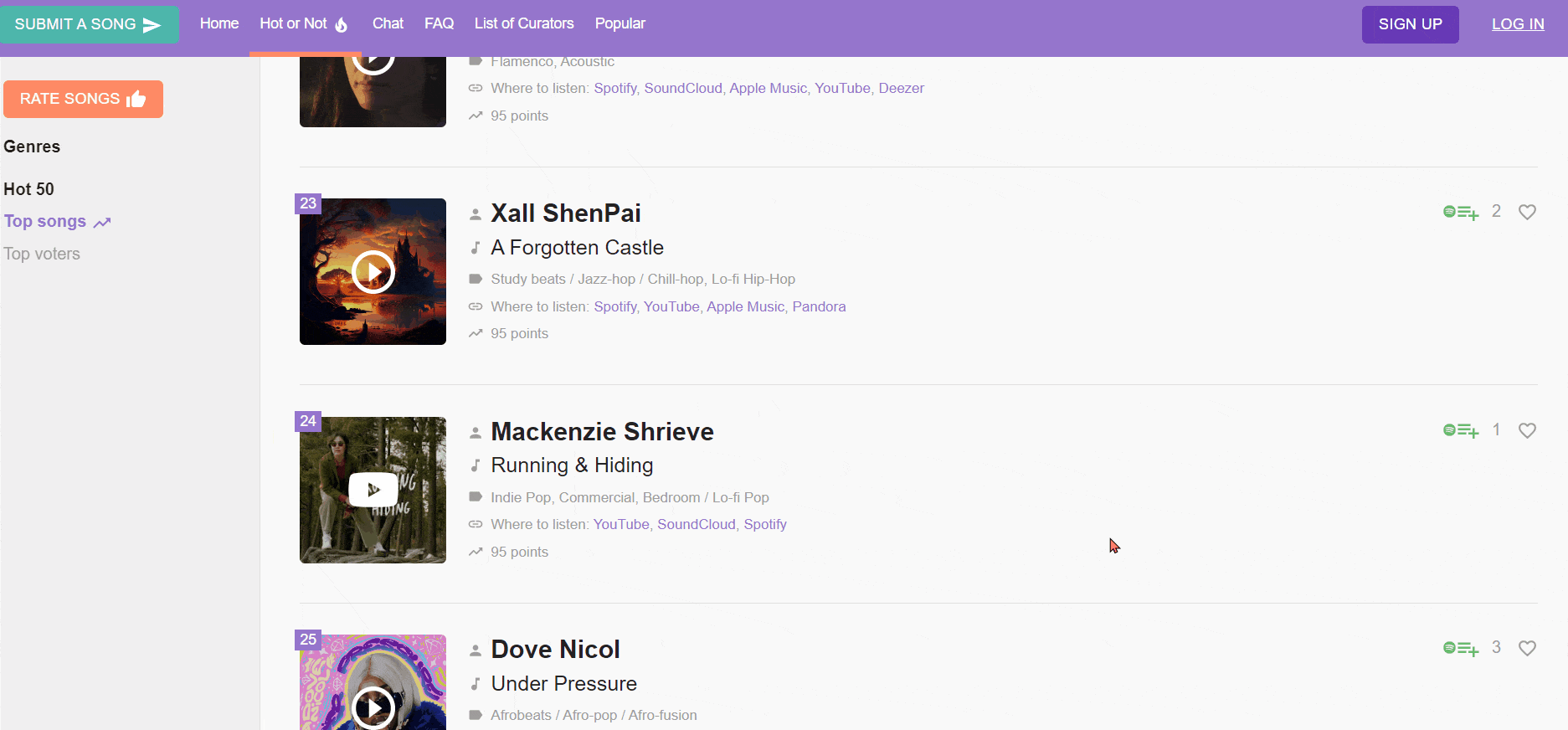 What is SubmitHub?
SubmitHub is a music submission website with the aim to connect artists with curators without any hassle. It allows you to filter through and decide who you send your music to. This will ensure your music ends up in the right place. For curators, it means you'll receive music within your preferred genres.
More than 2,728,000 songs have been shared. This is based on information provided in 2022, so the numbers will be even higher by now. The competition can be difficult, because even artists who are successful might not be every curator's type of music. Music is a very personal thing, and while an artist can work really hard on a track, it might not be what everyone is looking for.
Built for musicians and creatives, SubmitHub was designed to make the process of sending music to curators easier. To send music to a curator you will need to use credits. These can be standard credits or premium credits. However, the curator gets to decide how many credits they want from an artist.
Curators will inform you whether they like your song or not
It might mean you want to pitch to a curator, but don't have enough credits to do so. As a curator, you can earn credits by listening to tracks. You'll need to play at least 20 seconds to be able to decide whether you like it or not. You will need to explain why you have made your decision too. Any musician submitting their music with premium credits will have a response within 48 hours.
When a curator decides they want to work with your music, they'll inform you of how and when they're going to share it. You can talk directly to them about your music and let them know important details about the song. At the minute 18% of premium submissions are approved and only 5% of standard submissions are.
These numbers aren't something to focus too much on, because there are so many successful musicians on the platform. Just because one curator says no, doesn't mean another will. As mentioned previously, music preferences come down to a personal choice and someone not liking your track doesn't mean it's bad.
What is a curator?
Music curators have a library of songs and sounds that they're able to match to various scenarios or situations. They might match a song to an advert being created, or suggest a piece of music for a film or video. It's their job to look through their library of music, and find something right for the job.
Often they'll have a background in music production, so they know the makeup of songs. They then have the responsibility of getting a musician's songs used. This will in turn bring earnings to the musician and of course the curator who will typically get some form of cut of these earnings.
Not all curators on SubmitHub are industry professionals though. Some are, but others are just doing this for a hobby. So, try not to be too put off submitting if a curator's feedback isn't particularly helpful. You will find some offer more feedback than others.

Is SubmitHub free?
SubmitHub can be free depending on how you use it. There are two pricing options. The standard plan where you're able to get free credits. These can be used towards pitching your music to curators.
Then there's the premium option, but this comes at a cost. Premium credits start at $6 for 5 credits, but as mentioned earlier different curators charge different fees. You can get a discount if you order in bulk.
The first tier is $10 which will get you 10 credits. Following that $27 will get you 30 credits, and $80 will get you 100 credits. It's probably worth investing if you have decided SubmitHub is for you. Perhaps start small and grow from there.
How to submit a song through SubmitHub
First you'll need to add your song to SubmitHub's platform. You will need to use a link from either your Spotify, SoundCloud or YouTube account to add to your account. Then it's time to choose your curator. It's best to view them by genre, so you can find people who might enjoy your music. Sending a rock song to a classical curator might not be worthwhile.
Once you've found a curator that suits your needs, submit your work to them. Depending on the curator, you might have a response within a few hours. Others take longer to reply. Remember that you aren't guaranteed a placement. Even if you find a curator that likes your work, it doesn't mean you'll get your music featured.
It is SubmitHub's goal to connect curators with musicians looking to make a break in the industry. This is why they push for transparency from their platform and the people using it. In an ideal world every musician using it would get their music placed, but unfortunately this isn't possible. But, nonetheless, having feedback both good or constructive is a positive, even if your music doesn't end up on adverts.
Should you use SubmitHub?
Ultimately that decision is down to you. We're not in any way connected to SubmitHub so our views are purely from an outside opinion. However, we do feel SubmitHub offers a new angle for musicians. It allows artists to get their music out there and heard by a whole new audience. Which, let's face it, can't be a bad thing.
Independent musicians have it pretty hard. It can be a nightmare to find people to listen to your tracks. Getting your music on the radio, TV shows or in adverts could be the change you need to expand your fanbase. For the price it doesn't seem like too much of a risk. You can stick to the free credits if you'd prefer, then you're not losing anything.
From our findings we'd recommend SubmitHub. It's powered by musicians, for musicians. Which, we at PUSH can definitely get behind. We're always looking for companies that aim to support independent artists like we try to. It's worth a try, even if you just gain some feedback. It could help you make changes to future releases.