When you think of content creators, does your mind instantly go to influencers? Those who post across social media platforms with the latest trends? That's what many people think when they hear the words. However, there are many other creatives within this bracket.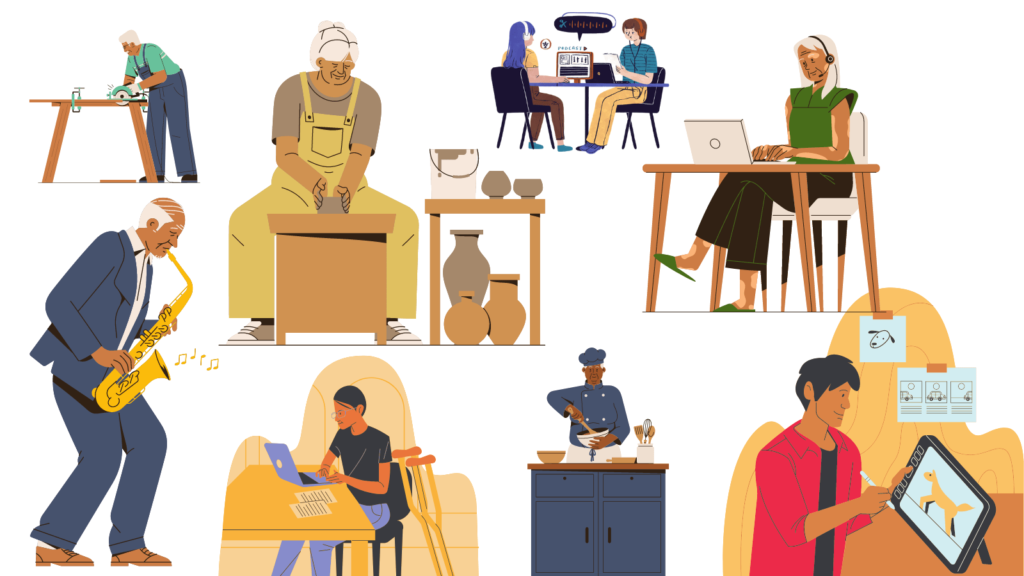 Many people aren't aware of different types of content creators. They automatically think of the creatives who post funny dances to TikTok, or promote various brands through adverts on Instagram. While these are content creators, there are other types that fall into the criteria also. In fact, there are more than just 6 types of creators.
However, we are going to discuss 6 various content creators, what their profession consists of and how this relates to the content we see online. In fact, more of us than you'd realise fall into the content creator category. Essentially a content creator is anyone who creates a form of art and uploads it online as a form of expression, or for their job.
Blogger
A blogger creates content for people across the web to read. Bloggers can cover many topics, with most of them having a niche. Rather than writing about anything and everything, bloggers tend to have a particular area they talk about.
This is how they bring in readers and create an audience for themselves. Once a blogger has an audience they need to keep things relevant to the type of content their readers will want to see. Otherwise, they're likely to lose interest.

Bloggers could cover anything from; cars, music, social media, news, baking, parenthood – the list goes on and on. They then update their audience with news, stories and advice regarding their niche. Creating content on a regular basis to keep in line with their schedule.
Writing is of course an art. Therefore, all bloggers and writers across various channels are content creators within their own field. Without them, much information wouldn't be spread across the web and so easily available when we need it.
YouTuber
A YouTuber creates videos for their audience to enjoy. Again, just like with a blogger they'll often have a niche or a style of videos they choose to create. This will appeal to certain viewers more than others.
Some people enjoy lifestyle channels, others enjoy interior design, cooking videos, or story times. There is so much potential with YouTube because each video you create is completely different from the last.
YouTubers create content each time they press record. Whether it's their daily life, or completely staged events. Either way, they're providing entertainment through videos and therefore keep the creative world alive.
Music artist
A music artist creates content whenever they start recording their music. Or, with every album cover they create. They're constantly creating art that can be enjoyed by their fans every time they stream their songs.
Music plays a huge part in all our lives. In fact, without music, many other creatives wouldn't be able to do what they do. It's part of videos within YouTube uploads, and also people write blogs about the latest releases.
Across all social platforms, music plays a huge role. Therefore, it's arguably one of the most important creative formats we have. Being able to create good music which gets people feeling a certain way is a talent that shouldn't be overlooked.
Influencer
This is what many think of when they hear content creator. It is a huge market, however. Influencers are often paid for advertising brands, businesses or products. In return, the companies themselves can expect increased sales.
Influencers essentially pay for themselves, because often, the amount they charge per post could result in the brand or business getting many more orders. Meaning, they're a great investment.
They create the content sometimes based upon a brief, but often just off their own back. This is why they're brilliant creators because they have to think of fun and engaging photos or videos they can create in a short turnaround.
Coach
Coaches can be found within practically every industry. Often, they take to social media to share their tips, tricks and various ideas. You'll find coaches for things like; fitness, cooking, money managing, mental health and more!
These coaches head online to spread a message. Whether it's about their brand, and what they can offer you. Or, simply giving out advice through social posts. Many will create both photo and video content.
Often you'll find a lot of swipe through content. This is because they'll outline the top pieces of advice you need to know before getting started. Coaches are valuable creators because normally they'll give advice out for free.
Graphic designer
Graphic designers create content for all sorts of reasons. Every business logo, album artwork, or advert you've seen, probably involves a graphic designer somewhere down the line. They're forever making designs and images which can be seen across the internet.
They'll not only provide companies with designs, but also, they'll share their work to social media typically. This means often the content we see on platforms like Instagram, have been created by a graphic designer.
Heading to various copyright free image sites, you'll find content created by graphic designers. Right down to small details you might use on websites like Canva, it all has to have been made by someone!