Is the free plan Spotify offers enough for most people, or, should you look at paying to upgrade your account? It largely depends on what you use Spotify for and how often. However, we're going to run through some pros and cons of Spotify Premium to help you decide.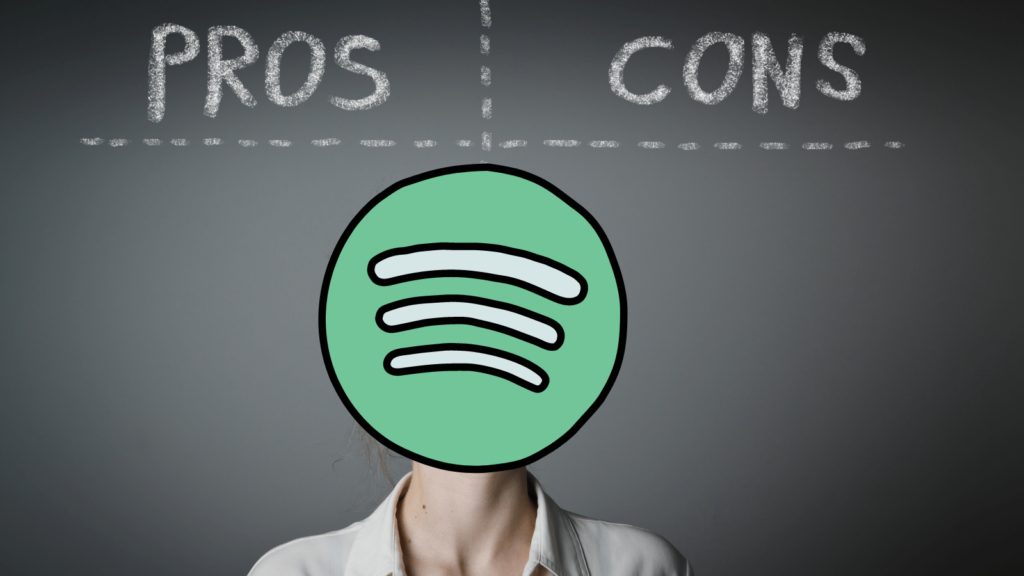 The main reason many people upgrade from Spotify's free plan to their Premium version is of course, to remove adverts. It can be quite irritating to be halfway through a great Podcast, or be ready to belt out your favourite tune, only to be met with ads interrupting you. However, the alternative is paying $9.99 a month to remove the adverts. This is currently the price of Spotify's Premium account, however this could change at any stage.
If you can comfortably afford the cost, it might be a no brainer. There are certainly perks of having the upgraded account. However, if it's a stretch, you'll need to weigh up the pros and cons before deciding. We'd always recommend trying any free account first to see how you find it. If the cons of the free Spotify account don't bother you, then there's no real reason for you to upgrade.
Spotify is free – or is it?
Is Spotify really free, you could argue? After all, while you might not be paying with monetary value, you are listening to their unskippable ads. These adverts are a way of Spotify making money. They make more than enough through their constant stream of promotions on their platform. Rather than paying with money, you're instead paying through your time. The adverts can't be avoided.
So, while you're getting a good deal because you're not having to pay out any money, Spotify are getting an even better deal. They don't lose out by you not paying to upgrade. Instead, they make money elsewhere. Spotify's Premium version does make up the largest amount of their revenue. However, for those who don't pay for this, you can be certain you'll be hearing irritating adverts every few songs.
The idea is simply to make it annoying enough that you'll want to upgrade. If they interrupt your listening regularly, you're probably more likely to pay to remove the adverts. It's a clever tactic from Spotify, which ultimately means they will always be the winners. But, then can you really complain too much about access to free music? Streaming stores do make music accessible for the majority rather than the minority.

Spotify free – what are the limitations?
While it's great in many ways, there are of course drawbacks. After all, if there weren't, why would anyone want to pay for the Premium version? They need a selling point, and theirs seems to be ease and comfort. With the free version of Spotify, as mentioned you will experience regular interruptions. However, you also have the limitation of how often you can skip through songs.
If you're someone who likes to continue to skip until you find the song that's just right you'll need to look at upgrading your Spotify account. With the free version, you only get 6 skips per hour. This isn't a large number at all. You could argue, if you put on an album or playlist with songs you actually enjoy then this isn't an issue. However, we all know we're all guilty of skipping through endless songs to find the right ones.
It's not that you don't like the rest of your playlist, after all, you added the songs to it. But, you just might not be in the mood for that style or artist at that moment. Or, perhaps you've had certain songs on repeat way too much. The same goes for listening to playlists such as Hot Hits. Maybe you want to hear the chart music, but that doesn't mean you enjoy every genre and therefore want to listen to every song in the charts. So, instead, you skip through the ones that aren't for you, right? Well, not with the free account.
Spotify free – what are the perks?
While there may be drawbacks, there are also many positives. After all, Spotify free, is well, free! Yes, of course they get paid through their adverts, but that's not affecting your pockets. You're still getting a good deal by not having to pay for the music you're listening to. Who knows, maybe the adverts will even interest you. You can experience tailored ads through Spotify. They'll automatically tailor them to your preferences unless you opt out.
Just like other platforms, Spotify collect personal data from you. This data is used for things such as adverts. It allows the music streaming platform to target you with adverts that might be beneficial to you. Things you're interested in, hobbies or services you might need. If you don't want them to access personal data, you can head into your settings and opt out of this. From there, they'll simply send you random adverts. But, for many it might not be such a bad thing.
You're able to create your own playlists on the free Spotify platform. This means you can create bundles of your favourite songs. If you want to get around the lack of skipping issue, simply update your playlist regularly so any songs you don't want to hear right now, you can remove them. That way, you'll only be listening to songs you want to, and you don't have to skip through anything.
Spotify Premium – what are the pros?
By upgrading your Spotify account, you're able to access more than those who use the free streaming option. For $9.99 a month you can unlock all extra benefits. You'll be able to skip songs or podcasts to your heart's content. There are no limitations. Skip, go back, skip again – whatever you like! You're not held back by any restrictions. Not only can you skip tracks, but you're also able to download them.
Downloading your tracks means you can listen when you're on the go. You don't need an internet connection to be able to access your music. No data? No problem! You can instead download entire playlists and podcasts and listen to them wherever you are. This is really handy for most people who are regularly on the go. You don't have to worry about having service, and better still, your battery life lasts longer because you're not streaming online.
The sound quality is higher on Spotify's Premium version. On a free account you can expect to have audio quality of up to 160 kbit/s, whereas with Premium you're able to reach 320 kbit/s. This might not be necessary for every music listener, but those who can tell quality differences might want to look into upgrading. If audio quality is important to you, the free Spotify account probably isn't for you.
With Spotify Premium you can listen on up to 5 different devices. Not only that, but you'll have access to up to 10,000 songs. There are several Premium options for you to choose from, so if whether you're looking for a family bundle, a student deal or a solo account – there's something to suit you. All accounts offer the same perks however, they all have different requirements.
Spotify Premium – cons of upgrading
Firstly there's the obvious one – the cost. Currently, Spotify sits at $9.99 a month to access Premium, however as with all streaming services, this could increase at any stage. You're not guaranteed one set price for your entire use of the platform. If it increases, and you've become reliant on it, you'll have to find the extra money each month to continue accessing the service. Of course, with the free plan, you don't have this worry.
Another con of upgrading to Spotify Premium is it can become limited. Many countries around the world still don't have access to the music streaming site. Therefore, you aren't always guaranteed access to your account. Only users in certain areas of the world will be able to take advantage of Spotify Premium. This is only really an issue for those who cannot access Spotify all together. If you're someone who can, you'll have no concerns with Premium's accessibility.
Overall, the answer is simple. No, you don't need to upgrade. However, it's a pretty good deal if you do. There are far more options and the streaming site becomes much more accessible if you do choose to opt for Premium. You can access a lot of the brilliant features Spotify has to offer for free, so it might be that you choose to just stick to the basic version. Perhaps try it for free and if you eventually feel you need to upgrade, then you should do so. The main perks we can find are no adverts and being able to download your music to listen on the go!