PUSH have levelled up! Now, artists can create free Fan Links using no more than their UPC. Instead of having to contact your distributor and wait for your streaming links. You can now prepare your Fan Link using just your UPC.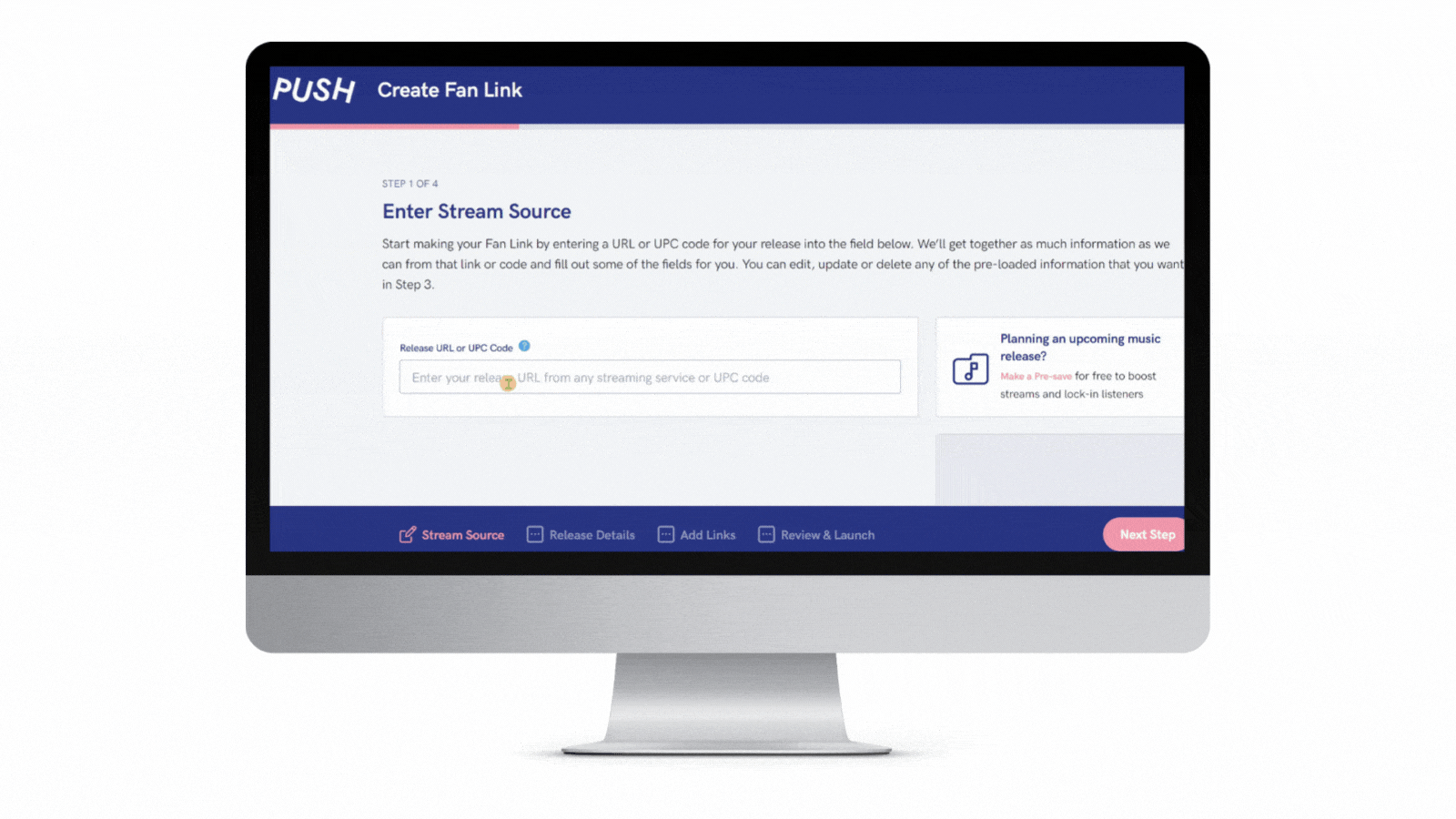 Originally, when creating a Fan Link you'd need your streaming store links. Or, at least one. Using this link, you'd add it to the streaming source section and our auto-lookup tool would locate all other stores where your track appears. From here, you could customise your Fan Link to make it unique to you. All without having to worry about sourcing all your links independently.
This saves you time as an artist. When you first create a release, before it's live you'll have access to your UPC. No waiting around, no chasing for store links. You'll have your UPC right from the very beginning. This means, when it comes to creating your Fan Link, you don't have to rely on anyone else. You can just get started. It cuts out the middle man, which is a distributor.
Of course, you'll still need your distributor to get your music on stores. We'd recommend our friends over at RouteNote. However, once your music is on stores, you're good to go! Rather than having to wait for your links to be sent across, or requesting them, you can skip this part all together. Head straight to PUSH and you can start creating. Our Fan Links are free to create, so you can get your marketing off to a great start from the very beginning.
Use your UPC to create a Fan Link
Creating a Fan Link now couldn't be easier. If you thought it was easy before, then you're in for a treat! Your release must be live before you create a Fan Link. However, this hasn't changed. You have always been required to provide a live release during the creation process. If your release isn't yet live, don't worry we still have something for you! Head over to our Pre-saves and create the hype your music deserves!
Once your release is live, you can head to PUSH.fm and click on the pink Create New Link button in the top-left corner. From here, choose Smart Link and then select Fan Link from your template options. You'll then be asked to input a UPC or streaming store link to get started. From here, our auto-lookup tool will locate all stores your release is available on. It will also locate your release artwork, and artist information.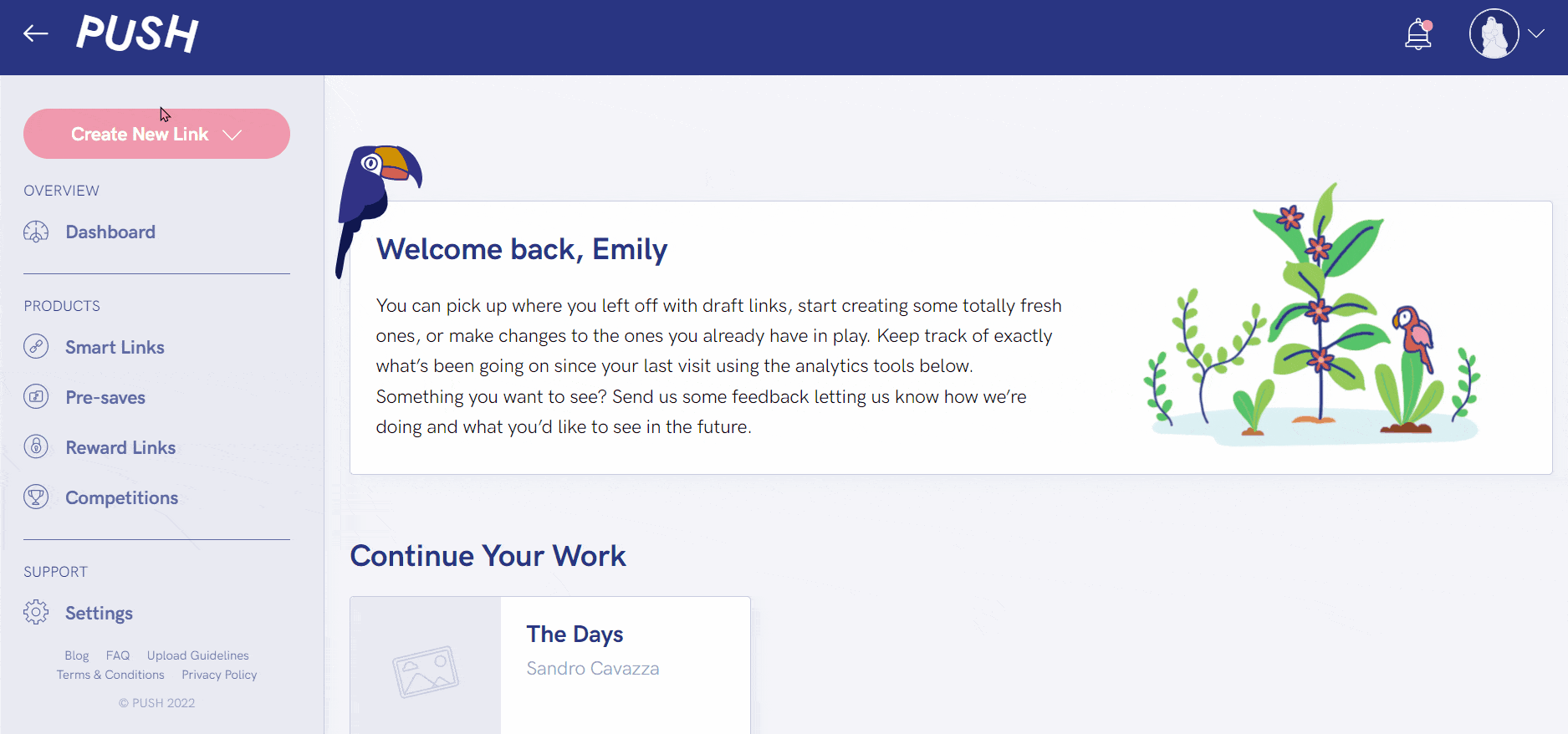 Personalise your Fan Links
You can make any changes you wish. If you want different artwork, you can change it. You can customise your URL, so it represents your tracks. Add or change the streaming stores. It's up to you which you display. You can even reshuffle the stores into an order that you prefer. You'll have the option to add any social media accounts, so your fans can find you elsewhere to show you support.
Basically, it's your time to make your links unique to you. Add your own personal stamp onto them before publishing. Once published, they become live, and you can start sharing them. They can be edited at any stage so don't worry if you later change your mind about how your link should appear. All your data is collected through your UPC. So, if you make any changes, you can always revert it back to how your track appears within stores.
Important things to note about Fan Links
Creating a Fan Link is really easy to do. Any artist, big or small can create one, providing they're releasing their music online. Once your music is live, you can get started. When it comes to creating your Fan Link there are a few things to note:
Your music must be live when creating a Fan Link.
You can use either your UPC or a streaming store link to source your other links.
PUSH.fm offer free, unlimited Fan Links.
You will need to be registered with a distributor to release your music.
We cannot help to source your UPC, or streaming link.
Our auto-lookup tool is usually accurate, however always check your links in case.