With Halloween quickly approaching, the spooky season is almost here! If you haven't already prepared your content, we've provided you with some ideas. Holidays are really popular across social media platforms – make sure you're ahead of the game.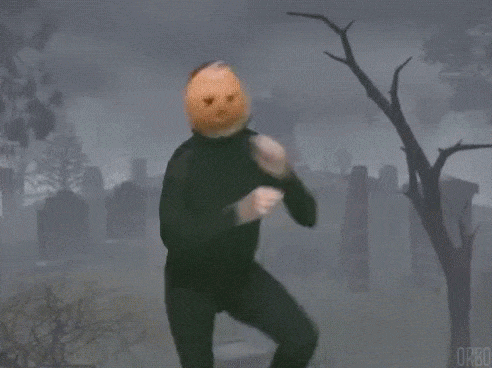 Halloween inspired Instagram stories
Instagram stories are great ways to incorporate a season or holiday into your content. Perhaps you've created a new makeup look relating to Halloween and you want to share it. Or, maybe you want to show your costume for this year's events. People love seeing all things relating to upcoming holidays. There are so many fun and engaging things you could include in Instagram stories. Why not decorate your stories with quirky Halloween stickers or change your backgrounds to make them extra spooky?
Add in things such as; lightning, spiders, creepy eyes, pumpkins, blood, ghosts, fire, or just text that represents the holiday. It will make your content stand out compared to your competitors. Consider doing a Halloween trivia or asking your followers for their input on your next makeup look. Create a this or that for all things Halloween. It's easy, quick but engaging. Making your story interactive means you'll find more people taking notice of it. It will encourage people to have their say or make their votes because it's a fun topic anyone can be involved in.
Halloween food ideas
If you're someone who's crafty in the kitchen, why not take your ideas to the grid? Show off your skills. This is a perfect opportunity for those with a food blog, or creators who regularly post food pictures to share their Halloween inspired nibbles. Try making new recipes and turning traditional food into something spooky. It will grab your audience's attention and add an element of food to your account. Making things different from the norm is a brilliant way of engaging new people.
Relate your stickers or emoji choice back to the ideas behind your food. Consider what you're going to name your items. Give them a spooky name, perhaps a twist on the actual name of the dish. Make your backgrounds look exciting and don't forget to decorate your surroundings before capturing your food pictures. Holidays are the perfect time to go overboard with your decorating skills. It will help you stand apart from your competition.
Halloween home decor
If you're someone who decorates for every season anyway, this will be an easy one! You're already doing the work, all you need to do is take some photos of it. People love to be inspired, so the earlier you can post your ideas, the better. You'll notice engagement comes as people start to see your Halloween decorations. It's a great idea to tag the companies too. This way anyone viewing your photos will know where they can get the same products you've used. It's not only a brilliant way of giving back to your audience, but it shows them you care too.
You may even find the companies share your content. Then, you're advertised to all of their followers. It could see your account grow at a rapid speed. Perhaps in the future you'll be able to team up with these stores and work on a collaboration. No matter what your content is typically about, this is something anyone can do. If you're a business, why not decorate your office? Share a few snaps to your story. It doesn't have to be its own post if it won't fit with your work. Instead, it could simply be a few stories showing your take on the holiday.
Share spooky stories
As a content creator who often shares their life through stories and posts, why not make some spooky themed content? This is a great way of getting your followers involved with your work. Also, it allows them to provide you with content. Meaning, you have to put less work in. They then get featured in your posts, so everyone's a winner. You could get your followers to share their spooky stories of creepy things that have happened to them in the past. Everyone loves an unexplained mystery. Open up your stories, allowing people to drop in their tales. Share your favourite ones.
Likewise, share your own creepy happenings. Let your followers know about something that's happen to you that seems odd or out of the ordinary. After all, it is Halloween and things have been known to go bump in the night… Any paranormal activity stories that have happened to you or perhaps in your area – now is a great time to share. You could even do some research into local spooky cases and share your findings. It's a brilliant way of sharing ghost stories virtually.
Halloween throwbacks
Once you've got an audience, they'll love getting to know you. People enjoy learning about the influencers and creators that they follow. Why not show them some snippets from your life? Prepare some throwback posts, showing various costumes you've worn throughout the years. This could be from recent years, or when you were much younger. Get them involved by asking for their opinions on your outfits.
You could compile multiple photos together in a carousel post and ask your followers to vote for their favourite look. Why not then recreate the look? Show them a younger version and you now in a similar outfit. The winning look could be the one with the most votes. It's a great way to involve your followers and encourage them to engage with your work. It doesn't have to take too much preparation time either as most of the images will be old school ones.
Halloween makeup
Halloween is every beauty creator's dream. It's officially your time to shine. Show off your skills and your ideas. You'll need to practise ahead of time to get things right. Each Halloween season, gain ideas from other creators and perhaps put them to one side for the following year. These can then be recycled and turned into your own style. Beauty gurus can bounce off each other – sharing each of the others work or trying the styles out for themselves. Why not try posting different makeup looks in each post?
If you're someone who posts daily, make each day a different makeup look. It doesn't need to be too technical every time. Switch things up and do some simple looks, and some more complex ones to keep things interesting. Why not make some reels showing your followers how they too can achieve the look? This will encourage people to follow along with the tutorial. You can share these posts to your stories too and ask your followers to share them to theirs.
Halloween costumes
During the lead up to Halloween, why not try out various costume ideas? These could be as weird and wild as you like. But, it's a great countdown to the big event. Go bigger and better on Halloween itself by saving the best until last. It's a brilliant way of expressing yourself and your personality. Your followers can learn a lot about you as a person through your costume choices. Are you someone who likes going big? Or, are you a cat ears and eyeliner whiskers kind of person?
You should consider this idea, especially if your content is based around fashion. Your audience is already there to be inspired by your wardrobe and how you pair clothes together. So, incorporate this into every aspect of your work. It will gather attention compared to your normal content because it's all about mixing things up. It's important to branch out from your normal every day posts. You could get really creative with it. Ask your audience which their favourite outfit was when Halloween draws to a close. Involve them and they'll appreciate your posts even more.