When should you go live? How many followers should you have before considering it? Will it boost your audience? There are so many questions surrounding TikTok lives. We're here to break them down and give you the dos and don'ts.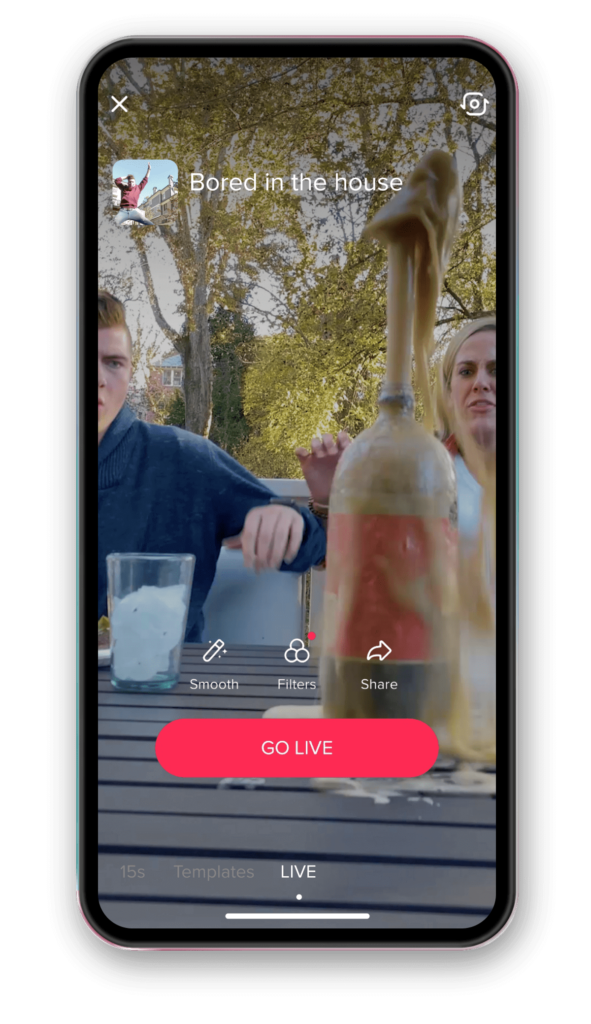 Going live on TikTok can be a really fun experience. You get to reach out to your audience without the extras. Strip back the ability to edit and retouch your videos and keep things completely authentic and real. You're able to connect with your followers in that moment. Still having access to filters and effects, you can shape your lives around you as a creator.
With lives, you aren't restricted. There is no time limit. This allows you to give more to your audience than you possibly could in a short video. By going live often, you will start to see a repetition in the audience members who attend. Showing you who your fans are and allowing you to therefore work on a deeper connection.
Who can use TikTok live, and what are the benefits?
Anyone over the age of 16 can go live within the platform. However, you can't access Gifts unless you're 18 or above. Gifts allow your audience to send you their appreciation. The more gifts you're able to collect, the more you will eventually earn from TikTok. So, the best way to show your favourite creator's support is by watching their lives and sending them virtual Gifts.
Gifts can be turned into Diamonds. Unfortunately, not the real kind. Instead, they collect within your account and once you reach 2,000 Diamonds, you're able to cash out. 2,000 Diamonds equals $10 which is the minimum amount you need to request your payment. You'll need to ensure your PayPal is attached to your account before requesting a pay-out.
Here's how to set your account up to collect gifts and payments
Head to Settings
Click the LIVE Gifts toggle
Go to your profile
Choose Settings again and then Balance
Withdraw your money
Weekly Rankings
Weekly Rankings show the top performing creators based on the number of Diamonds they've collected that week. The more Diamonds, the higher you'll rank. Each week, the top 20 hosts will be awarded with prizes. Along with this, the top 10 will be featured within the Explore More page. They'll then have their views labelled stating the previous week's rankings.
Hosts who don't wish to take part in the rankings can turn this off. If you don't opt out, you will automatically be added into it. So, it's important you choose to remove yourself if you don't want your name being displayed within rankings. Some creators want to go live to express themselves or connect with their audience without competing with others and that's perfectly fine.
Here's how to opt out of rankings
Head to LIVE Screen
Click on your Settings
Now, click Rankings
Tap More, and click Admin Settings
Then click Rankings
Things to consider when going live on TikTok
Before jumping straight in, it's probably best to have a plan. The more you plan, the better your live will probably go. Without preparation, you'll find yourself stuck for ideas and content. Your audience will quickly become disengaged, and you might end up losing interest rather than gaining it. However, we've put together a list of things to consider before going live for the first time. Even once you've cracked it, you'll still want to take these things into account.
Timing
Choosing the right time is important. Going live when most of your audience are asleep won't see you high on the rankings. Simply because, no one is watching. You need to ensure you're connecting with everyone at the best time possible for yourself and your audience. Think about prime hours. When will most people be active? Possibly in the evenings. But, it will depend on your audience's overall timezone to when this will fall in your day.
Being regular
Try to go live often. You don't need to be live on camera every day. However, to keep everyone interested it's a good idea to get into some form of routine. Going live daily may become boring as you have no set agenda and end up just talking aimlessly to your phone. But, never going live will prevent you from reaching your full potential. It's trial and error as to how many times a week/month you should aim for. Do what feels right for you and your audience will let you know if they want more.
Visuals
Camera quality, angles and lighting all fall under this category. You not only want to look your best, but you want to ensure your audience can see what's going on. Having a good quality camera is important. You don't need the most expensive one out there. Typically, your smartphone will do the trick. It just needs to be clear, so everyone can see you.
The same goes for your lighting. You're not expected to have expensive studio lights, but having a well lit room will help boost your video quality. As will your angles of choice. If you're showing your audience something, make sure you have your camera set up to do so. Don't try and hold the phone while holding up a t-shirt for example. You can't do both and your audience won't see what you're showing them.
Sound
Your sound needs to be of good quality. Overlooking this aspect of your video will result in your live not going to plan. If your audience can't hear you clearly, or there's a distracting noise within the background, it will be off-putting. Depending on how big you are within the app, you could end up losing watchers. People may not want to return to your next live. Think about recording in a quite room, without an echo. Allow yourself the space and time to practise first.
Your plan
What are you going to be discussing within your live? Is there a product you want to show? Are you talking about an important topic? Whatever it may be, think about it before pressing the button to start. Otherwise you're throwing yourself in unprepared. You'll have no idea which direction the live is going to take. This will show through and your audience might decide to switch off.
Ensure your internet connection is stable, so everyone can see and hear you. Also make sure you won't have any interruptions throughout the video. It doesn't have to run like clockwork. Things are allowed to go wrong. However, having a plan will help you avoid this, or at least ensure you know how to bring it back if something does happen. You should plan how long you intend to be live too. Videos that go on for longer are great because more people have a chance to join, however if you don't have enough to discuss, they can become dull.