Music events use a huge amount of energy, all of which has to come from somewhere. Why not have it come from renewable sources? Less damage to the planet, and it's a great way of getting your fans involved in your shows. Coldplay have recently shown us it can be done.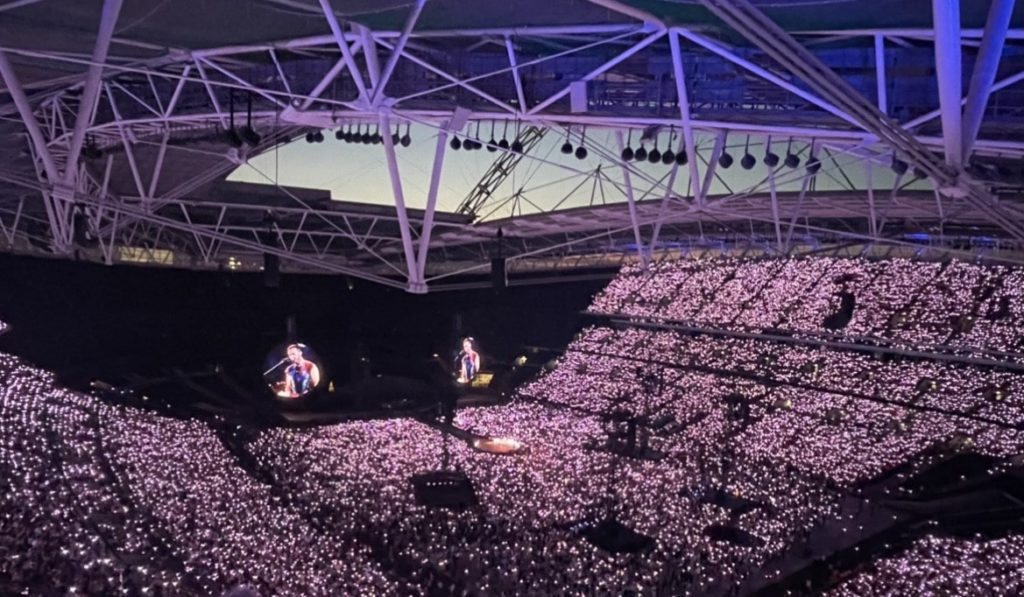 Renewable concerts – how do they work?
Get your audience to jump and dance their hearts out while singing along to their favourite of your tracks. By doing what any audience do, they could be collecting enough energy to power huge venues. Believe it or not, it can be done. Dance pads can be set up which your audience simply have to stand on, and start moving to produce energy. This energy can then be stored to use in future events. Meaning each concert you do, will power another.
Not only that, but solar panels make a huge difference. This one is more down to the venue themselves, but, if venues get behind this movement, it could benefit everyone. By using some of the revenue they earn through hosting events, each venue could fit their own solar panels. These will then earn their own energy which can again be stored and used for all events. Another angle is exercise bikes. Letting your audience know they can help the planet and your future events by hopping on a stationary bike and powering it up by pedalling might just sound like fun to many.
The idea behind these concerts are that everything is green where it can be. You could go as far as ensuring the toilets run off rain water. However, this will mean major changes again for each venue. But, it's certainly the way we should look at heading. Lights and sound should all be ran off the energy earned through these sustainable avenues. The whole concert should run off the stored energy previous concerts have earned. Going on tour uses a lot of energy, all of which damages the planet. That is however, unless you go green.
Do they cost a lot?
They don't have to. You'd think putting it all together would come at a great expense to the artist. However, this is if you pay for it all out of your own pocket. Many companies are supporting green campaigns, and you'll find a lot of these are interested in sponsoring green events. It's great publicity for their business and their sustainable campaign. They'll be advertised to a room full of people.
Making the full shift could be costly. If you're a venue considering going completely green, it will cost to get up and running. However, in time, this will pay for itself. The more green energy you use, the less you'll be paying for your usage. Over time, you'll see profits because of this. It's not likely smaller artists can go renewable on their own. After all, they often have a lot of expenses and not much profit in the beginning. But, with the help of the venues they use, their concerts could become sustainable, or at least, more than previously.
It was all yellow green
The well known band Coldplay have teamed up with BMW to create a tour that will go down in history. Aside from the obvious, that they're known for putting on an insane show – they'll be remembered for touring the world's first renewable concert. The shows are powered by almost entirely clean energy. This is huge for the band, as they previously put a stop to their tours due to the impact they felt they were having on the environment. Shows use so much energy from powering the lights and sound to tour busses and planes.
They were determined if they were to tour again, that it must be as green as possible. With the support of BMW, they were able to install kinetic flooring into every venue. These look like dance pads and are circular platforms that audiences can dance on. When dancing or moving to the music, their audience are creating energy and powering up batteries which will be used in future events. Along with this, they have added bikes to each of their gigs. These can be used by their audience too.
BMW provided recycled batteries
Every person who sits on one of the bikes and cycles will be creating energy which again will be used at a later date. Throughout their events they're encouraging fans to hop on and do their bit for the environment. Without these bikes, they would be no show. So, it's important they let their audience know just how vital this equipment is. People love the idea of helping out their favourite artists, so they won't struggle to get volunteers. At a gig, you dance along anyway. It's unlikely you'll stay still, so why not dance on the kinetic pads instead? It gives audience members a sense of achievement. They've contributed to Coldplay's tour.
Partnering with BMW to use their i3 recycled batteries – Coldplay are paving the way to renewable music. The batteries will provide low emission electric power which will be used throughout the shows. These will replace the traditional diesel and petrol generators that are used within shows normally. In turn, this will then reduce their carbon footprint and refrain from causing the level of damage that can be produced through events of this size. Even the wristbands provided to their audience during the shows are made from recycled material. Proving, their concerts will go down in history. It's been done once, so why not do it again?