You might think this is a blog post all about a dog. It definitely could be, I'd be here for that. However, the deeper meaning here is how quickly social media trends can consume us. People are living their daily lives based upon a dog on the TikTok platform. Doesn't that sound a little crazy? How does one dog hold this much power? Is that what happens when videos go viral?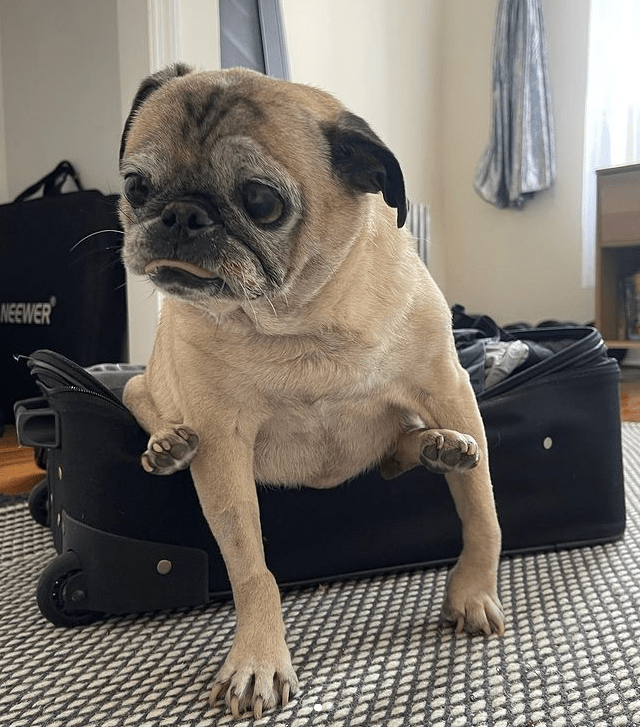 Bones or no bones day?
That right there is Noodle the pug. You'll see his Instagram account tagged below the photo of him. Go and check him out, he's seriously adorable. However, we're not actually here to talk about just how cute he is. The internet has gone wild for Noodle recently. His owner started creating videos of him back in August on the social media giant TikTok. Since then, he's become famous. People are relying on Noodle to tell them what kind of day they're going to have. He isn't psychic, there's no hidden powers that we know of. It's all simply based on how he greets the day.
How does bones vs no bones day work?
The 13-year-old pup has taken the internet by storm. People wake up and check on his account to see if their day is going to be extra magical. His owner Jonathan heads downstairs to begin his day, but before doing so he gets his phone out ready to film Noodle. If Noodle springs out of bed (well as much as a 13-year-old pug can) then it's going to be a bones day. Essentially, you're all going to have a great day. It allows you to treat yourself a little more than usual. So, if there's a new pair of shoes you've been eyeing up, get them. Or, if you've been debating a takeaway, go for it. Whatever it is that you want, you should have. After all, it is a bones day.
So what happens on a no bones day? Disaster? Tragedy? No, nothing quite that drastic, however, it is possible you won't have a treat day. If Noodle, wakes up and heads straight back to bed (like many of us wish we could) then unfortunately it does mean it will be a no bones day. It's important to be aware, no bones days aren't suggesting you'll have a bad day. Instead, they just mean you might be a little more fragile that day. You need to take extra care and make sure you're kind to yourself. Wear your baggy t-shirt and sweatpants, spend the entire day in bed. Whatever makes you happy on a no bones day, do that.
Social media predicting our future?
Is it really a case of social media having a say on our day? Are people seriously basing their entire existence on the mood of a dog? It's unlikely. What you have to remember is how tough 2020 was for us all, it's possible that people are just trying to find some light right now. I guess it's not a harmful thing, it's not like people are stating their days are awful before they've even begun. No bones days can be just as good as bones days. It's a comfort really. We all love dogs, so having a little pup set our mood for the day is fantastic.
However, it's really interesting to see just how powerful social media can be. A few videos later and Noodle was a star, dictating what type of day we were all going to have. How has that happened? Could you imagine telling older generations "ah yes, a dog has decided I need to treat myself today" they'd all think we were crazy? It's a strong tool to have, if it's used correctly. We're seeing more and more just how social media can impact our daily life.
Dogfluencer
People are using Noodle as an excuse for everything. "Oh Noodle said I don't have to adult today." It's fantastic. I personally am going to start using Noodle as an excuse to treat myself. Next time pay day comes around, ask yourself what would Noodle do?

This isn't even the real deal. It's a fan account based upon updating the world of Twitter. Each day they let us know whether it's a bones or no bones day, all depending on Noodle's latest video. That's the power of social media. Everyone's talking about Noodle. He's turned into a brilliant excuse to take it easy, maybe I'll skip the blog writing for a few days simply because Noodle said so. I wonder how long this will continue for. It's something companies are starting to get on board with. All thanks to a pug that likes to sometimes be lazy. Honestly, head to twitter and search for #bonesday and #nobonesday, and you'll see endless videos inspired by one pup.