Since Instagram stories have soared in popularity, so have apps dedicated to making them pop. Unfold is arguably one of the best, due to how many people use it on a daily basis. If you want your work to stand out on all levels, you need to make sure you are putting all your efforts into how it looks.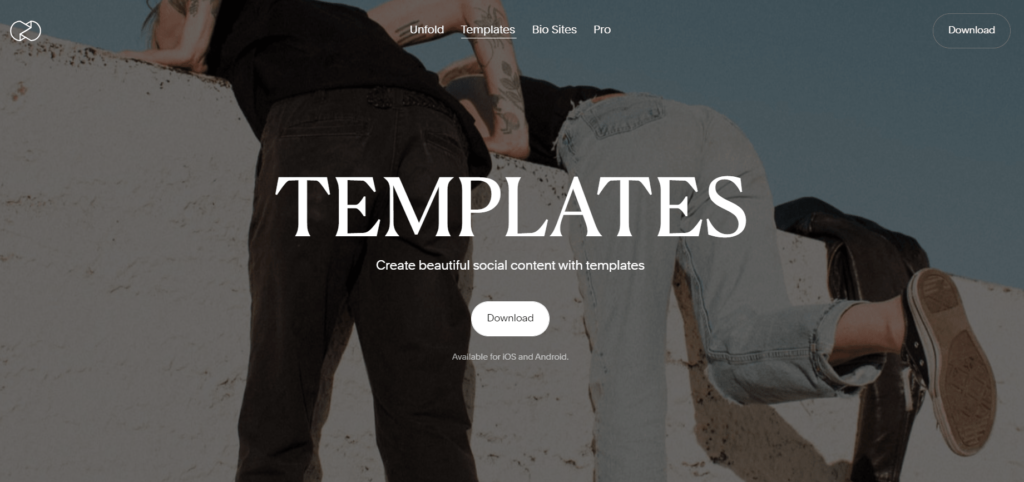 How the story unfolded
Launched in 2018, Unfold has since proved to be a really useful tool for creatives out there. It offers a bunch of designs, so you can make your Instagram stories look more professional. You can change up your typical boomerangs and photos to make them stronger. This is especially important if your Instagram is one of your main promotional channels. Everyone's on Instagram these days, so what you post there really does count.
In just 6 months, Unfold was downloaded 3 million times. So, it must be good. It's said the idea of the app came about because the creators couldn't find anything similar when looking on the app store. One of the minds behind the app said he was attending a career fair at university and wanted to put together a portfolio of his work. Unfortunately he couldn't find an app out there to meet his needs.
That's exactly the route he then went down, a portfolio app. Over time however, he realised people weren't really interested in only showcasing their work privately. To be seen you've got to show your work far and wide, so this is the angle he later moved with. Eventually Unfold was then born.
Diversity
It's important to note that Unfold isn't only for Instagram users. They wanted the app to be able to be used across all social media platforms. Wherever you want to show your curated work, you can do this with Unfold. It is typically favoured with Instagram fans however as it offers so much choice for the stories option.
They've gone from strength to strength with this app, now the likes of Vogue are using it which is big news. It allows people to show their creative side and express themselves professionally. With their focus on developing the app to be the best it possibly can be, they're constantly building and growing alongside their users and their users needs.
Price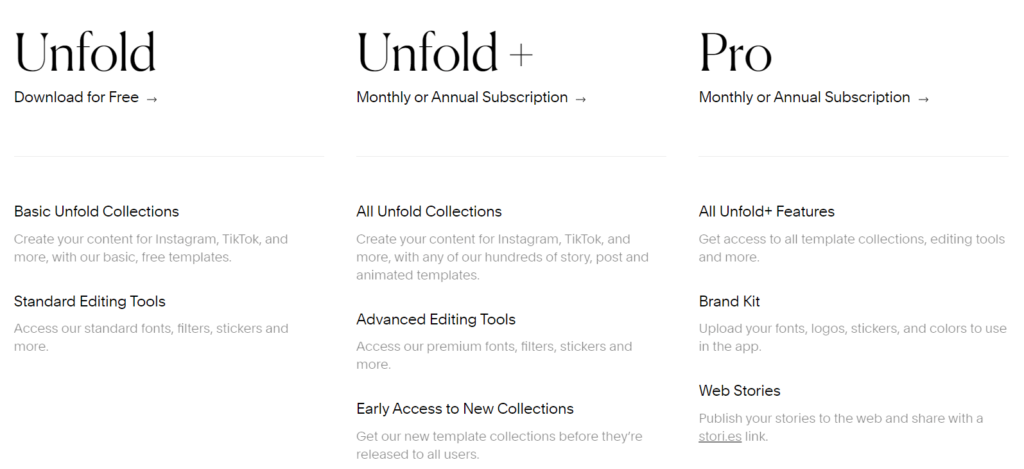 Unfold offer a free plan, so you can give it a go before you decide to pay for a more thorough version. Their free plan is fairly basic. You only get access to certain tools and features. However, it's still a great place to start. Who knows, you might find their normal plan is all you need. If it provides everything you're looking for then there's no need to upgrade.
The next plan along is Unfold + which you can pay monthly or annually. Their annual fee for this upgrade is $19.99 which seems fairly reasonable. If you'd rather pay monthly, then it will cost you $2.99 which again is cheaper than a cup of coffee. You do get a free trial to try it before you commit. However, be careful because this only lasts for 3 days. With this subscription you can access their advanced editing tools, new collections before anyone else, while still having access to all the other content on the free version. If you're really into the app then this might be a good way of upgrading without breaking the bank.
Finally, their most upgraded version is Unfold Pro. This will set you back a fair amount. It costs $99.99 for the annual subscription and $12.99 per month if you would rather pay it in instalments. This account cannot be shared across multiple platforms, which is important to note. You may think it's a good idea to chip in with other creators interested, but unfortunately they're onto this and won't allow it. Unfold Pro also includes a trial period, this one lasts 7 days, so you get a bit more time to try it out. However, it still doesn't seem very long to test it before making such a large purchase. Within this version, you get everything that the other 2 subscriptions offer and more. You have the option to create a brand kit for yourself, and also you can share your stories to the web with a stories link.
If you're interested in any of these, we'd recommend reading up about what they offer in greater detail over on their website. Or, download the free app and read about it there. With the amount of users they have, it's probably worth giving it a go for yourself. That many people surely can't be wrong. The templates they offer could really boost the overall look of your work, so it's worth a try.