Frond is a new start-up company who have designed their platform as a place for various communities to link up. Rather than having a chat which is constantly moving and changing. Keep up with Frond's chat threads.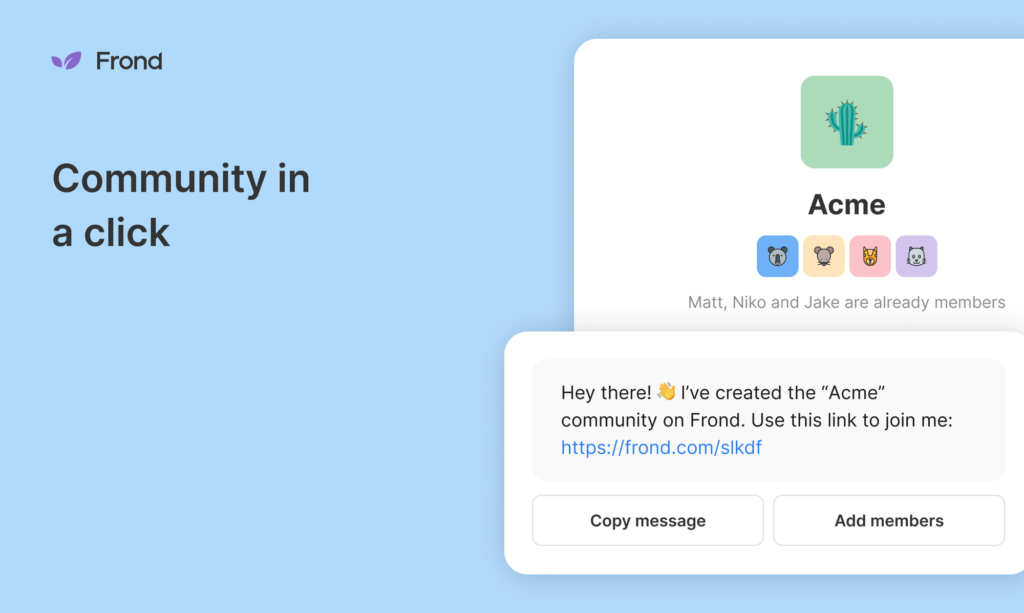 Frond is a brand-new platform which brings communities together. Rather than having to scroll through a chat full of messages to try and catch up, you can instead read through various threads created. All conversations are created through threads, which Frond believe makes it easier to read and become involved with. Their aim was to create a safe space for people to get to know each other online.
Each thread is created through something with weight. For example, a video, photo or link. From there, people within your community can comment, and a threat is created. This allows people to not be overshadowed when sharing content, and also according to Frond makes it easier to follow a conversation. Each user's feed is personalised to them, you can continue to adapt it and shape it as you move forward.

How to use Frond
As Frond is still a new platform, it's likely it will adapt and grow over time. Therefore, these things might change along the way. For now, Frond has been designed to accommodate all types of communities. You can create your own community, or join someone else's if you get invited to it. Frond themselves have provided the following ways they suggest using their platform:
Companies – Great work requires great relationships. Teams use Frond to find the sense of belonging they had in an office.
Creators – Turn your content into a thriving community. Give your audience a space to belong to.
Schools – Zoom classes are sterile. Give students a place to get to know each other, ask questions, create study groups, and unwind.
Web3 – Your community is everything, and it's richer in Frond. Ask questions, share, brainstorm, and squash bugs.
Projects – A place for brainstorming, setting goals, answering questions, and getting to know each other. Link your Github and it's ready to go.
Activists – Movements are built from strong communities. Give your activists a place to organize, share ideas, and actually get to know each other.
Customers – Bring you most engaged users together. Space to ask questions, get help, share ideas, and report bugs.
Teams – Friends off the field have more success on it. Talk strategy, talk trash, and share who you are outside of practice.
Bullet points were all copied directly from Frond themselves.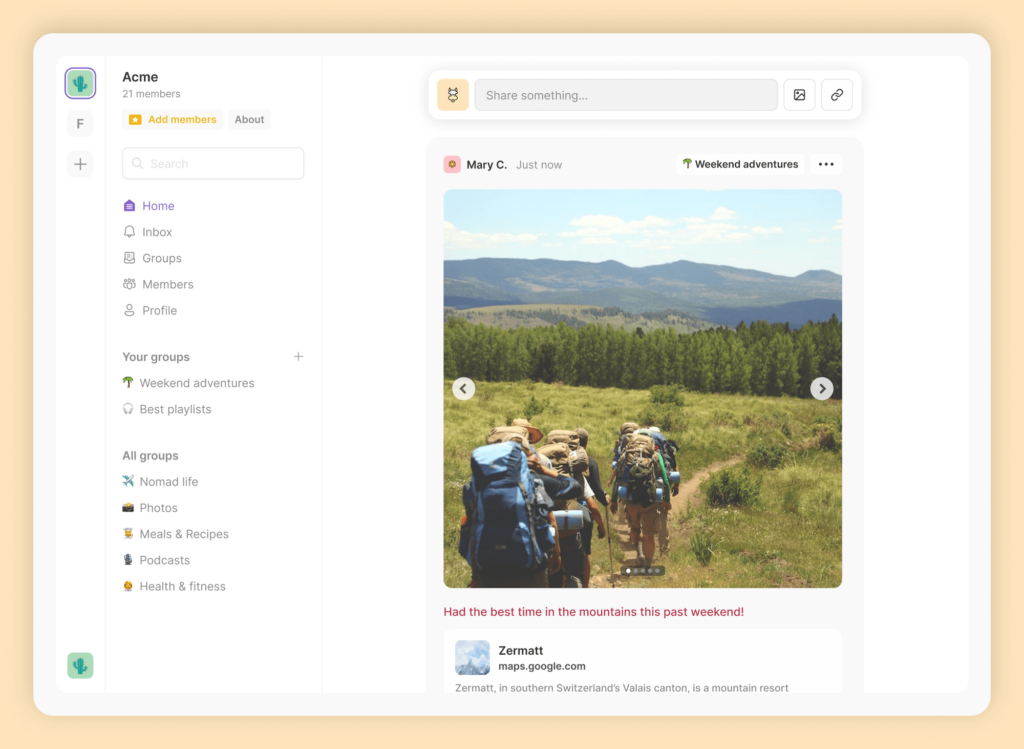 What you need to know
Signing up is quick and easy. To create a community, you'll need to start with a name and a template. Then, you can invite your friends, colleagues, etc to join your community. When selecting a template, Frond will automatically create matching groups for you. These will be optional. You can edit your groups as and when you like, so you tailor your viewing experience.
Everyone within your community can create a new group. To do so simply head to the left sidebar and choose the option to create your own group. You'll need to give it a name, emoji and description. Then, you can start inviting members and get chatting. For example, a school might set up a community. However, from there, each subject, class or groups of classmates might set up a group.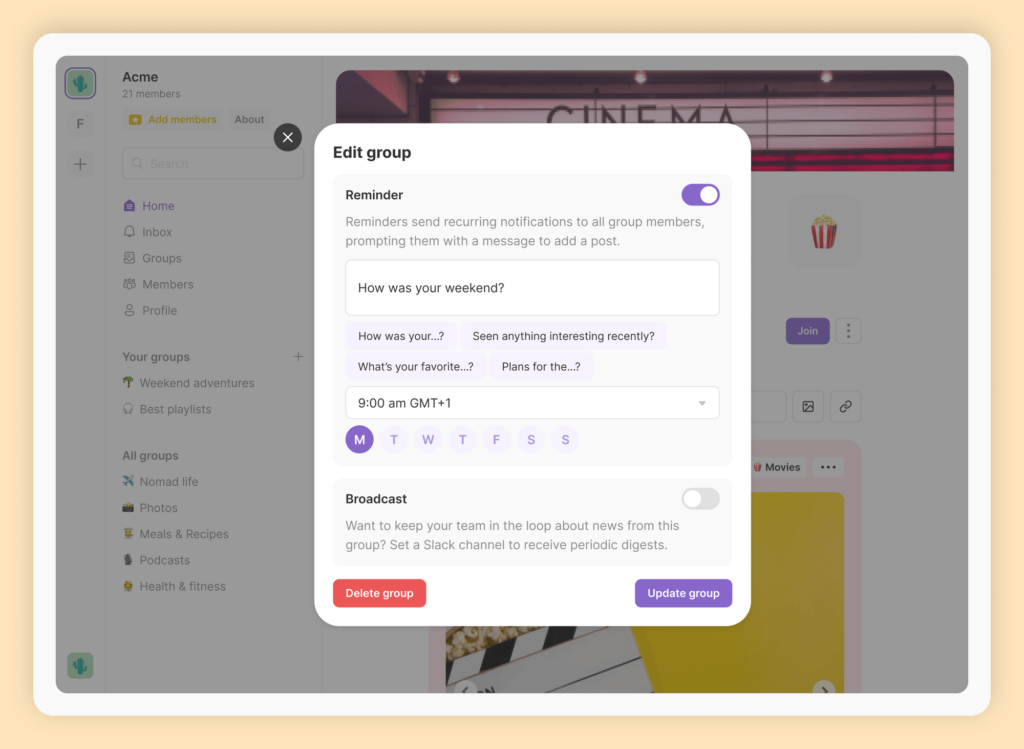 Create your own groups
When you invite anyone to join your community, they will be able to oversee every group within it. They'll also be able to start making their own groups within that community straight away. Underneath your community name you should see the option to invite people to your community itself. Adding anyone to a group will automatically invite them to join your community.
To add a post into a group, you'll need to click on the Share something option at the top of any group page. Then, you'll need to choose between various media types. As mentioned previously, you will need to make a substantial post to be able to start a thread yourself. Therefore, you will need to choose from the following:
Text
Link
Record a video
Upload an image or video (hint: you can add multiple images or videos and combine)
Again these bullet points were taken directly from Frond's website
We'll be interested to see how Frond grows and continues to expand. This could be a great option for any businesses who are wanting to bounce ideas around. Share your ideas without them being overlooked. Your colleagues can add to your thread, and when someone creates another thread, yours won't be lost in the flow. As it's a free site, you have nothing to lose.