Whether it's your own Insta Reel you need everyone to see, or you want to share content from your favourite creators – Instagram makes it easier than ever! Share content across Reels, stories and Instagram's feed.
Why would you want to repost a Reel? Well, there are a few reasons. Perhaps you've not quite maximised your target audience. You may have hoped your Reel would spread further than it has. Maybe you have an important message to spread, or simply just want more eyes on your content. Well, if any of these are the case, you'll likely want to reshare a Reel you've previously posted.
Another reason could be you want to share the work of another creator. Perhaps you've come across a video you just can't ignore. It could be again an important message. Or, a funny video you want your followers to see. Whatever the reason, if you want to share it, you'll want those who follow you to be able to see it. Reposting Reels is a powerful tool to have, but, how do you do that?
How to repost a Reel on Instagram
There are a few ways you can repost a Reel to Instagram, we'll walk you through them below:
Reposting another creator's work onto your feed
Firstly, if you want to share a Reel that does not belong to you, then you'll need to download a repost app. This will allow you to access another creator's content and share it with your followers. There are multiple apps you can download that will do the job for you. A few to name; Repost, Repost for Instagram and Reposta. All are accessible with both iOS and Android.
When it comes to choosing an app, we'd recommend looking into reviews left by others who have tried out the app. This will let you know whether there are any bugs you need to look out for. Also, you'll be able to see the quality of the app and how it compares to others you're looking at. You don't want to use a repost app that comes with a lot of spam, or glitchy adverts.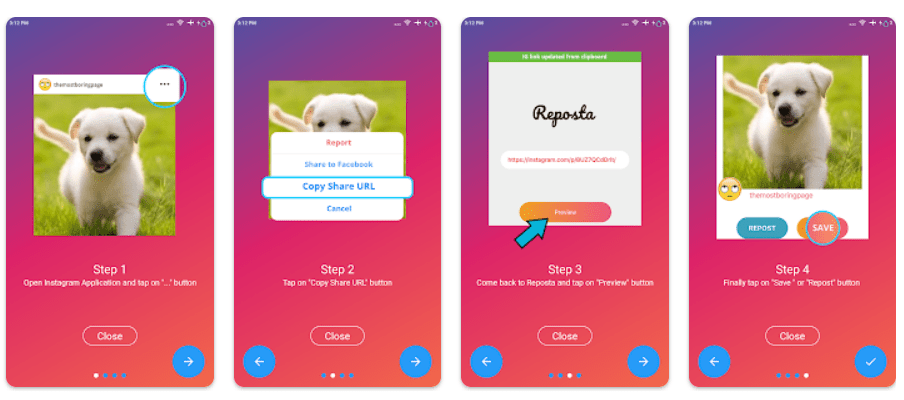 Within the app, you'll need to add the link to your chosen Reel. To do this, copy and paste the Reel link. Click on the 3 dots on the right-hand side of the Reel and select Link to copy. Head into your chosen repost app and paste the link you've just copied. Your app will probably include the original creator's caption within your post. However, you can change this if you wish.
Then, simply tap Share and then choose where you want to share it. If you want it to appear on your Feed, select this. It's always a good idea to credit the original poster. While your reposting app will include their details, perhaps include a little message thanking them for their content or explaining why you chose to share it. We're all for praising creator's work, so make sure you consider this. Don't forget to tag them!
Repost a Reel as your own content
To repost content as your own, you'll need to follow the same steps as above. However, this time, you won't credit anyone. Instead of putting a thanks to the person in there, or recommending people check out their page, you can remove this all together. Some apps will allow you to remove all credit with just the tap of a button – so maybe look out for this.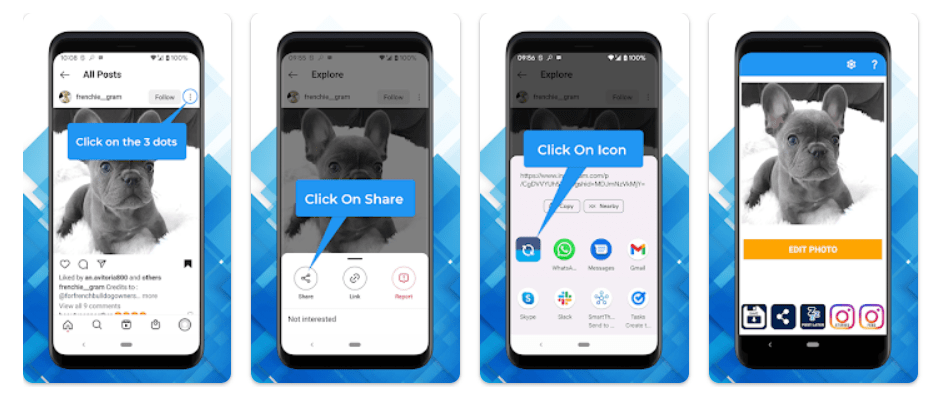 Of course, it's important to remember not to steal anyone's content. Ensure anything you're sharing you either credit, or have the rights for. Perhaps you've worked on a project with someone, and they've put it online. You could then share this without crediting them as this is your work. Or, maybe you're the creator and one of your clients has shared your work. You own the rights to the content so no need to credit anyone!
Repost your own content to your feed or story
If you've already posted your content, but perhaps want your audience to stretch further. Or, maybe you feel it's an important video that you want people to watch again. You'll want to repost it. However, with it being your own content you've already uploaded, you don't need to worry about having the rights or having access to the content. It's your own work, so you can upload it as often as you like.
To repost your own content, you'll first need to download your Reel. Head over to Instagram and click on the 3 dots on the right-hand side. Then, choose Save to your device. Alternatively, you can copy the link in the same way as the previous options. If you choose to copy the link, you will need a reposting app as we've previously discussed. This will allow you to repost the content with the original caption.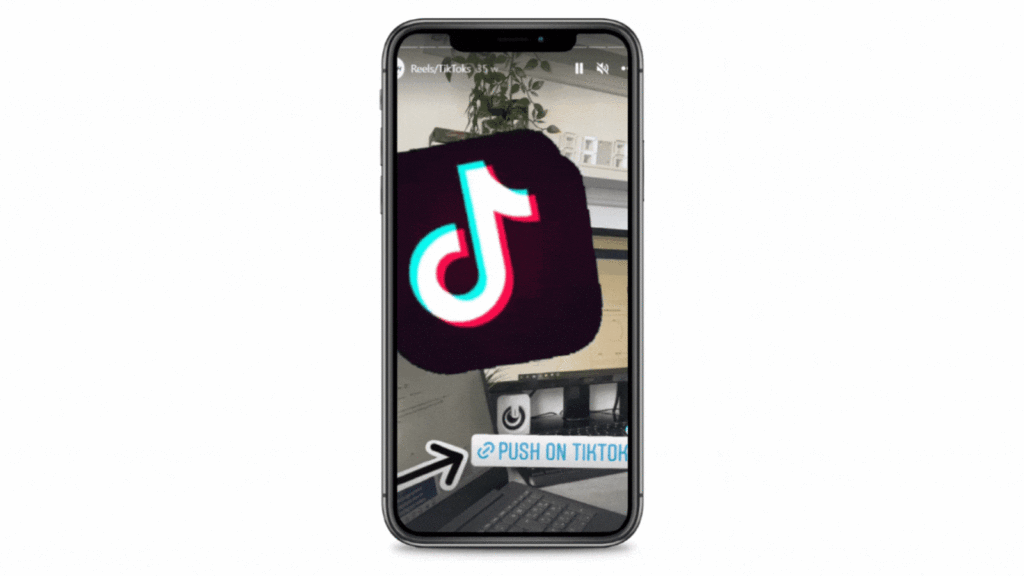 However, if you've downloaded your content and want to repost it – you'll need to upload your video again to Instagram. Choose whether you want to add it to your feed or story. If you want to add it to your feed, then head to the plus icon and select Reel in the way you previously would have. Then, upload your Reel. However, if you want to upload it to your story, you'll need to swipe right on your home screen which will bring up the story creator.
From there, add your video. You can select the video of your choice from choosing your camera roll. This will appear as an option on the bottom-left of your screen. Select your video and make any additional changes you require. You might want to add text or animation overlays. Then, you can simply share this to your story directly. If you're posting a Reel but don't want to post it just yet, you could use a third party social media scheduler and add your Reel there.