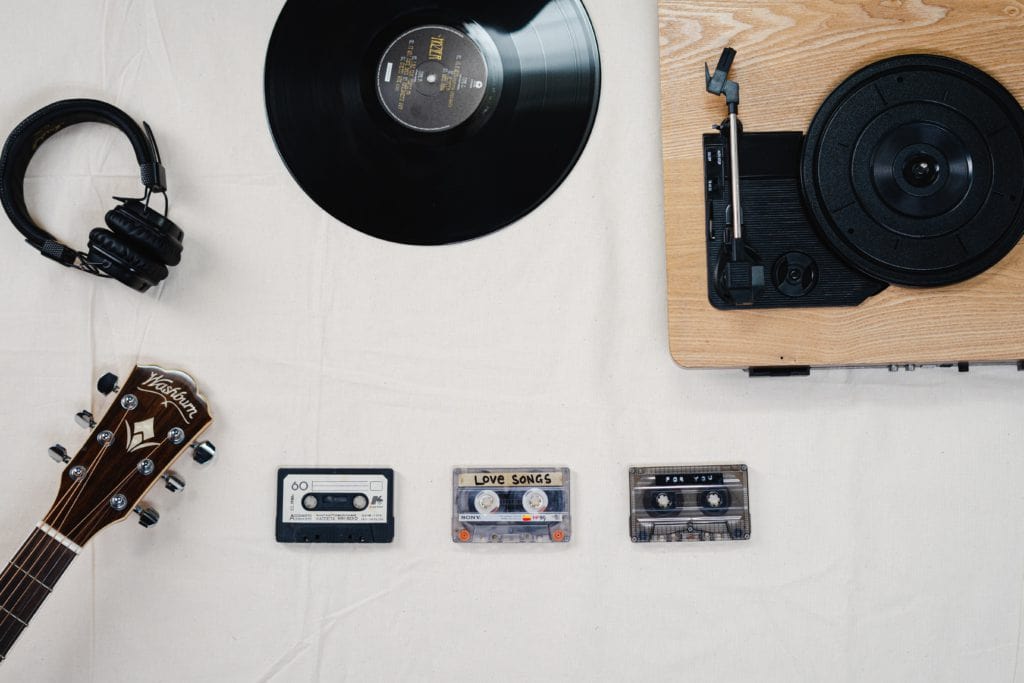 Royalties from streaming and downloads may seem like the only revenue stream, but there are plenty of other ways of making a living off of your music.
Read on to find out how you can make the most of your musical skillsets.
🎙
Sell acapellas
If you're a singer and have access to professional recording equipment, then selling vocal acapellas is a great way to earn some extra pennies. Don't limit yourself to one genre either; record acapellas for a huge variety of different applications. This will only open up your market and potential to sell your product.
If you're not sure where to start selling your acapellas, check out Voclio – a marketplace to buy and sell vocals and acapellas.
👜
Make sample packs
Producers; sample packs make great offerings that also benefit your practice and experience. You don't have to make samples from a blank slate; maybe there's some chords or bass lines from an old project you're never going to release? Remember to include tempo and key information in each sample to help your users sift through them.
You can either choose to promote your sample packs on your own socials and websites, or you can look into selling them to sample companies such as Splice or Sample Magic.
🎛
Mixing/mastering
Use those valuable mixing and mastering skills and offer your services to other music makers. Make sure you have a good portfolio of previously mixes and masters you have done, and make sure your services and pricing are easy to access too.
Start by offering to mix and master your friends' songs and then use their reviews to further promote your services.
🎸
Session musician
It doesn't matter what instrument you play, someone out there will be looking for a competent and professional to fill a role in their project. Any musician can be a session musician but the following will set you apart from other musicians:
Music theory – having knowledge of theory will hugely help when it comes to working out melodies, learning chords and playing live.
Experience – the more experience you have in a wide range of genres, the better. You'll show customers you're a dab hand and able to work within any musical context.
Credentials – reviews will only bolster your skill and show people you're a dream to work with as well as doing a cracking job.
Recording equipment – having access to professional recording equipment means you can offer your services online and are able to do the job digitally. Perfect for long distance collaborations.
📺
Syncing
If you're wanting to branch out, try opening your music up to syncing opportunities. Syncing refers to the process of adding music to a moving image, for example, adverts, movies, trailers etc. Register your music with music libraries, sync agencies or start contacting small, independent film makers yourself.
There's no right or wrong genre or musical trait that will indefinitely increase your chances of landing sync opportunities. However, remember to make sure your tracks are free of swearing and they're mixed and mastered well.
💥 Create sound FX
If you have experience in sound design, or are just keen to brush up on some new skills, try making your own sound effects libraries. Read Epic Sound's handy guide to making and selling your own sound effects library.
👩‍🏫
Make tutorials
Become and teacher and start making tutorial videos; they are an easy way to earn from your skills and passion. Are you a whizz at wavetables? Can you ace an arpeggiator? Maybe you shred in sixteenths? Make videos of your skills and how others can match them; either by selling them on your own website or by collecting ad revenue through sites like YouTube.
🎼 Song writing
Are you a master at writing songs with catchy hooks and anthemic choruses? Even though you'll likely start small, selling song you have written can pay off in the long run. Even though the dream is selling a hit song to a big-time recording artists on Universal, it's only realistic to start small. Start recording your songs and/or offering them to recording artists and bands. Also network! Networking is key to getting your name as a songwriter known.
💻 Start a Patreon
Patreon is a service where you make regular payments to your favourite musicians and content creators in exchange for exclusive content, news and updates. By making a Patreon for your music, you can boost your income at the same time as regularly treating your loyal and supportive fans.
🥁
Sell backing tracks
Maybe you've got a glutton of unreleased instrumentals, or maybe you just love making beats? Despite the competition in the market being fierce, there's are still opportunities to make money and get your name out there.
If you've already got a handful of instrumentals but you're not sure where to start selling them, check out TrakTrain or Beatstars. However the go-to for producers to start promoting their beats will always be YouTube.
---
Remember, no matter what content you're making, push it harder and further using PUSH.fm.