Making a name for yourself on a saturated platform like YouTube seems impossible. However, multiple musicians have done exactly that throughout the years. Why not you? You could be the musician to get the next big break!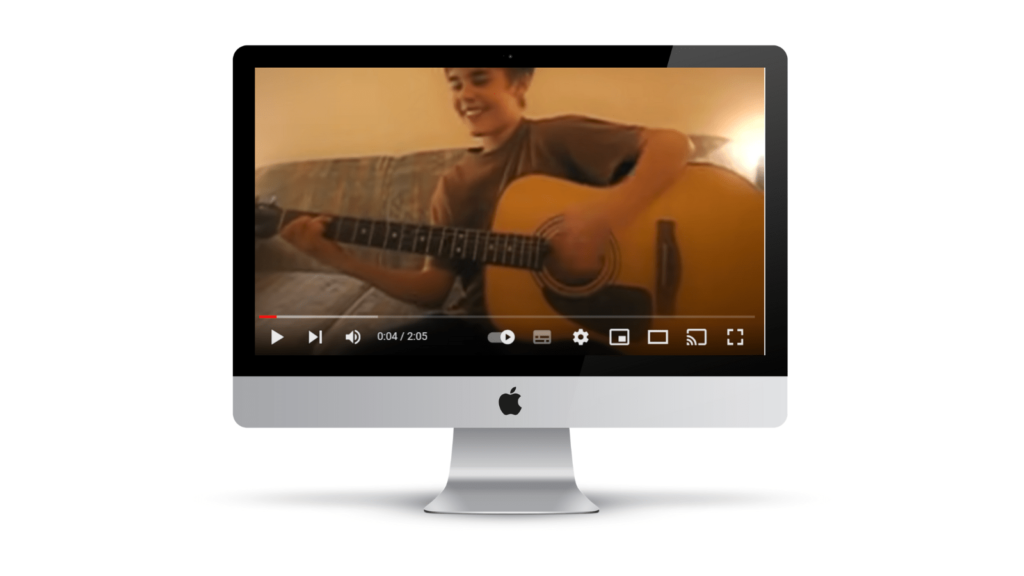 The world of music has changed dramatically in recent years. With the rise of social media platforms like Facebook and Twitter, many people now use these sites to share their musical talents. Some even become famous for their videos on YouTube. While there might be more competition today, there are also more ways to get your name out there. More opportunities.
Many musicians are on YouTube. It's a great place to share your music and take inspiration from other artists similar to you. With the popular platform having been around for so long, it's become an established place to get your music heard. You can build an audience who will like, share and boost your account's popularity.
So, let's discuss three musicians who made a name for themselves through YouTube
Justin Bieber
He's a man that has divided opinion since he first came onto the scene. Whether you had Bieber fever, or, his music wasn't to your taste, you can't deny he's done well for himself. He quickly rose to fame and became a teenage heartthrob. Many covered their walls with his posters and he became a household name practically overnight.
Justin Bieber is one of the biggest names in the music industry today. He started his career as a child actor before becoming an international superstar with his hit song "Baby." His popularity grew after he released his first album, My World 2.0, in 2010. In 2012, he was nominated for two Grammy Awards, winning Best New Artist.
But, how was he discovered? He was scouted through YouTube. Being discovered by the right person set his future up for him. Of course, the talent came from him, but the rest of it? It all landed on his lap! He was discovered and from there his career sky rocketed. Now, he's selling out arenas and has some huge tracks to his name.
Charlie Puth
Starting out as someone who created videos and uploaded them from his bedroom, Charlie Puth has made it huge. Now topping charts, he's come a really long way from his channel named Charlie's Vlogs. The videos he uploaded weren't all singing. Instead, he uploaded a mix of acoustic covers and comedy videos.
In 2010 Charlie Puth released a music video to his first song These Are My Sexy Shades. From there he want on to win Perez Hilton's show Can You Sing? He continued to grow rapidly, eventually being signed by Ellen DeGeneres – a huge name across the internet. Would this have began without the start YouTube offered?
From a beginning of making funny light-hearted videos presumably with the intention of friends and family watching, he has created an exciting career for himself. Winning awards worldwide was something he probably once only dreamed about. He's even been previously nominated for a Grammy thanks to his song See You Again.
5 Seconds of Summer
5 Seconds of Summer, also known as 5SOS are an Australian boy band. Known for the pop rock hits, they too once started off on YouTube. They began recording their songs in one of their garages hoping to hit their break. Not for a minute did they expect for things to blow up quite like they did. But, they've gone from strength to strength.
A lot of their success is thanks to huge boy band One Direction. They were discovered by the popular band and invited to join them on one of their tours. This really laid the foundations for their career. Soon, they had a whole new fanbase and audience. Thanks to One Direction sharing the love, 5SOS were able to achieve huge dreams.
How were they discovered? Well, One Direction band member Louis Tomlinson came across their content. He shared their YouTube videos on his Twitter, and it snowballed from there. Of course, his fans getting behind them caused them to grow quicker than they'd have ever imagined. But, if it wasn't for YouTube once again, would they have ever been discovered?
These are just some of the artists who have made a name for themselves by starting out on YouTube. With YouTube being so accessible, all artists stand a chance of taking their music to the next level this way. After all, YouTube is free to use. Simply set up your account and go. The more you put into it, the more you'll get out of it. So, if you're trying to get noticed, it's important you post on a regular schedule.