Great news for any creatives that use Instagram as a platform for live content. Instagram have added 2 new features which could change the process and make it much easier. Apparently one of the features people have been asking for since the dawn of time. Well, a while at least. Turns out if you don't ask you don't get, and if you persistently ask, you're more likely to get.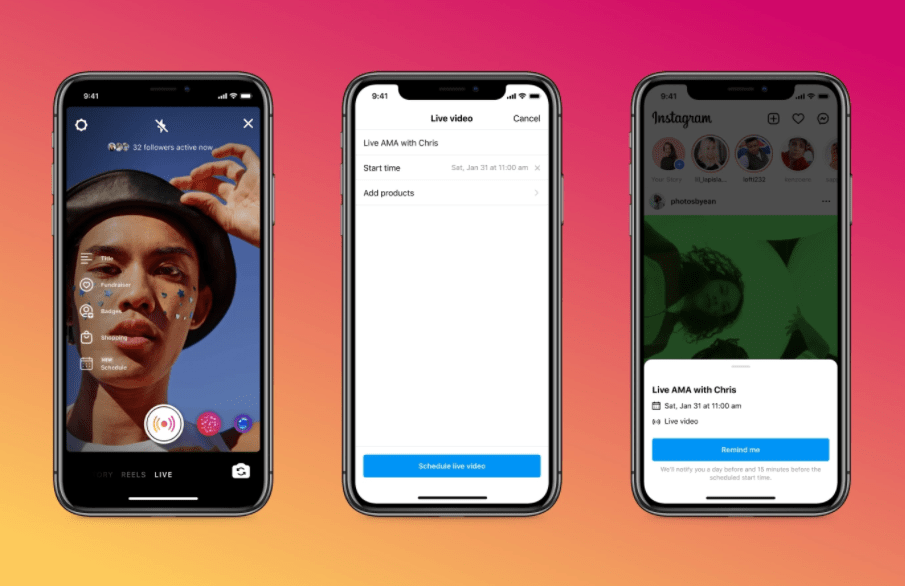 Practise makes perfect
One of the new features that Instagram have kindly added is Practise mode which allows you to join your viewers live before your video kicks off. So, ahead of schedule you can pop in and check your sound and lighting is all ready to go. This avoids any mess or possible time-wasting which can happen when you start the live to then realise no one can hear you. If you only have a set amount of time to go live on Instagram, you don't want it to be consumed by trial and error, fixing your mic or trying to find a place where people can see you.
Instagram live creators have been asking for this for some time now. It makes sense, if you were at a gig you'd have your set-up time to practise to avoid any unwanted glitches. Being able to practise before you start the real thing will overall make your fans happier. You'll find it beneficial as when you do start each live, you'll be prepared.
Create a schedule
Possibly even more exciting, the second new feature allows you to create a schedule. Creators can now drum up some hype ahead of their live by scheduling it up to 90 days ahead of time. Alert your fans by sharing the news with enough time to create excitement. According to Instagram, creators will be able to share their live content that's been scheduled, through their feed and stories.
Being able to schedule your lives ahead of time gives you more chance to promote yourself. It also gives you an opportunity to know what your fans want. For example, if you're going to do a live giving advice or information about the career or industry you're in, you will be able to get input from what your fans want you to cover. You're also likely to get more people tune in if they know when to expect it rather than just switching over to Instagram to see you've gone live. It allows them to plan it around their own schedule.
It will be interesting to see how these new features help content creators out there. What's really great is that Instagram have actually listened to what their users want. Often it can feel like consumers and clients go unheard, but this time Instagram stepped up. What do you think about these new features? Will they benefit you or is Instagram live not really your thing? If it wasn't before, you should definitely give it a go now. Being able to plan ahead of time will make things so much easier and should make the content better overall.