Crocs no longer have just their normal and sports modes. Now, they have a party mode activated. Brands that just shouldn't work together, somehow have, and we're here for it. They're pushing boundaries and while it may not be serious, we love that they're showing anyone can work together, despite their differences. It's also teaching us to think outside the box when it comes to creating campaigns.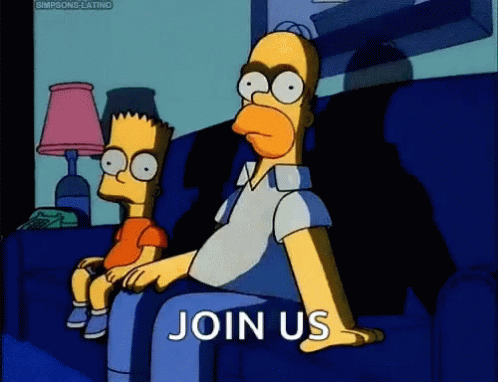 It's all fun and games but if you think about it, the bigger message is that you can work with whoever you like. In fact, it will probably work to your advantage to step outside your crowd. People remember the head turners, the ones with the shock factor. You don't have to go completely wild, but equally don't restrict yourself. If you want to get people talking about your work, make it different. Some brands have come together to collab with other companies we'd have never expected. Others have just created their own products that are so wild, it makes their campaigns ones to remember.
A scent of Sweden
Ikea is widely considered a day out. The stores are so big you could literally get lost in them. Set out like a maze, it's hard to escape, but don't worry, they've got you covered. There's plenty to do while you're trapped in there. In fact, you could pretty much move in. You might even go undetected if you set up home there. One of the main reasons people agree to go whenever you mention Ikea, is for the meatballs.
Let's be honest, the food stop is perfectly placed, right by the exits. Meaning, you cannot leave without being drawn in by that smell. If you've never tried the meatballs from Ikea, then I'm not sure what to tell you. I feel sorry for you, I guess. Take yourself to Ikea, I promise you won't regret it.
As crazy as it sounds, Ikea's meatballs are almost like a rite of passage. If you were to ever let it slip that you haven't tried them, you'd soon become an outcast I'm afraid. Although, I guarantee your friends will fight over who can accompany you for your first taste test. Ikea know just how favoured their meatballs are and have decided to use this to their advantage. We don't blame them either!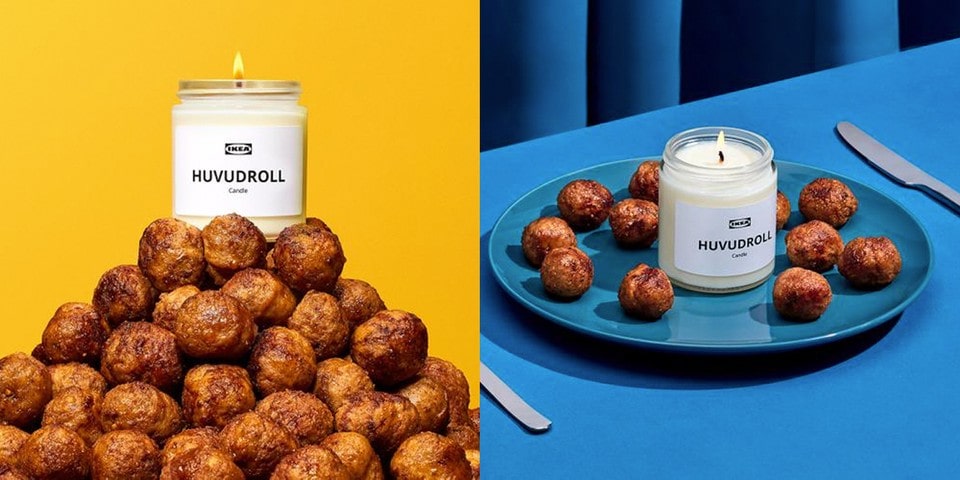 Introducing, Ikea's meatball scented candles! That's right, the smell you love, right in your living room. If I'm honest, it would just make me hungry. I'd need a constant supply of meatballs to accompany it. Unfortunately not everyone will get their hands on one though. This was launched as a 10th anniversary promotion. It seems it was only launched in the US and for a limited amount of time. I'm sure we'll see them circling the internet at inflated prices though.
It butter not be real
I Can't Believe It's Not Butter created a campaign that certainly got us talking. They invented a spray that smells just like butter. I'm not sure that this is for me, but it captured my attention. If you love the smell of cooking butter, this might just be something you're interested in.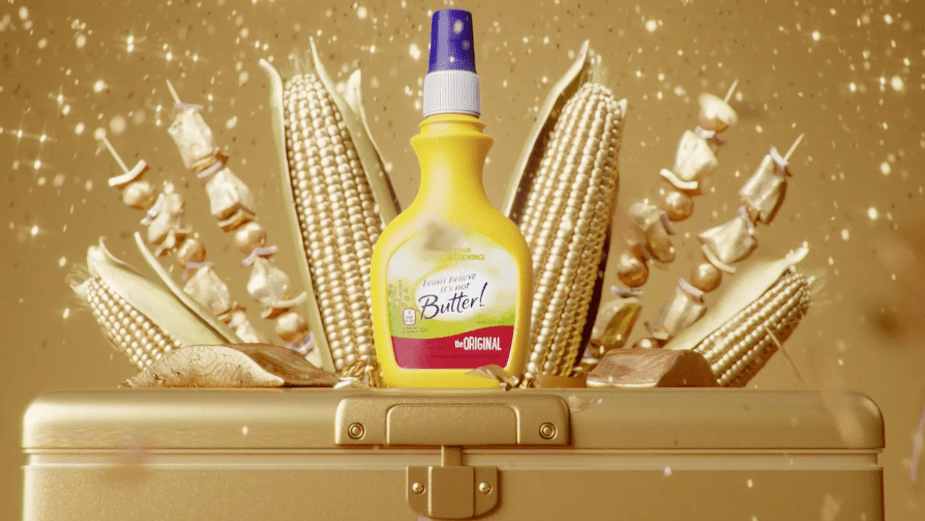 There it is, in all its glory. The company didn't stop here either. In a bid to get influencers onboard and push their campaign even further. They created a competition with some unique prizes. Using the hashtag #NotButterSummer could see you winning one of the following:
I Can't Believe It's Not Butter!-Branded Plug-and-Play Hot Tub
54-Quart Steel-Belted Cooler
A 'Shuck Marinate Grill' Chef's Apron
A year's supply (12 bottles) of I Can't Believe It's Not Butter! Original Spray
It's completely crazy and that's why it works. You don't need to be a brand that typically sells the dream to draw attention to yourself. Instead, you just need to be willing to get creative. No one expected a butter company to gain such a large media coverage, but they did because they thought of something that hadn't necessarily been done before.
🚗 I car-not believe that's a perfume
Hopefully this campaign worked better than my pun. It's one of life's guilty pleasures, the smell of petrol. Don't pretend I'm crazy saying this. Admit it, you like the smell. Ford know exactly how popular the scent is, which is why they have come up with this crazy campaign. I'm not sure smelling petrol is exactly good for you, so the fragrance might be the answer. Avoid looking strange at the petrol station and also protect your health by getting your satisfaction elsewhere.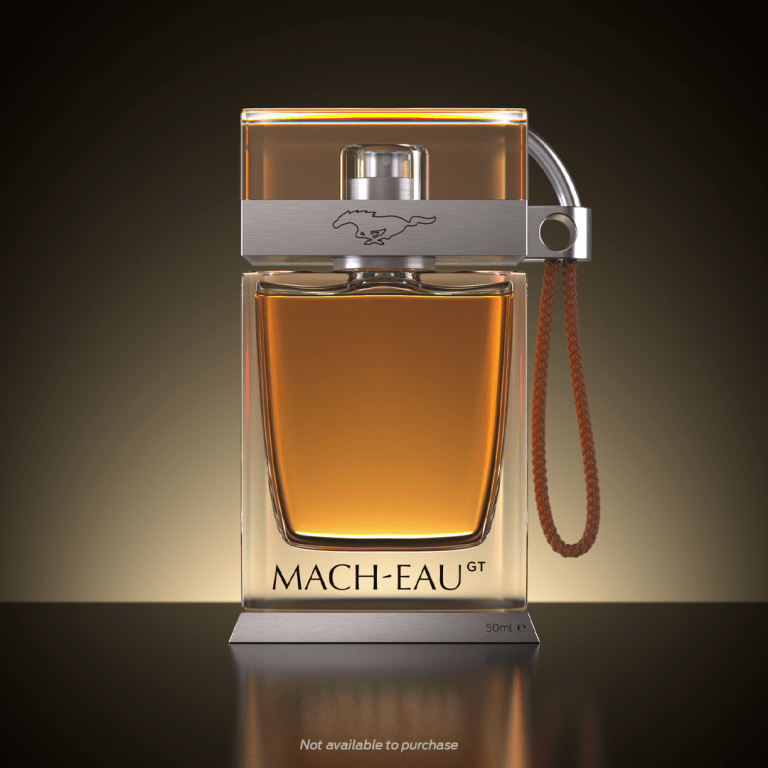 Through research, Ford have discovered that a massive 70% of drivers would miss the smell of petrol if the world became electric. There's a huge push at the moment for the world to become greener and this includes the types of transport we use. Switching to electric would be better for the planet, but it may mean you miss out on that scent you love. Sadly you can't yet buy the fragrance which is called Mach Eau. We're unsure if or when this will be available. It looks like it should be as it was revealed at Goodwood's Festival of Speed where car fans gave it great reviews. As much as I agree, petrol smells great. I'm not sure if I'd want to smell of it myself, nor am I invested in the scent enough to buy something to replicate it.
Surely, no woman would be able to let this style slip pasta?
The blue box of Barilla pasta is iconic right? Well, if it wasn't before, it now is. A designer from New York, Nik Bentel has designed a handbag to look exactly like a box of the pasta. The gold chain is even detachable. Who would have thought, a pasta bag could be so versatile? There's only 100 of them made, so you better be quick. I'd imagine they sell for a small fortune. Maybe I'll just stick to eating the pasta instead.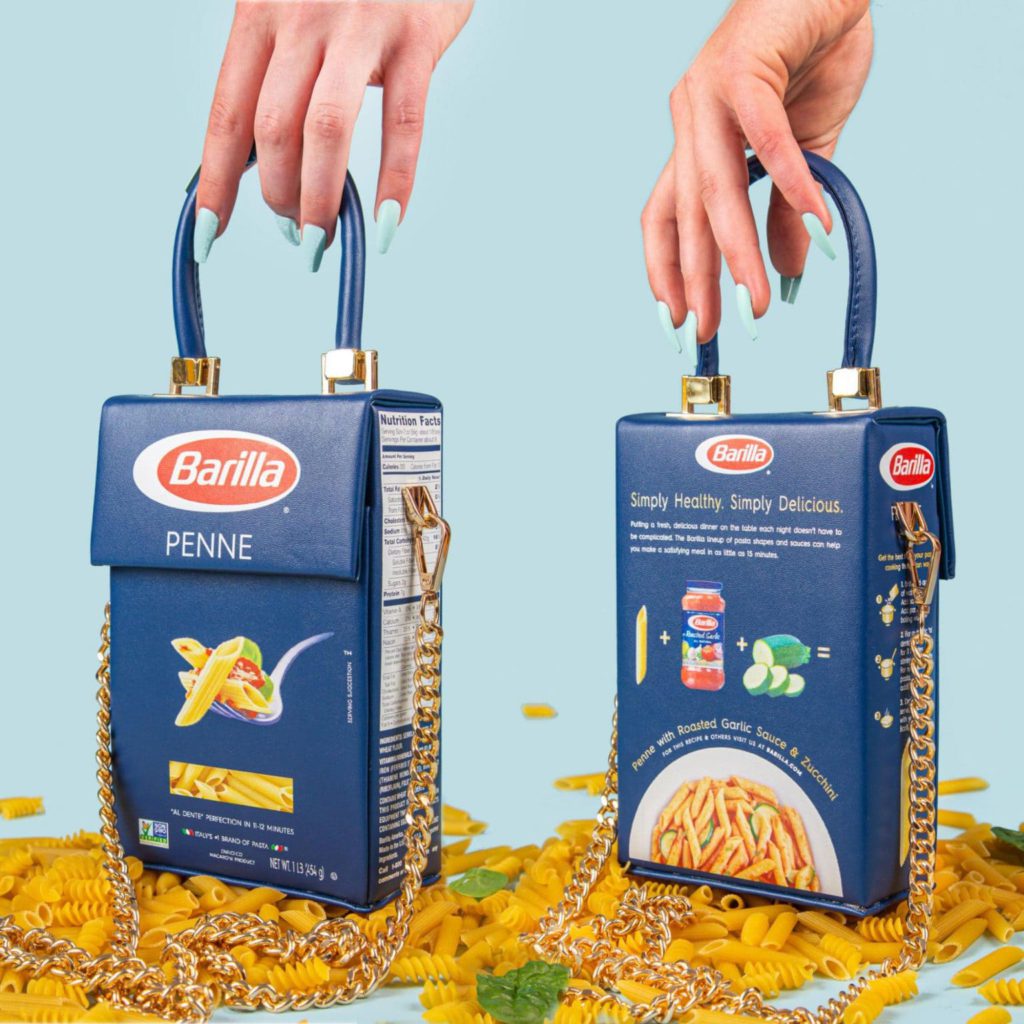 The idea came about during the pandemic's peak. You know when stores were empty and everyone was surviving off pasta just like a group of students? No one could leave their house so that box of pasta that had been sat there for some time, finally had its use. The designer wanted to make something a little light-hearted to remind us of those bleak days. Imagine, finally, freedom, you head out to your favourite restaurant, but not without your pasta handbag to remind you of the times when your most loved dish wasn't available.
Give Hotels.com a wing to make your booking
This one, is probably my favourite. The main reason? They have a button to press for chicken on demand. It sounds like a dream come true. KFC and Hotels.com have joined for one of the best collaborations to date. A hotel room in Shoreditch, London that is entirely based around the fast-food chain. Everything is fried chicken themed. Could it get any better than this?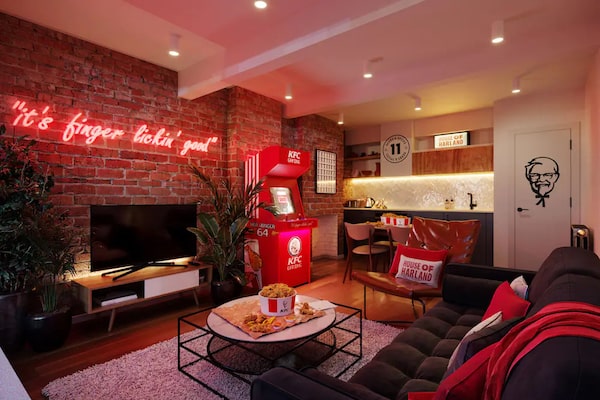 At first glance, it looks like a room themed around KFC with no much else to offer. If that was true, the £111 per night price tag might seem like daylight robbery. This hotel room is a little different though. Able to sleep two adults, it's only around for 11 days. To keep things fair they've made the rule you can only stay for one night. Still, can't it stay forever so we can all have a chance to try it?
Not only is the decor fried chicken themed, they also have a cinema room and an arcade game to pass the time. The most exciting part of all is the big red button that you press whenever you want more chicken. You'll have fresh fried chicken delivered straight to your room. They always told you not to press the big red button, so this breaks every rule we know. Maybe we've missed out on the fried chicken for all these years by believing those cartoons when growing up. If this wasn't already enough, they've also thrown in a ride in a black Cadillac. It will pick you up from your house and take you directly to the hotel. Now, that sounds like a night to remember.
You better be snappy if you want a pair
Another brilliant pairing. Crocs and Balenciaga. I know, we can hardly believe it either, but it's real. It's not the first time either. They first joined forces in 2018 and after the huge success they decided they'd do it again. In 2018, they created a ready-to-wear collection and had runway models dressed in platform Crocs of all different colours. Included on these Crocs were little Balenciaga accessories.
Now they're back to create a spring 2022 collection. The models for this launch were dressed in rain boot style Crocs and even high-heeled Crocs. I can't say they scream fashion to me, but they do suggest alternative. They've captured many people's attention which is surely what they were hoping for.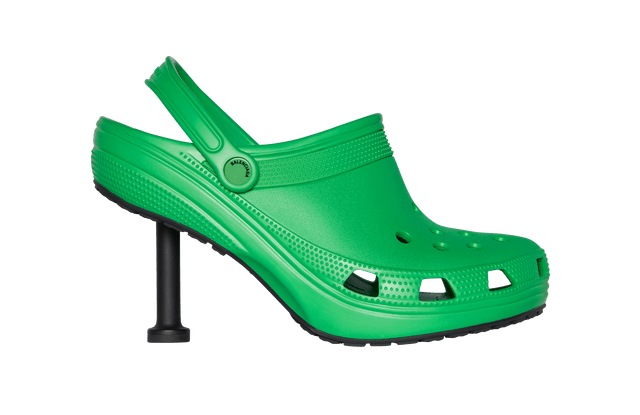 The shoes have been featured in Vogue. It's said that the feel of the shoe is very much that of Balenciaga. While they may look more like Crocs, the way the shoe is made is definitely inspired by their partner. Even though it might not be something people rush out to buy, it's got people talking. That's the sign of a good campaign. It doesn't always need to sell a certain product. In fact, a lot of the time the wild campaigns don't always offer the project as more than an advert. They just need to be bold enough to capture their audience.
You could not make up this campaign
Americans seem to go crazy for anything peanut butter related. Reese's are seriously popular over that side of the pond. So, could you imagine getting your chocolate fix but without the calories. Ok, maybe not quite as the products aren't edible, but you'd get the smell at least. Flavoured lip balms were all the rage for young girls growing up. They tasted almost as good as they smelt. It didn't matter if you'd only just applied it. You needed to constantly reapply. Not because your lips needed to be any smoother, but simply because it smelt so good you wanted to eat it.
Well, it's made a comeback. It no longer has to be something you miss from your childhood. Reese's have joined forces with the makeup company HipDot for a crazy collaboration. The makeup launch includes brushes, eyeshadow palettes and lip balms. All that smell so good you could eat them. Please don't…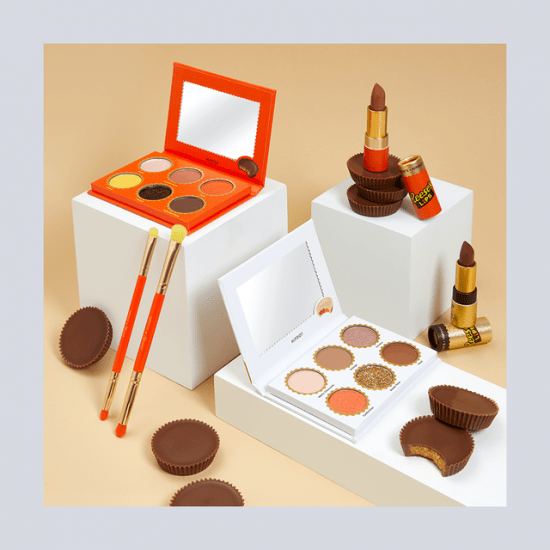 Even if you're not a peanut butter fan, this could still be something for you. Like I've mentioned, it's not actually for human consumption, so you're safe. You can still enjoy the beautiful products they've created. At least you won't be tempted to try and eat them. The packaging has been carefully designed to match Reese's branding. The well known orange packaging looks just like the real thing. What would you prefer, the chocolate or the cosmetics?
Does this sound like your cup of tea?
The widely loved ice tea brand AriZona have collabed with non-other than shoe brand Adidas. AriZona pride themselves on the cost of their beautifully packaged drinks. Although every other drink around them, including their competitors have increased in value throughout the years. They've remained true to their roots and stay at an affordable 99c. Can you guess where this is going? Yes Adidas also gave their products away for the same price.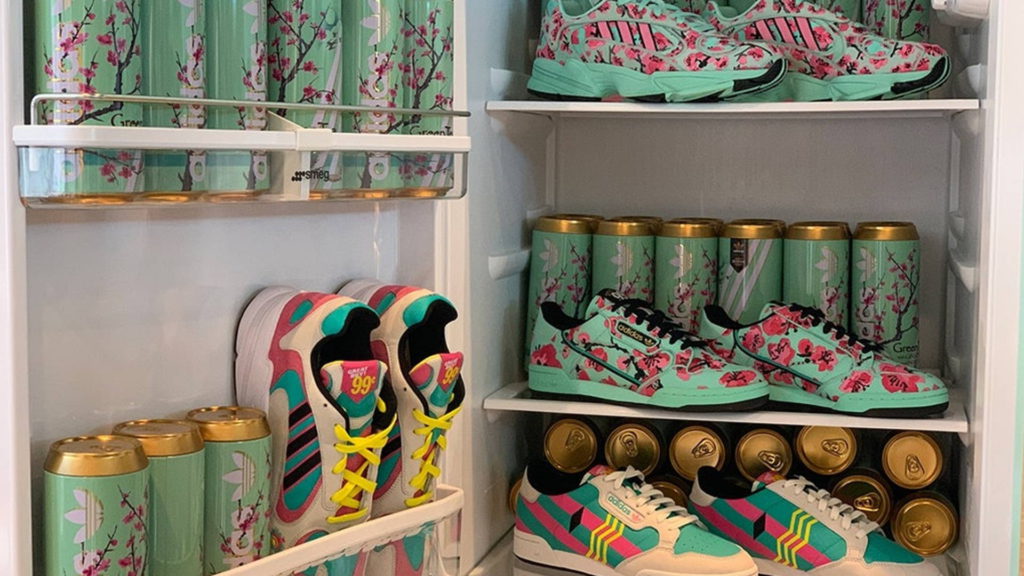 Look at that seriously beautiful design. It's no wonder this collaboration worked so well. Even though they again aren't even in similar fields. The two brands coming together was a brilliant idea. The design of their green tea packaging looked good enough to wear, so that's what they did. Adidas took the designs of two of the most popular flavours – aqua green and cherry blossom, along with the bright colours typically found on the cans and then turned them into something that could be worn. Ice tea fan or not, these shoes are trendy.
The shoe brand placed one very important feature on the tongue of the trainers. They wrote "Great Buy 99c" because as mentioned previously, AriZona pride themselves on the price of their products. To match their partners, Adidas set up a pop-up store in New York and launched their shoes at that exact price. That's right, a pair of trainers for just 99c. As you can imagine this got out of control very quickly. I'd imagine most people queuing weren't interested in owning a pair for themselves, but instead selling them online and making quite the profit.
PUSH yourself even further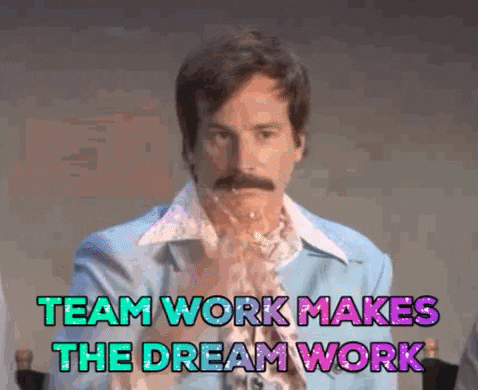 Who would you collab with if you could? Why not give it a go? It could be anyone. You don't need to team up with another artist to make something magical. In fact, they don't even need to be a creative. Thinking outside the box can sometimes push your work even further. People love things that don't necessarily work together. Or, aren't what they'd typically expect. They say there's no such thing as bad publicity. If people are talking about your partnership, then it's captured their attention. I'd personally love it if PUSH.fm could team up with Krispy Kreme. Purely for promotional reasons, not so I could eat all the products, I promise…