Think 60s, 70s and 80s; music was huge, but streaming didn't exist. Nowadays streaming services hold the top spot in the music industry. Have listener's musical tastes changed?
It's hard to imagine a world without smartphones and an endless music library at your fingertips. Even the thought of physically having to change the record, tape or CD instead of instructing the likes of Alexa or Siri to skip the track for you.
Listener's tastes and preferences have drastically changed, having a knock on effect on the music industry and also how artists are meeting these new needs.
First, it's worth finding out the most popular current genres…
Genres by popularity
Hip-hop takes the number 1 spot on the streaming podium, with around 30% of plays across streaming platforms. Born in the 1970s, it's gone from strength to strength. Rock is up there at second, closely followed by Pop music which I guess the clue is in the name – popular music.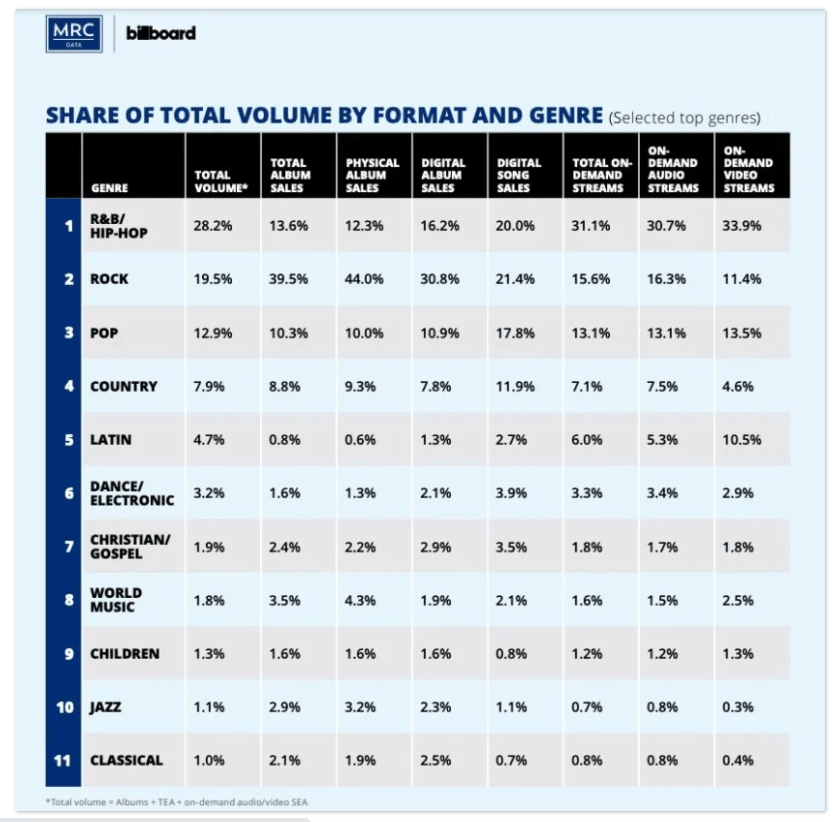 Take a look at Music Business Worldwide's article for a more in depth look into the numbers of streams and album purchases across the genre board.
The rise of remixes and covers
Mash-ups and remixes have also become a popular trend, covering other artists work but making it your own or compiling multiple songs across a range of genres. As mentioned above, artists no longer have to reach out to a specific audience and stick with it. They can try and appeal to everyone, despite your preferences.
Comfort is key, everyone enjoys going back to songs that make them feel a certain way, or they associate with a good memory. This is why covers and remixes are a good way of ensuring people will love your music. They liked the original, they know it already, so why not add your own twist?
Variety
Before the internet, many artists (and record companies) reached audiences by targeting a specific demographic. Today, artists are able to reach audiences by making "something for everyone."

https://output.com/blog/7-songs-that-prove-streaming-has-changed-song-structures
Streaming platforms offer people a wider variety of music, that's not to say there wasn't a large choice beforehand but rather than buying an entire album or record which could set yourself back a bit, you can pay a subscription fee and access as much music as you'd like. This enables people to try out anything and everything. You may like one or two songs by an artist or band, but overall their style isn't for you. If that's the case, before streaming platforms, it's possible you wouldn't have bought their tracks or maybe even come across them.
Are shorter songs becoming more normal?
With the ongoing argument of streaming platforms not paying artists enough, songs are becoming shorter. Artists need to get more music out there, and they want to stay current by releasing more often. No one wants to spend a lifetime on a long track that when released isn't going to earn them much money. This had led tracks to become shorter throughout time and in turn has made consumers less likely to listen to the longer tracks. We've all skipped a song that we feel is going on for too long.
Accessibility
Is it because they're more accessible? The videos and imagery budget of chart music is getting bigger and bigger, encouraging people in and attracting their attention.
Suggestions from streaming platforms are also pushing huge numbers of new suggestions to listeners and fans. Before streaming services, people knew CD or vinyl they wanted and they would buy it. Now, completely new genres are just a click away.
---
We can only guess where streaming services will take our tastes in 10 years; if it's anything like the last 10 years we've got a fun filled decade ahead of us.