A Reward Link is a digital reward system for both your audience and you. They have a set of tasks to complete that will benefit you. Once completed, they can access a digital reward. They're a free PUSH.fm product. So, make the most of them before Black Friday comes around!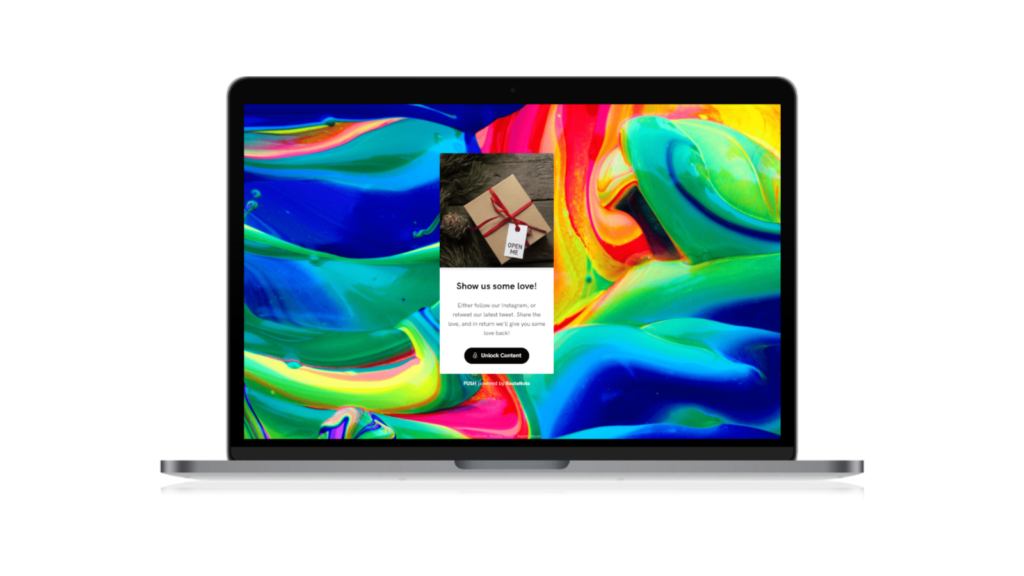 Reward Links are a digital landing page, allowing you to grow your brand or business. You set tasks which people must complete in order to access the reward you've added. These rewards could be a whole mix of things. Perhaps you want to have more visits to your blog, or website. Or, maybe you want to grow Instagram followers. Whatever it is you're looking for, you can set the rules.
It's important to be aware of what you're trying to gain from your Reward Link before setting one up. If the goal is to grow a social media platform, perhaps make this a compulsory task. Adding too many options could spread your business too thin. People will choose the option that works best for them, so if you have 6 options to choose from, you won't specifically target one location.
Growing your socials is a great task to set when making a Reward Link, but how many social platforms will you add? Including every platform you're on might seem like a good idea, but in the grand scheme of things, you'll end up with a few new followers on each. Try and target a couple in the beginning and then once you're seeing growth there, try for others.
Black Friday Reward Links
Right, so you've considered your goal by now. What is it you want to achieve from your links? What benefit do you want from them? Now it's time to think about what your audience or potential audience might want. This will depend on what type of brand, business or individual you are. But, Black Friday is the perfect time to use a Reward Link, because literally everyone involved is a winner.
Are you a small business owner? Could you potentially send your audience a digital file with a free design? Perhaps you could add a discount code. That's a huge bonus around Black Friday. The whole idea is everyone goes mad for a bargain. So, why not get something in return yourself. Don't just stick a code on your website and wait for people to spend money.
Make a fun and exciting Reward Link that your consumers have to access to see the discount code they'll need. Then, they can use it to get money off their orders. Everyone wins. It's a fun and quick process, so it's not like you're making anyone jump through hoops to reach their end goal (discount). Black Friday is the perfect time to make use of the secret message or link option within a Reward Link.
Black Friday link examples
To create a link specifically for Black Friday, it's best to choose the secret message option. This will allow you to add a code for your discount. Once people have completed your tasks, they'll be shown your discount code. They can then simply copy this and head over to your website to place their order. It's a fun, interactive way of advertising Black Friday discount.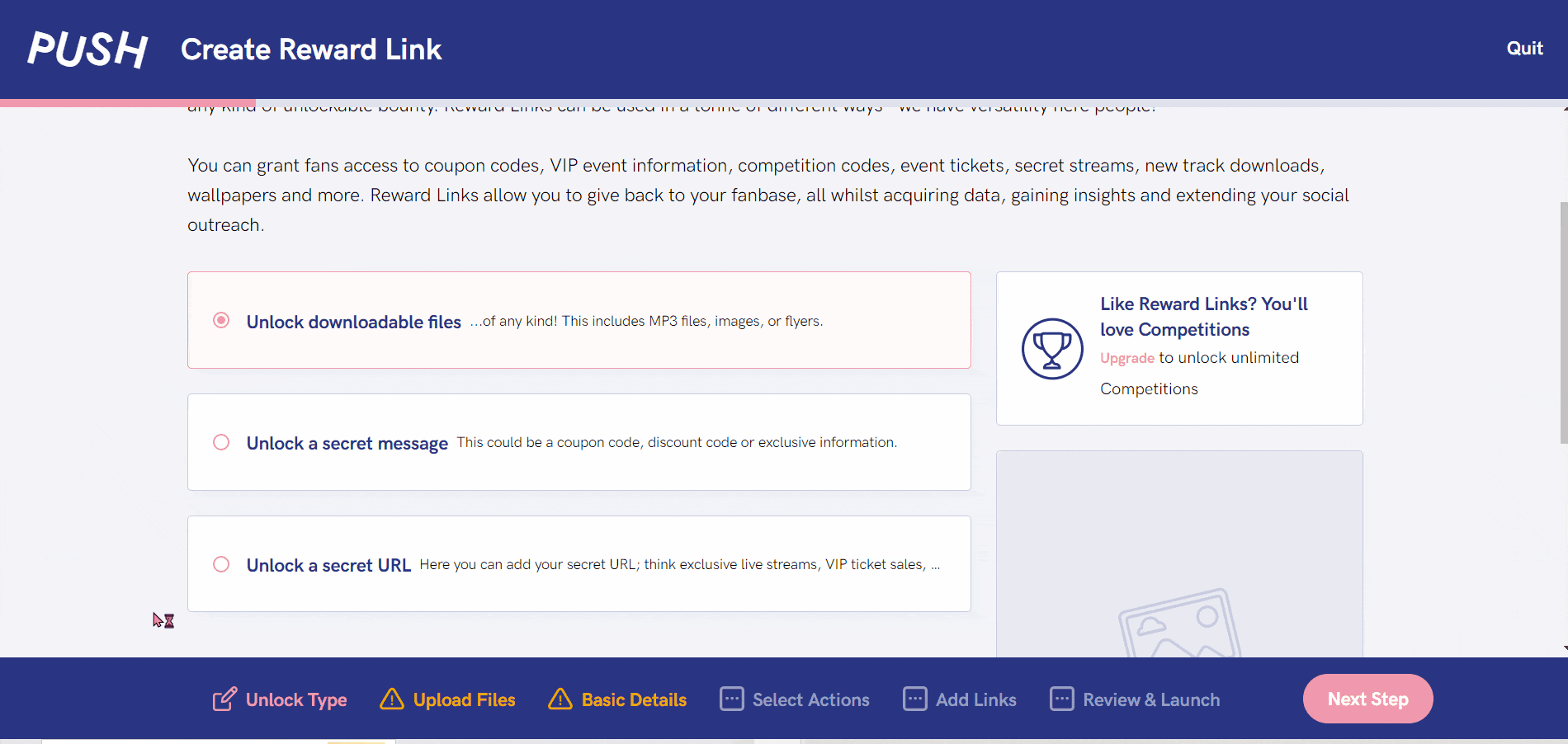 To create yourself a Black Friday link, simply head over to PUSH.fm and create yourself an account. From there, you'll need to verify your account via email. Then you can get started! Head to the pink plus icon in the top left corner and choose Reward Link. You'll then be presented with the screen above. Choose secret message and away you go!
Your links can be personalised to you. Choose a unique URL and add in your own feature image, and even background (if you have a Premium account). You can then choose your required actions. That's where you're able to decide what tasks people must complete to access your discount code. How many you add is completely up to you.
Please note: These Black Friday Reward Links are as examples only, they aren't real discounts.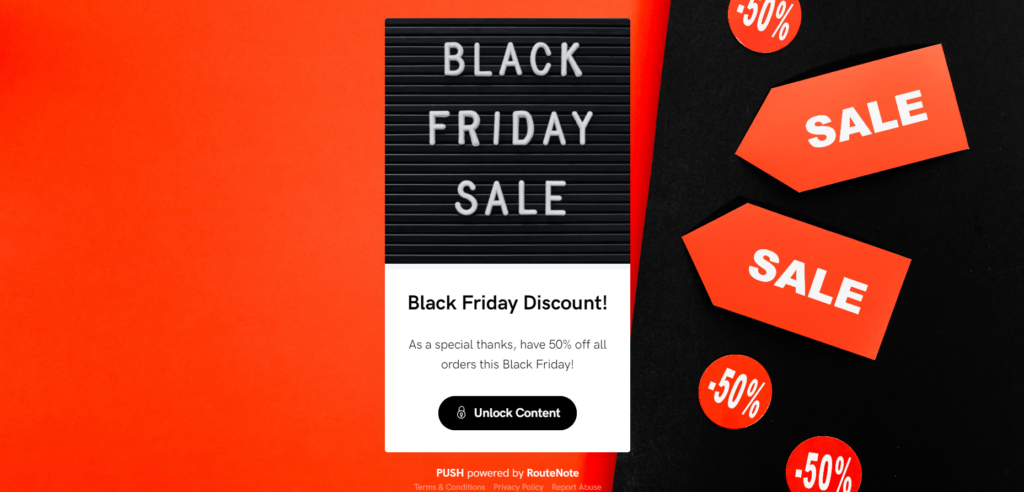 Check out this Reward Link. It's clear what it's for, and outlines what you'll receive by unlocking the content. The custom background and feature image make the landing page stand out.
It's neat and organised, all fans have to do is click unlock content and either follow our Instagram account, or our Twitter. Then, they'll be able to access the secret message which contains a discount code for 50% off.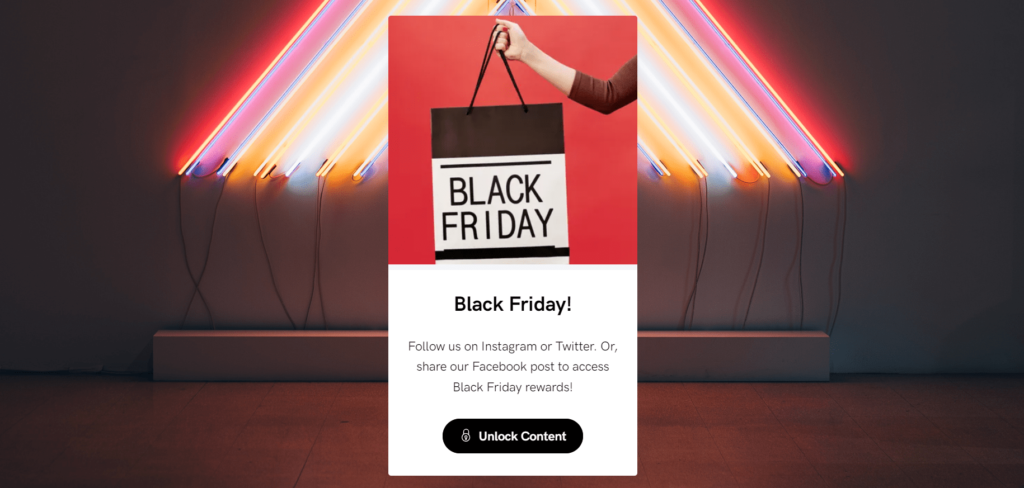 Another example of a Black Friday link. This Reward Link has a description letting your audience know what they'll need to do to be able to access the reward. Once they've completed one of these, they will be able to use the discount offered.
Reward Links are quick and easy to set up, and you can start sharing them straight away. So, if you haven't already created one, you need to act fast and get yourself some new followers while handing out your discounts.
Reward Links are complete adaptable to you. They can also be archived or deleted at any stage. That way you can have them open during Black Friday but then make them unavailable after. People will need to act quick to secure their discounts. You could even update the link after Black Friday ahead of Cyber Monday. Another huge date within the digital world.
Simply update your link with the relevant information, and you won't even need to make a whole new link. You can adapt your current one and keep sharing it. That way, anyone clicking on your old Black Friday link will be met with your brand new Cyber Monday one. It's a much easier option than having one link inactive and having to redirect them.